If you search Google images for "rabbi," what you'll see is a lot of men, most of them with gray beards and black hats common to leaders of the Orthodox faith. You have to scroll a ways to find a woman (and no, Ivanka Trump doesn't count as a rabbi).
You won't see someone like Rabbi Iah Pillsbury, stylish hair curling around an early-30s face, a nose ring and bold, blue glasses at the center.
"Yeah, no, it's depressing," she says in her new Colorado Springs sanctuary. "My friends and I have done that before."
The walls of Temple Beit Torah similarly counter popular images of Jewish synagogues. As opposed to Google's ornate renderings, these are plain and simple, painted the color of sky and sea, decorated by children's art. "Welcoming," Pillsbury says.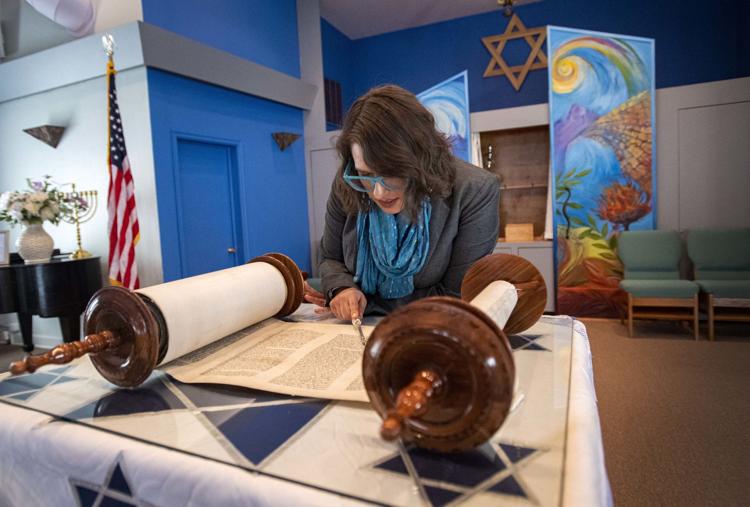 "And, like, a little funky, which is part of what I love about this community. We're very chill."
Temple Beit Torah is this city's only pure Reform synagogue, aligning itself left of Temple Shalom — serving Reform and Conservative traditions — and far left of the Orthodox denomination.
Since its 19th-century founding in Germany, the Reform movement has gone on to include women at the bimah and also accept rabbis in same-sex marriages. Rabbis like Pillsbury, who married her partner in June, weeks before she came to lead her first congregation following her ordainment two years ago.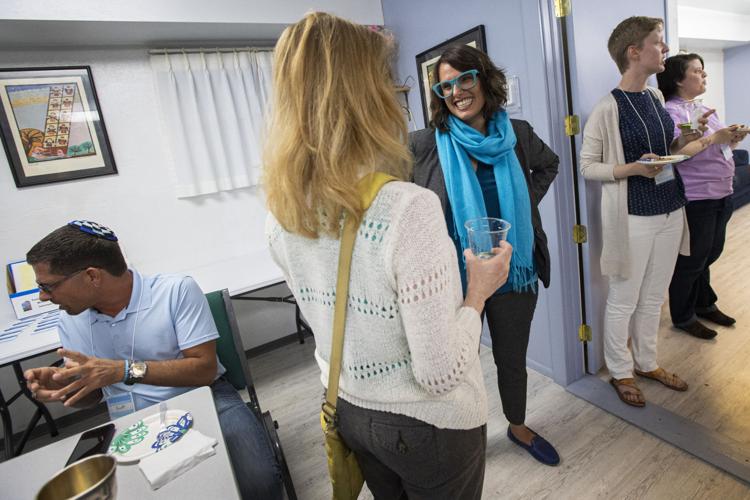 She came to vibrant banners strung across her office, inscribed with welcoming messages. "We're all one human family," the sign read through the front door. "Live without hate!"
And that continues as the temple's mantra, seen there through the doors locked five minutes after event start times — security in response to 2017's hate crime here. Anti-Semitic graffiti had been splayed across the walls.
From that dark assault comes a bright, energetic steward of the future.
"Refreshing," Gail Patterson, Temple Beit Torah's vice president, calls Pillsbury's hire after seven years without a permanent rabbi. "So refreshing, because she's so wonderful."
She becomes the congregation's fourth rabbi, the first woman. An academic, artist and social activist taking a critical, multi-lens approach to the Torah, she is perhaps the most progressive rabbi the Springs has ever seen.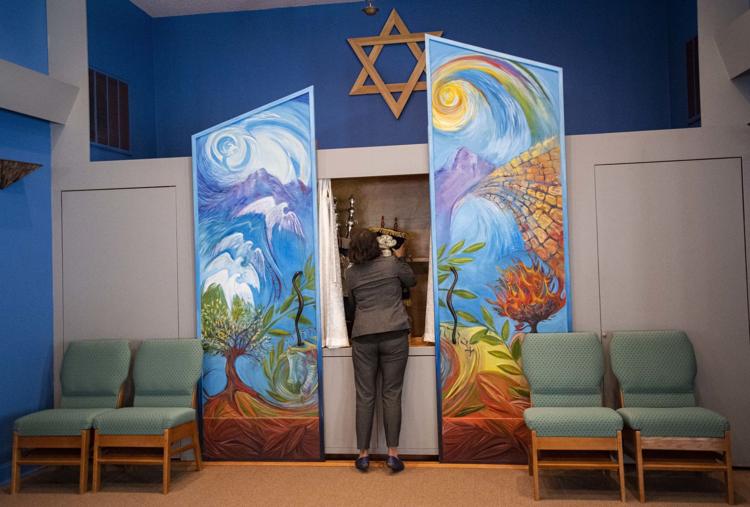 "She's definitely a product of the 21st century," says Jeff Ader, who's lived here almost 50 years and led the temple's 18 monthlong search.
Her brilliance stood out, as did her altruism and her story — personifying the temple's mission.
"It means that we are current in our philosophy, that we recognize that the world has changed and is changing," Patterson says. "We are evolving and trying to stay relevant more than anything."
Counting a modest membership of 65 families, Temple Beit Torah has been evolving since 1992. That's when a retired Jewish chaplain from the Air Force Academy began meeting people in their homes — people wanting something different.
At local synagogues, "we didn't feel what made us comfortable," recalls Jeanne Libert, an early member.
They established themselves as Reform, accepting the faith as mysterious and open to interpretation, taking as much pride in reason and intellect as doctrine and ceremony, proclaiming inclusiveness paramount.
While the congregation formed, Pillsbury was a toddler in the Los Angeles suburbs, being raised both Christian and Jew. Her father, a lawyer, went on to become an Episcopal deacon. Her mother, meanwhile, attended Friday night services at the temple. And Pillsbury would tag along, "hang(ing) out with my mom and her feminist havurah friends" and "talking about ideas and making the world a better place."
For wanting to be a rabbi so young, she credits them and also her childhood rabbi, a woman who encouraged her. That dream never left Pillsbury; she continued teaching Sunday school throughout her undergraduate years at the University of Chicago, where she studied English out of love for fiction.
"I like how stories tell us who we are and how we see the world and what we think of as important," she says.
In reading the stories of Judaism, that meaning could be hard to find. "Especially as a woman and a queer person," she says, "sometimes it can feel like the tradition wasn't written for me."
But she felt she grew from the challenge, as was the case when she explored her thesis subject. She decided on Esther, for whom the holiday of Purim is celebrated with feasting and drinking — ironic, Pillsbury learned later, as she discovered Esther to be a rape victim.
In delving deeper into rabbinic literature, "it's terrifying and heartbreaking," she says, "and it's a story of incest and sex trafficking and PTSD and total demoralization of self that I had no idea about."
That part had been left out of sermons she'd heard. "And I think it's because it's uncomfortable," Pillsbury says. "And most of our stories are stories of deep darkness."
Those are the stories she wants to bring to light, the ones with painful lessons. She sees the role of a rabbi as this: "To comfort the distressed and distress the comforted."
She knows her presence alone might cause some to shift in their seats. "Just because I'm not the kind of rabbi lots of people had growing up," she says. "But I also think there's some advantage to that."