We can't lie. We're still bummed that the Broncos never got close to making the cut for the Super Bowl. But the big game is right around the corner, and we're not about to miss the action just because our team isn't playing. We'll be right there in front of the TV, enjoying the gridiron excitement, halftime show and memorable commercials.
And that would not be complete without snacks. Specifically, party dips.
We've found a few recipes that will knock your socks off — and maybe provide some distraction if the team you're rooting for is going down in defeat.
Cortney Smith, co-owner of Gather Food Studio, had some great suggestions for getting the party going.
"Being from Wisconsin, I love a good queso," she said. "It was also one of the specialties at a restaurant I worked at in North Dakota during college — pretty exotic stuff in those days."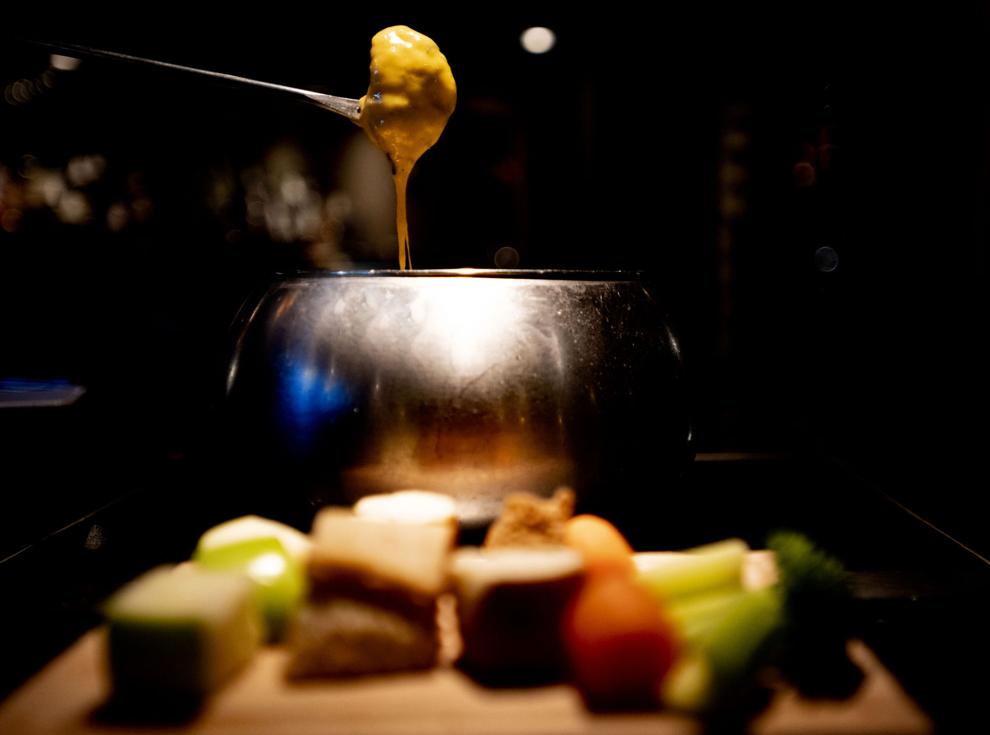 That recipe was based on Velveeta cheese and Rotel canned tomatoes.
"It was easily the most popular thing on the menu," she said. "I like mine to be meaty and spicy, so I usually use ground beef and chili powder along with tomatoes. But homemade cheese sauce is so yummy and not hard to make. So if I was making it from scratch, I'd go with white cheddar cheese, Rotel tomatoes and fresh jalapeños."
She suggested setting up a build-your-own nacho bar for a super fun Super Bowl party. The queso can be made and served in a slow cooker. Turn it into the centerpiece by surrounding it with all the toppings you can think of — veggies, raw zucchini chips, broccoli, cauliflower, carrots, cherry tomatoes, celery sticks — so guests can choose what they like.
The Melting Pot also has a queso-like dip, Top Shelf Fiesta, which they elevate with aged cheddar and emmenthaler cheeses, Corona beer, 1800 Reposado tequila, cilantro, homemade salsa, lime and jalapeño. It's served in a fondue pot, with fresh veggies for dipping. Certainly a doable dish for the home cook. We've included a recipe that is similar to what is served at the Melting Pot.
Another go-to game day recipe for Smith is for Wisconsin beer dip.
"It's definitely not 'elevated' but always a crowd pleaser, and there's never any left," she said. "It's best served with soft pretzels."
She also makes a "Reuben dip" in her pressure cooker, which is quick and easy.
"That one is great with little rye toasts or pumpernickel cut into squares," she said.
For something a little more grown up, she offered her Bruschetta Brie Bowl.
"This is delicious," she said, "and all in one — dip, cheese and bread."
Here are Smith's recipes for what we consider dip champions. For more dip ideas, visit tinyurl.com/t2tftjj, which has a great section on party dips.
Beer Cheese Queso
Yield: 6 servings
2 tablespoons olive oil
½ half red onion, diced
4 cloves garlic
1 jalapeno, diced
1 tablespoons chile powder
1 teaspoon cumin
1/2 tablespoon cayenne pepper
Salt and pepper
4 cups of shredded jack cheese
12 ounces of beer
Cilantro and fresh salsa to garnish if desired
Procedure:
Heat olive oil over a small to medium castiron skillet over medium heat. When oil is warm, add chopped onion, jalapeno, garlic, and seasonings. Cook, stirring frequently, until veggies soften- about 3-5 minutes. Add the beer and then stir in the cheese. Continue to stir until cheese melts and bubbles about 5 minutes. Garnish with cilantro and fresh salsa if desired. Serve hot with chips.
Source: seasonedsprinkles.com.
Pressure Cooker Reuben Dip
Yield: 12 servings
½ pound deli corned beef, shredded
1 (16 ounce) can sauerkraut, well drained
1 ½ cup shredded Swiss cheese
1 ½ cup shredded cheddar cheese
1 cup mayonnaise
Rye cocktail bread
Thousand Island dressing, to taste
Procedure:
Combine all ingredients except bread and Thousand Island dressing in a large bowl; mix well. Transfer to a baking dish that will fit inside your pressure cooker.
Prepare a sling with a long strip of aluminum foil, long enough to extend well above the baking dish containing the corned beef. Fold foil four times, until it makes a long strip that you can put under the baking dish. Place the baking dish onto the sling.
Add one cup water and a rack into the pressure cooker. Lower the baking dish into the cooker using the foil sling. Cover pressure cooker and bring to high pressure for 20 minutes.
After pressure has released, remove baking dish from pressure cooker using the foil sling. Top with thousand island dressing and serve with rye to the side.
Source: Gather Food Studio.
Beer Dip
Yield: 12 servings
2 packages (8 ounces each) cream cheese, softened
1/3 cup beer or nonalcoholic beer
2 tablespoons dry ranch seasoning
• 2 cups shredded cheddar cheese
Pretzels
Salt and pepper to taste
Procedure:
With a mixer, mix cream cheese until creamy. Add beer and ranch seasoning and mix until combined. On low, mix in cheddar. Taste and adjust seasoning to taste.
Serve with pretzels on the side.
Source: Gather Food Studio
Bruschetta Bread Bowl Baked Brie
Yield: 12 servings
1 pound ripe tomatoes, seeded and diced
½ cup basil, chiffonade
2 cloves garlic, minced
Salt and pepper to taste
1 round sourdough bread loaf
2 tablespoons olive oil
1 tablespoon Italian seasoning
7 ounces round brie cheese
½ cup balsamic vinegar
Procedure:
Preheat the oven to 375 degrees.
In a medium bowl, combine tomatoes, basil and garlic.
Cut a circle the size of the brie from the middle of the sourdough loaf being careful not to cut through to the bottom of the loaf. Reserve the top of the bread. Place the brie in the middle of the loaf. Place on a baking sheet with the top of the bread to the side.
Brush top and sides of bread bowl with olive oil and sprinkle with Italian seasoning. Bake 25-30 minutes.
While bread is baking, place balsamic vinegar in a small saucepan over medium heat. Cook and reduce to half until thickened. Set aside.
Remove bread bowl from the oven and slice the top piece of bread into cubes for dipping up the baked brie. Cut slits every inch along the edge of the bread bowl, for easy pulling apart and dipping. Drizzle the balsamic reduction over the top and serve.
Source: Gather Food Studio
Contact the writer: 636-0271.