Last week Colorado joined at least 40 other state associations as coronavirus concerns ended the seasons and careers of thousands of athletes across the country.
Nothing can replace the practices missed, stat lines unfinished or battles untested, but Gazette Preps will attempt to honor what the spring 2020 season could have been for athletes from across the Pikes Peak region.
The list was compiled using spring 2020 season preview information and spring 2019 all-star nominations as submitted by area coaches.
You may submit your nomination of a Pikes Peak region athlete or team by completing this form.
BASEBALL
Hayden Ambuehl, sr., SS, Lewis-Palmer — Ambuehl completed his second varsity season with a .927 fielding percentage at short with just two errors through 24 games, turned seven double plays and had 46 assists. At the plate he hit .312 and entered his senior year projected to compete for the 4A/5A PPAC MVP title. In his lone senior game Ambuehl hit 2 for 3 including a triple for the Rangers. He is moving on to play baseball at Wayne State.
Reece Bishop, sr., SS/P, Mesa Ridge — Bishop was a clear leader for the Grizzlies in his three varsity seasons, capped with his performance as a junior in which he finished with a .481 batting average — more than 100 points higher than the team's next-best batter. He finished his run with Mesa Ridge with a .503 career average and is moving on to play baseball at Kansas Wesleyan.
Cheyenne Mountain — Before the spring 2020 season was canceled the Indians were voted No. 1 in Class 4A in the CHSAA preseason poll. Cheyenne Mountain looked to improve on its 22-6 season in 2019 that earned a No. 3 seed in the postseason tournament. The Indians graduated four seniors including top hitter Aaron Berkhoff, but were poised to return some firepower to its lineup including two .400-plus hitters Michael Ellis and Grant Mondejar and one of 4A's top returning pitchers Devin Dodson.
David Cooper, jr., C, Doherty — First-year Doherty coach Andy Storm called Cooper a player to watch with Division I potential. As a sophomore Cooper hit .412 with 28 hits and 17 RBIs. He had a .978 fielding percentage with 154 putouts and 20 assists.
Devin Dodson, sr., RHP, Cheyenne Mountain — With a 1.56 ERA through 49.1 innings as a junior Dodson would have returned for his senior season as one of the top three returning pitchers in Class 4A. He was 8-2 for the Indians last year, allowing 34 hits and 11 earned runs, and struck out 64 batters.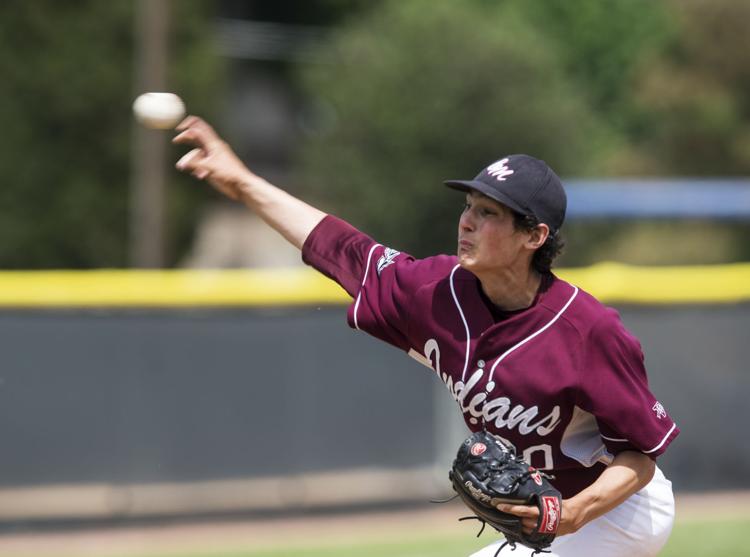 Michael Ellis, sr., RHP/1B, Cheyenne Mountain — Ellis would have entered his fourth varsity season with a .369 batting average, propelling from a .407 junior season in which he had 33 RBIs — the most of any returning Pikes Peak region hitter. The right-handed pitcher was 4-2 for Cheyenne Mountain last year and has a 3.48 career ERA.
Falcon — The Falcons worked harder than ever in the offseason according to a local nomination, hoping to kick off the rust from a down year in 2019. The Falcons would have returned four of their top five batters from last season, including junior Clay Sanger, who hit .500 in the final nine games of year. Junior Riley Robertson and senior Conner Thiel would have also made an impact according to the nomination. "We have so much talent on this team and would have had some strong pitching," the nomination said.
A fan nominated the Falcon baseball team by completing this submission form.
Jack Flynn, sr., CF, Palmer Ridge — Though he missed the second half of his junior season, Flynn racked up an impressive .595 batting average for the Bears. Though he only had 51 plate appearances, Flynn would have stepped up to the plate as the top returning hitter in all of Class 4A and No. 4 returning hitter in all of Colorado. In his lone senior game, Flynn hit 2 for 3.
Brandon Hussey, jr., OF/C, Peyton — As another returning standout from Peyton's 2019 state championship team, Hussey looked to help the Panthers to another playoff run. Hussey had a .929 fielding percentage with just one error as a sophomore, and paired that with a .357 batting average with 25 hits and 16 RBIs.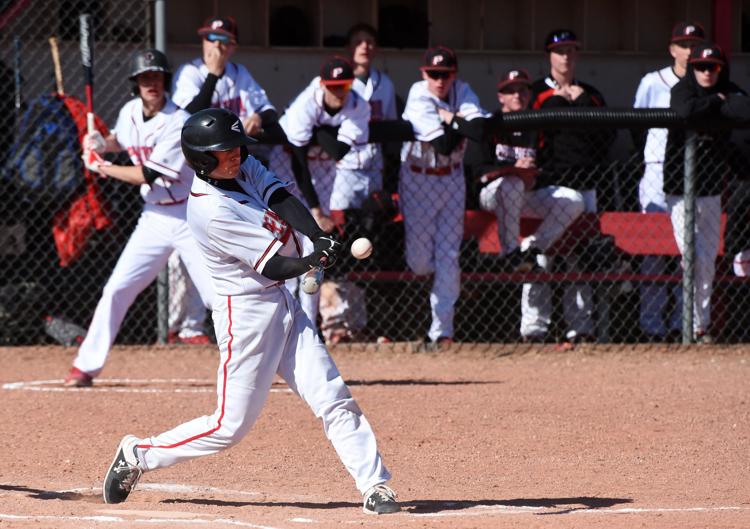 Brennen Meyers, jr., INF/P, Peyton — Meyers would have been a returning leader from the Panthers' 2019 state championship team, following his junior season in which he hit .419 with 26 hits and 17 RBIs. He was also undefeated on the mound with a 1.65 ERA and 30 strikeouts through 17 innings.
Grant Mondejar, sr., SS, Cheyenne Mountain — Mondejar was poised to lead Cheyenne Mountain on another impressive regular-season slate as one of the top-returning hitters. As a junior he hit .408 with 31 hits and 25 RBIs. Mondejar and fellow senior Michael Ellis had nearly identical batting averages and would have proven to be a deadly 1-2 punch in the lineup. At short his junior year he had a .917 fielding percentage and 46 assists. He was also 2-0 on the mound with a 2.29 ERA though 18.1 innings.
Palmer — The Terrors entered the preseason with the 2020 mantra "Terrors Together," creating a family bond through fall and winter workouts. Palmer would have been led by seven seniors including captains Justin Chappell and Kevin Hernandez. Seniors Seth Feldhausen and Kevin Redwine and junior Kody Woods were set to lead the Terrors rotation with "excellent control," according to a nomination.
"Through strong dedication and hard work this family was conceived and will last long after this year," the nomination said. "The Terrors are very thankful of their parents and fan base. No matter what the future holds, we have built a family that will last a long time. Pride Honor Strength."
A fan nominated the Palmer baseball team by completing this submission form.
Peyton — Coming off the program's first state championship Peyton entered the preseason with the same goal in mind and was voted No. 1 in CHSAA preseason poll for Class 2A. Despite losing its top four hitters from the 23-1 season to graduation Peyton would have returned enough firepower to compete in 2A with four hitters who averaged over .300 returning to the lineup.
Rampart — Offseason training and a community of support lit the path for Rampart entering the 2020 season. Though the Rams started 0-2 in nonconference play before the season was canceled, fan support never wavered. "From offseason weights to other sports their dedication to becoming their best is unbelievable," said a fan. "The fans' dedication for them was amazing and very comforting for the players. Always having fans cheering them on gave them the hope for their best season yet. I have never seen a team with more dedication than them. Congratulations to this Rampart Baseball Team."
A fan nominated the Rampart baseball team by completing this submission form.
Graehame Webb, sr., INF/RHP, Coronado — Webb was a consistent threat for Coronado through his first three varsity seasons, and aimed to make his senior year his best. He was on track to finish his high school career averaging nearly .400 at the plate. A local nomination credited Webb in part with Coronado's success the last three seasons. The Cougars posted a 36-26 overall record since 2017, including a 14-9 record in 2019 which ended on a seven-game winning streak. Webb will continue his baseball career at UCCS.
A fan nominated Webb by completing this submission form.
GIRLS' GOLF
Kate Griffin, sr., Coronado — Griffin balances golf and tennis in the spring, and though she has qualified for state tennis the past three seasons, it's clear golf is her power sport. As a junior Griffin claimed her second straight regional golf title and placed sixth at the 4A state tournament, shooting 11-over par. Weather shortened last year's state tournament to one day, preventing her from improving her chances at a higher finish.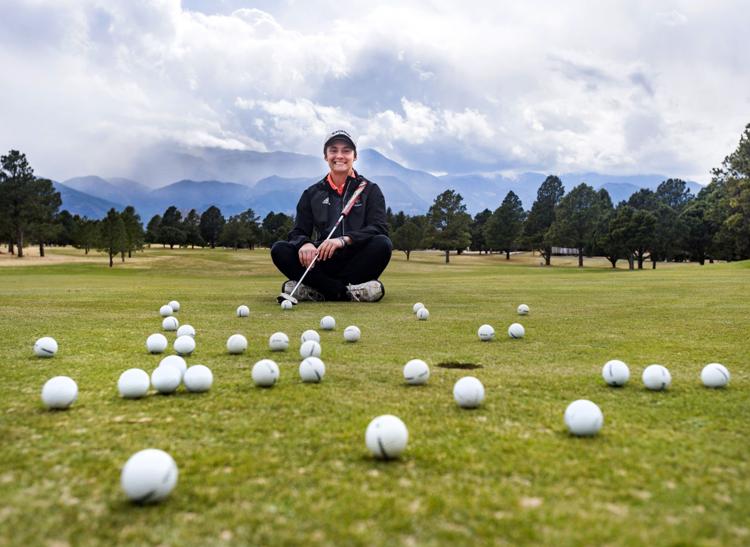 Christian Cheng, jr., Discovery Canyon — Cheng earned the area's second-best state finish after taking seventh in the 4A tournament in 2019, jumping from a 29th-place finish as a freshman Cheng was also burdened by the weather at the 2019 state tournament with just Day 1 scores counting.
LACROSSE
Hannah Dove, jr., Attack, Palmer Ridge — Dove tallied 65 goals and 21 assists for the Bears as a sophomore, and looked to get back on the field as one of the state's top goal scorers. She finished the 2019 season ranked eighth in the state in scoring and is one of six returning players who finished in the top 10.
Holly Esposito, sr., Midfield/ defense, Palmer Ridge — With a .555 draw percentage as a junior Esposito was positioned to take over as the top draw-control specialist in the region. As a junior she had 44 ground balls and 10 takeaways and also had 26 goals and six assists.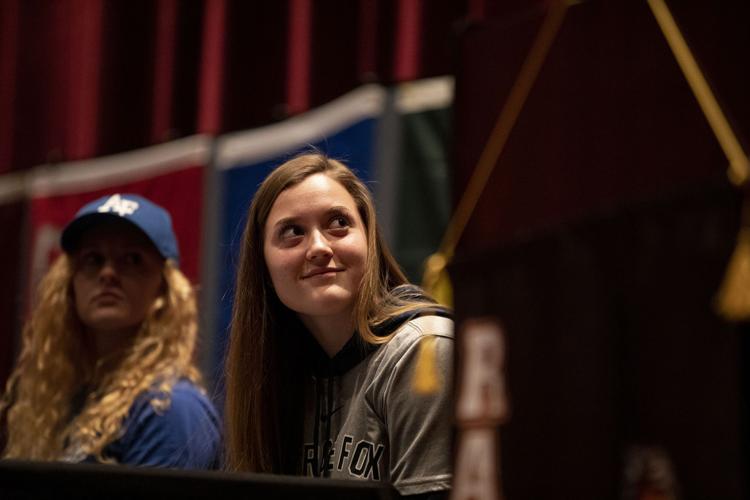 Liam Hybl, sr., Goalie, Cheyenne Mountain — With a .635 save percentage Hybl finished his junior season ranked sixth in the state among goalies with 150 or more saves helping Cheyenne Mountain to a second-straight state championship game. Hybl's consistency was one reason for the Indians' No. 1 debut on the CHSAA preseason poll.
James LaCerte, sr., Midfield, Cheyenne Mountain — LaCerte's stellar lacrosse career was cut short before he could lead the Indians through a season motivated by an overtime loss in the 2019 state championship, though his three-year varsity career cannot be easily forgotten. LaCerte would have been Cheyenne Mountain's top returning scorer after netting 39 goals as a junior. LaCerte will continue his lacrosse career at Denver.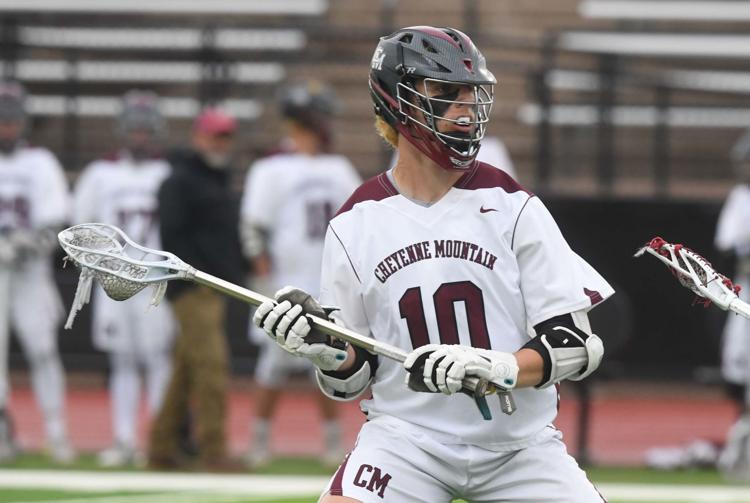 Lewis-Palmer lacrosse — The Lewis-Palmer senior class once led the Ranger JV team to a 14-1 record and was ready to lead the team on a "playoff run to cement themselves as one of the best teams in LP lacrosse history," according to a local nomination. Three of the Rangers' four senior captains have signed National Letters of Intent to continue their athletic careers in college, including Lukas Zoldi (Wesleyan University), Dalton Goodale (Colorado Mesa) and Ryan Eells (Catholic University). Senior Paxton Crowell remains undecided on his college choice, but will play lacrosse at the next level.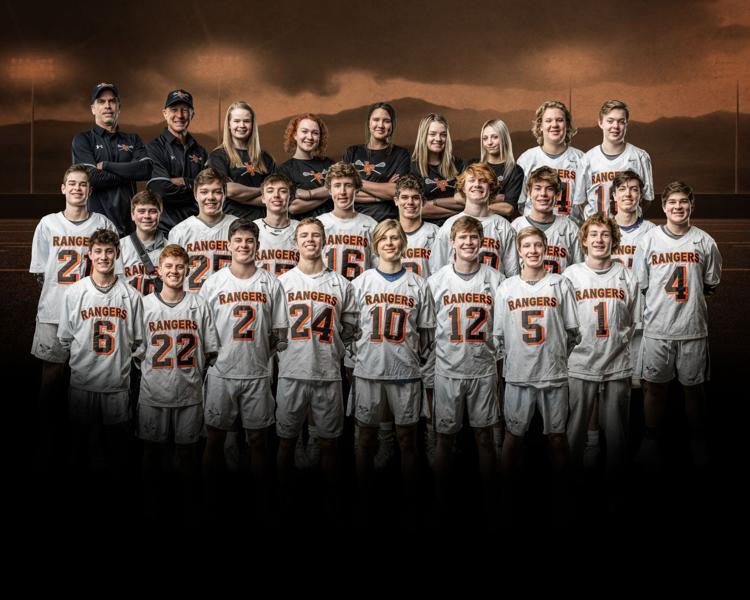 A fan nominated the Lewis-Palmer lacrosse team by completing this submission form.
Grace Lichtenberger, so., Midfield, Air Academy — Lichtenberger made an instant impact as a freshman with 38 goals and nine assists for the Kadets. She would have returned as the team's leading scorer after graduating two top seniors.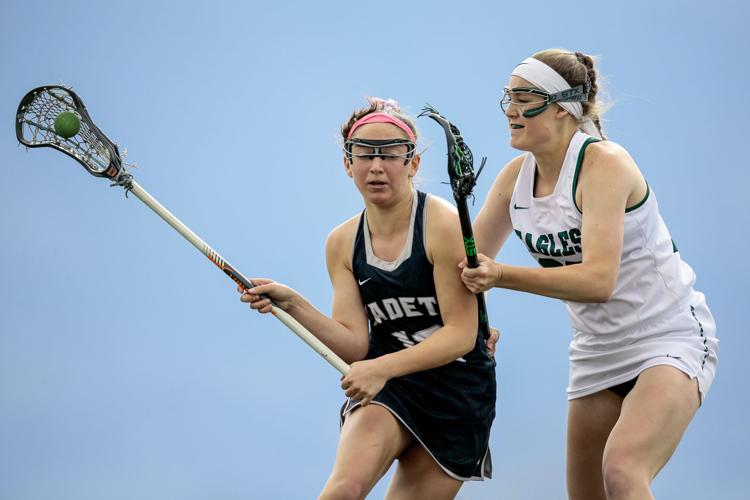 Abby Luce, sr., Midfield, Cheyenne Mountain — Luce was ready to propel into her senior season after averaging three goals per game in 2019 with 42 goals and a .618 shot percentage. She returns as one of the area's top draw-control experts with a .522 faceoff percentage as a junior. Luce has signed to play at Colorado Mesa.
Zak Paige, jr., Midfield, Cheyenne Mountain — Paige saw a massive jump from his varsity debut as a freshman and last year hit his stride as Cheyenne Mountain breezed through the second half of the season on the way to the state championship game. He finished his sophomore year with 26 goals and 23 assists. He had seven goals and five assists in the playoffs.
Grant Rodny, so., Attack, Air Academy — Rodny ended the 2019 season as one of the state's top attackers, leading Colorado in goals and assists with 43 and 49, respectively — and he was a freshman. He was the only freshman ranked in the top 100 in Colorado and helped the Kadets go from below .500 to the state quarterfinals.
Leo Zook, sr., Midfield, Palmer — Last year Zook was nearly paralyzed by a crosscheck to the back of his neck after scoring five goals against ThunderRidge. Zook, now a captain, would've returned for his senior season as one of Palmer's top scorers, according to first-year coach Daniel Riecks. The Terrors were set for a rematch against the Grizzlies on March 14, which was to be a charity night for Shield 616.
"Leo has returned as one of our top scorers, and a true team leader," Riecks said in The Gazette's spring preview form. "Tensions will be high, but we are trying to turn a negative into a positive by having the game be our cause night."
GIRLS' SOCCER
Cheyenne Mountain soccer — Last season the No. 21-seeded Indians became the lowest seed to win a 4A state championship with a Cinderella run. Though Cheyenne Mountain lost 87 percent of its scoring to graduation, Colorado coaches voted the Indians the No. 2 4A program.
Sydney Lasater, jr., F, Sand Creek — Since her freshman year, Lasater has had one of the most prolific careers in the Pikes Peak region with more than 30 goals in each of her first two varsity seasons. To date the junior has 160 points, which includes 67 goals and 26 assists.
Jadyn LeDoux, jr., F, Sand Creek — With 18 goals as a sophomore LeDoux made a big jump from her varsity debut to help Sand Creek become the highest-scoring offense in the state in 2019. She had 18 goals and 21 assists and teamed up with fellow powerful forward Lasater. The duo would have looked to advance Sand Creek into another high-scoring playoff run.
Aliyah Moya, sr., F, Vanguard — Moya was on track to finish her high school career with more than 100 goals. The senior striker finished her junior season with 82 goals, averaging 27 per season and nearly two per game. Moya will continue her career playing Division I at Southern University-Baton Rouge.
Rampart soccer — The Rams hoped to enter 2020 with momentum after a historic season in which they went undefeated in the regular season. Though Rampart graduated eight players, the Rams would have returned three of their top four scorers — Grace McReynolds, Jordan Garrett and Ashleigh Decker — and starting keeper, Katlyn Rosenbaum, who had 11 shutouts in 2019.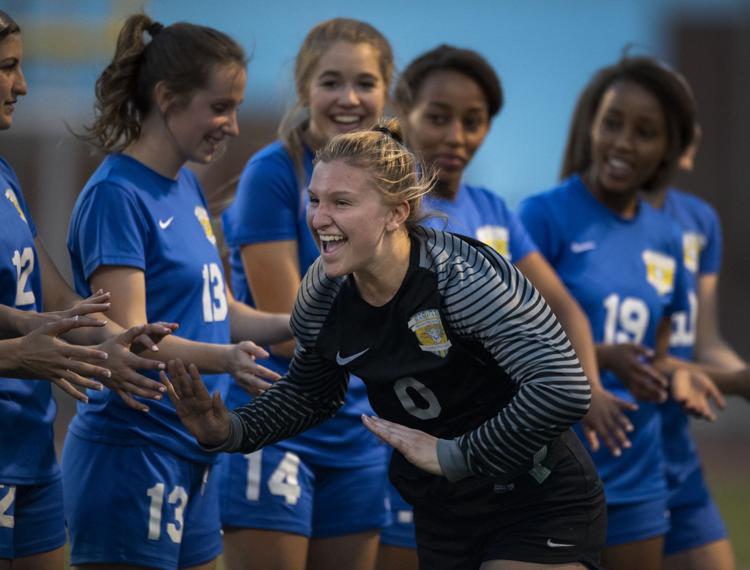 The Classical Academy — TCA emerged as the preseason favorite to win its 11th consecutive league title. The Titans have not lost a conference game since 2009. Despite graduating five seniors, the Titans retained 86 percent of their scoring from a 10-5-1 season. TCA won its only game of 2020 1-0 in overtime over Palmer Ridge.
BOYS' SWIMMING 
Matthew Fellows, so., Discovery Canyon — In his state championship debut Fellows finished seventh in 4A diving with 399.85 points as a freshman. In the 2020 season he would have been one of three returning divers who earned a podium finish.
Reid Gilbert, so., Pine Creek — As a freshman Gilbert was the youngest competitor to make it onto the podium in the 4A 500 free, placing ninth in 4:55.92, and the youngest swimmer to make either the championship or consolation finals in the 200 free, placing 13th (1:49.80).
Quintin McCarty, so., Discovery Canyon — As a freshman McCarty made his presence undeniable in the pool with an All-American consideration time in the 100 back (50.70), in which he placed second, and gold in the 50 free with his All-American consideration 20.90.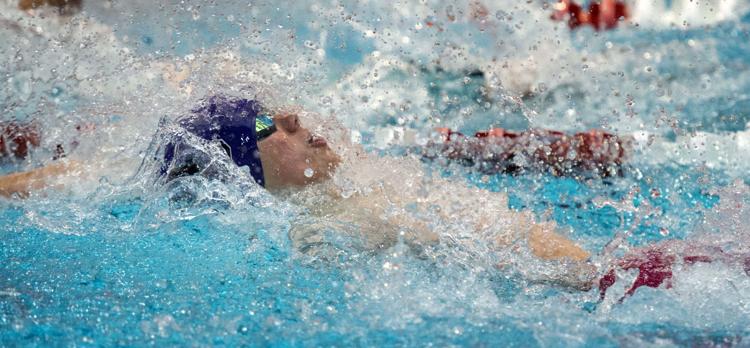 Andrew McGill, jr., Discovery Canyon — McGill had two podium finishes as a sophomore, placing seventh in the 200 IM (1:57.24) and fifth in the 100 back (52.33). He helped the Thunder to a second-place finish at the 4A state championships.
Rampart — With seven seniors Rampart had aimed high, looking to win the 5A CSML with a competitive finish at the 5A state championships according to a nomination. The Rams' senior class includes Patrick Yang, David Wu, Joshua Plasteur, Nathan Aumiller, Cole Haight, Trey Kennedy and Scott Reeder.
A fan nominated the Rampart boys' swim team by completing this submission form.
Tommy Rauchut, sr., Discovery Canyon — Rauchut looked to build off his junior season in which he claimed bronze in the 100 butterfly in 51.36. The past two seasons Rauchut helped Discovery Canyon to consecutive second-place 4A state finishes.
Raglan Ward, so., Cheyenne Mountain — As a freshman Ward finished eighth in the 4A 50 free (21.87) and seventh in 100 free (47.86). Returning as a sophomore Ward would have been one of two returning swimmers from the 2019 100 freestyle 4A podium.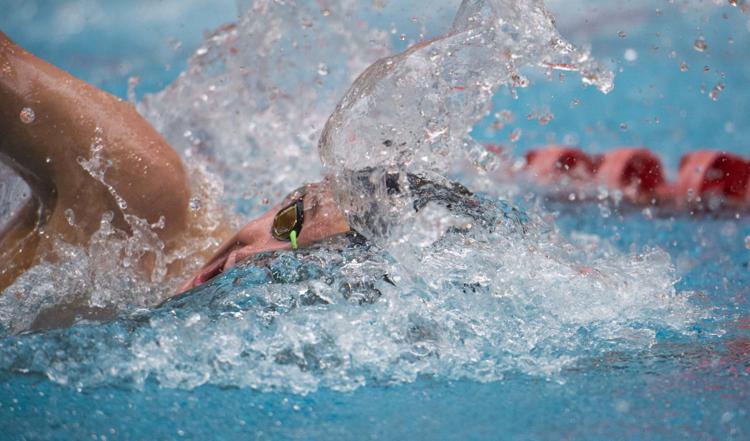 GIRLS' TENNIS
Cheyenne Mountain — Although the Indians graduated three top talents, Cheyenne Mountain would have returned a number of state finalists, including champions Jensen Enterman and Emma Delich, with hopes of earning the program's 11th team title in 12 years. Had the Indians had the opportunity, a girls' tennis title would have marked the school's 100th state title between all sports.
Emma Delich, jr., No. 1 Doubles, Cheyenne Mountain — Along with partner Sydney Wagner, Delich claimed the No. 1 doubles title in 2019. Though her partner graduated, Delich would have entered her junior season ready to continue the climb. As a freshman Delich was 7-6 with Wagner at No. 2 doubles before finishing 17-3 in 2019.
Jensen Enterman, sr., No. 2 Singles, Cheyenne Mountain — Enterman helped Cheyenne Mountain to a 4A state title after winning the 2019 No. 2 singles crown. Her win marked her third state title after winning championships in doubles her first two years. As a senior she would have looked to make it a four-for-four sweep while helping Cheyenne Mountain to another top finish.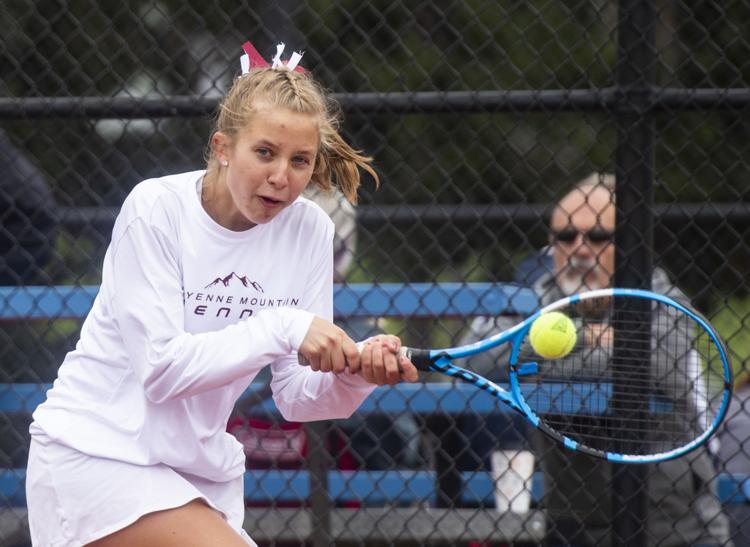 Tessa Rothwell, jr., No. 3 Singles, Palmer Ridge — After a loss in regionals as a sophomore Rothwell entered the state tournament ready to prove doubters wrong, eventually claiming the No. 3 singles 4A state title with a 6-0, 6-0 sweep in the championship.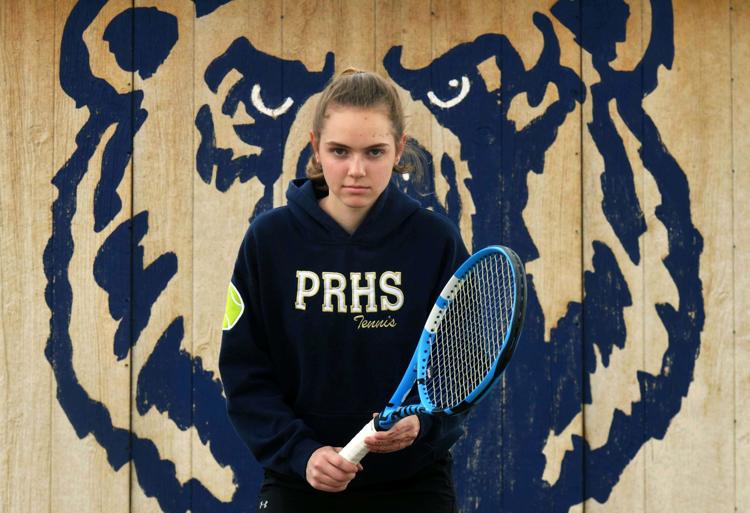 TRACK & FIELD
Alison Ambuul, sr., Mid-Distance, Coronado — The middle-distance runner flashed her potential at the 2019 state meet, cutting nearly 2 seconds off her 400 time in the finals, moving up from her ninth-place preliminary time to take state bronze. Ambuul and Niwot junior Taylor James, who won the 400, would have been the top returners from last year's 4A 400 finals.
Keyanda Bolton, sr., Sprinter, Palmer — She was the area's top 5A sprinter as a junior placing fifth in the 200 with a 24.92, and looked to become a state champ in 100 or 200 in 2020, according to coach Gerald Freeman. Bolton did not qualify for finals in the 100 as a junior, placing 11th in prelims. But her prelim time of 12.66 in the 100 was 0.04 seconds from qualifying and 0.2 seconds ahead of the rest of the field.
Isaiah Escalante-Garcia, sr., Mid-Distance/ Sprinter, Doherty — As a junior the Spartan ran a 48.88 400-meter dash at the 5A state championship meet, finishing third just 0.3 seconds behind the state champ from Eaglecrest. He also brought home second- and fourth-place medals after running the third leg of the 4x100 and 4x200 relays, respectively. He will continue his athletic career at UCCS.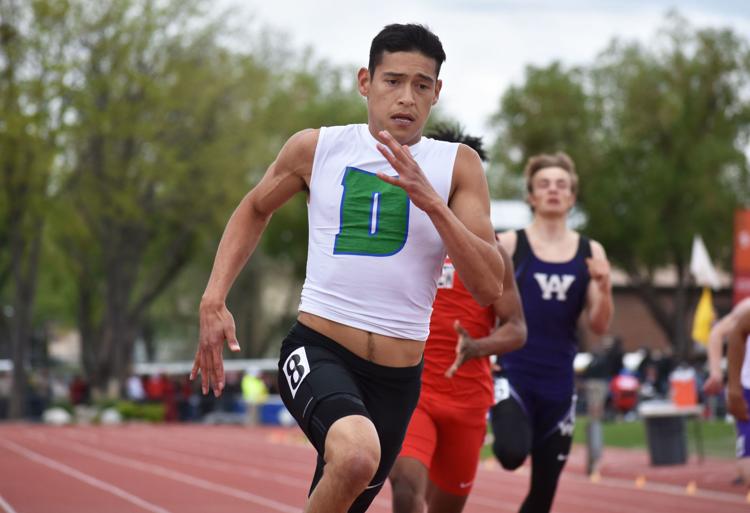 Kelsey Montague, sr., Mid-Distance/ Jumps, Simla — The three-sport athlete was focused on making 2020 his 'best season ever.' Last year Montague won two 1A state relay titles and claimed podium finishes in the triple jump and the 800. His efforts helped Simla take home the second-place team title in Class 1A.
"Although this is certainly not how he planned this Spring season to go, Kelsey remains focused on finishing his high school education, finishing up scholarship applications, graduation (though it will look much different this year), and staying in shape as he looks forward to a future where he continues to compete in track and field next year in college," a local nomination said.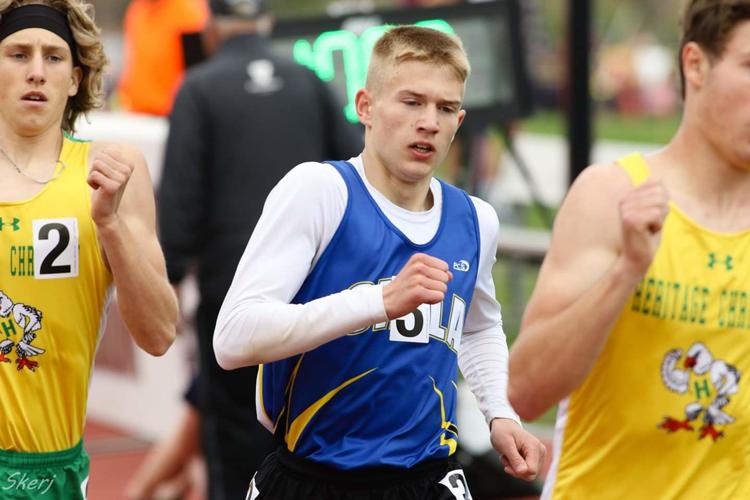 A fan nominated Montague by completing this submission form.
Mason Norman, sr., Distance, The Classical Academy — With three consecutive cross country championships, Norman would have entered his final spring track and field season with the opportunity to capture his first state track title as a local favorite in the 1,600 and 3,200 races. As a junior Norman placed third in the 1,600 (4:27.41) and second in the 3,200 (9:41.45), both behind Denver West's Yasin Sado. Sado transferred to Gateway — a 5A school — leaving Norman as the top returning distance runner in 3A. Norman has signed to run at Wyoming.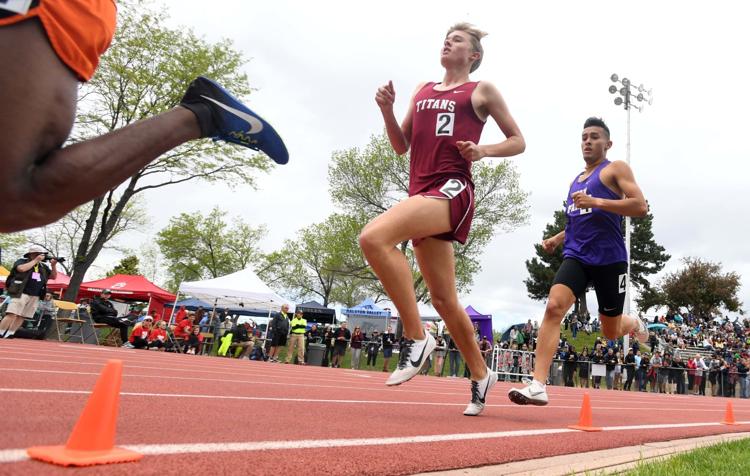 Rece Rowan, sr., Throws, Pine Creek — Rowan entered his senior year as the top returning thrower in the state after finishing third in the 5A shot put (54-0.25) and second in discus (179) behind two seniors in 2019. He would have been one of three returning throwers to finish on the 5A podium last year. Rowan will continue his career at Missouri.
Kyler Sweat, sr., Pole Vault, Pikes Peak Christian — With a title-winning vault of 10-3 in 2019, Sweat competed year-round in hopes of repeating as the 1A state champion. Sweat placed second as a sophomore and improved her state mark by 6 inches between 2018-19.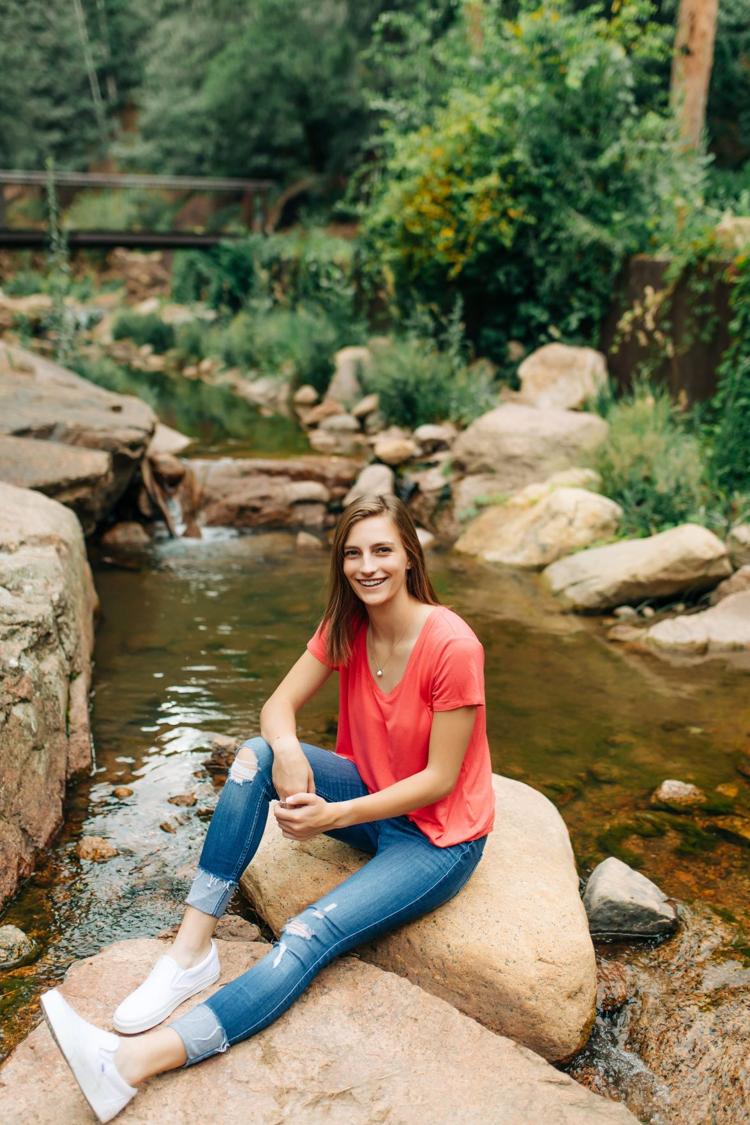 A fan nominated Kyler Sweat by completing this submission form.
Kristina Willis, sr., Pole Vault, The Classical Academy — The pole vault legacy looked to add to the two records set by sisters Andrea (state 13-9) and Erika (state meet 12-9) and repeat as 3A pole vault champ. Last year she vaulted 12-1, beating the second-place finisher by more than a foot. Willis has signed to continue her athletic career at Air Force, joining sister Erika on the team.
VOLLEYBALL
James Irwin boys' volleyball — Spring 2020 would have marked the final club season for boys' volleyball before becoming an official CHSAA sanctioned sport. The James Iriwn boys' volleyball team reached the state semifinals the past two seasons with a combined record of 42-5 and were primed to make a run at the state title. The Jaguars would have been led by seniors Brent Knight (setter), Damien Cole (OH) and Keith Fonoimoans (MH), according to a local nomination.
"After starting the season with a 3-0 win over Doherty the Jags were poised for a very special season with this strong senior leadership," the nomination said.
A fan nominated the James Irwin boys' volleyball team by completing this submission form.