There are no easy tasks being the youngest of the litter. 
When the food comes out, the board games are picked from the cabinet or the basketball is dribbled, Katharine Roach has had to fight for her share as the youngest of four —figuratively, of course. 
The Classical Academy's leading scorer has brought that drive to the court, dating back as far as third grade when she fouled out in her opening game. That tenacity is a trait which can't be coached and Frank Haist knows it. 
He's just enjoying the ride — supporting a player whose impact on the court seemingly counters her caring attitude off it, though he'd argue she never sways. 
"You don't want to coach effort," Haist said. "We're going through sets and drills, you can't also have to coach that. For Katharine, and how she rubs off on the team, I don't have to.
"That's a blessing for a coach." 
The overly aggressive Roach who took the court for the first time has found ways to bottle it since. 
From the naked eye, she's a menace. Roach is in the personal space of the opposing players she guards. It's much of the same on the offensive end as she prefers to drive into the paint, going straight into the body of defenders for inside scoring that often results in a trip to the free-throw line, too. 
Between it all, she takes several hits to the floor, diving for loose balls, taking hip checks from opposing centers and bouncing right back up — even with lingering knee and hip flexor injuries for much of the season.
It all stems back to playing around the house with siblings, neighbors and family members. They taught her how to use the underdog mentality built from being the youngest, while never letting it go too far. 
"I wouldn't be anywhere near as competitive now if I wasn't the youngest," Roach said. "They all encouraged me to be tough when they teased me and kept things out of my reach. They could see it was helping me growing up, even if I didn't see it in the moment." 
Roach fought for her keep, but never let it make her selfish. 
When Haist asked Roach's father what his daughter planned on doing in the future, he said she wanted to be a wedding/event planner. Around school, she's known for art. Give her a pair of Vans, and she'll quickly transform the flat-soled skating shoes into a canvas. 
Haist sees a common trend: she's okay being in the background, as long as it means others are having a good time or finding success. It's an unselfishness that fits into the team's acronym of F.U.N. 
The 'F' stands for family. 'U', naturally, for unselfish. The pillars were formed from Haist's own experience as the youngest of four. Drilling his idea home even more is his own flock of four children. 
So, now her impact on the court is about inspiring others. She lasted two games as a junior varsity player before Haist brought her to varsity as a freshman.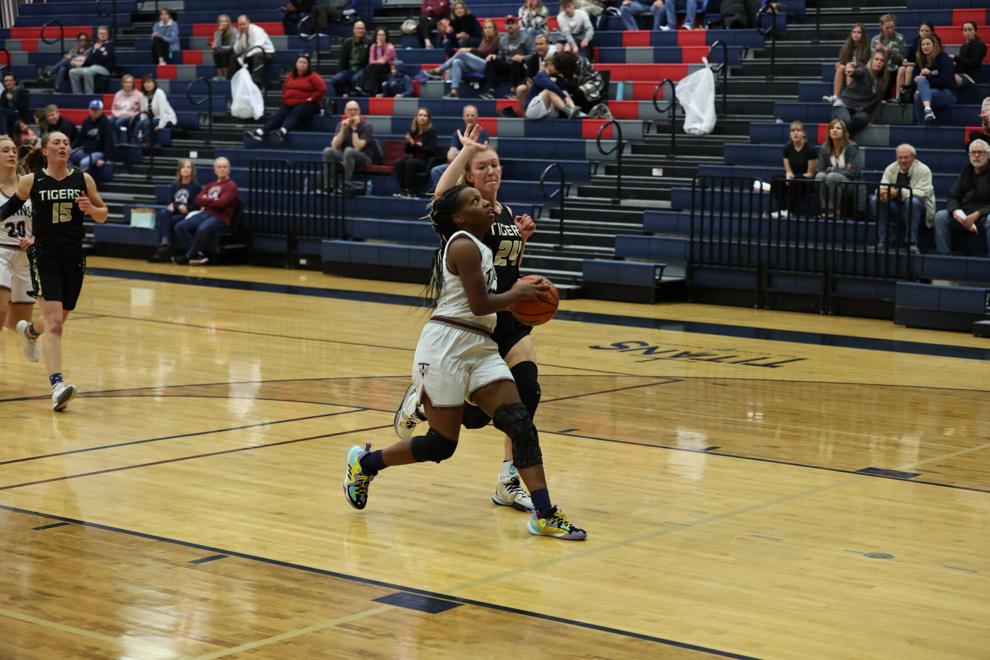 Three years later, Haist's daughter, who's also a coach, and wife are complimenting her ability to play hard, fast and aggressive, without ever treating an opponent with haste. 
"She's a well-rounded girl who loves people and loves the game," Haist said. "Katharine doesn't play angry at the opponent. We joke around about telling her to be annoying. When she's a good defender and has intensity, it annoys the opponent. 
"She's a gracious player and I've never seen her get angry."
So, when the Titans lost senior center Juliet Coyle in a game against the area's biggest team in Fountain-Fort Carson last month, she took the anvil and placed it directly on her shoulders, fighting through hits and falls that would've likely taken many players out of the game. 
Soon after, Palmer Ridge held a similar, 12-point lead over the Titans. Roach led the way in coming back in that contest as well. Both ended as one-point losses, but exemplified a no-quit mindset. 
The team's captains, seniors Brooka Jones and Gracie Dorny, have an easier job knowing the third-year guard is setting an example in action. 
"We all feed off her energy and it pushes us to keep going," Jones said. "We give it our best for each other and she always helps with that." 
"She sets a good example," Dorny added. 
The example was set for Roach early — her siblings were a template, either purposely or accidentally. 
A baton's now been passed, and the Titans are reaping the rewards.