When Josephine Howery laced up her basketball shoes before St. Mary's 3A Tri-Peaks clash against undefeated Vanguard, she envisioned a strong start to 2020.
And once she hit the floor she left nothing to question.
Howery and the Pirates stormed over their Tri-Peaks rival in an 82-39 victory as Howery outscored the Coursers herself with 41 points to beat her own school record of 33.
St. Mary's coach Mike Burkett said it wasn't a surprise that Howery went off against a league rival fresh off the winter break.
"Vanguard had a 6-0 record and we knew we had to take care of business and you have to get focused," Burkett said. "As far as the matchups, Josephine has been playing really, really well, and she had a great week of practice shooting. She did what we expected her to do. She didn't force anything, she played in the system and she had a great night."
Christina Whitelaw set the school record in 2010 with 33 points against La Junta, which Howery tied last January against Buena Vista. Howery came close to the record once this season, scoring 31 against University last month.
The Pirates (7-1) jumped off to a 33-12 lead in the first quarter thanks in part to Howery's 15 in the first eight minutes.
"I definitely just wanted to get a good start to the year and to league play," Howery said. "But I couldn't have done it without my teammates, they really found me tonight and gave me so much confidence."
Playing with that kind of confidence is a theme among the six seniors who have an 80-7 career record in a Pirate uniform.
"Having experience and being able to show what we've got, especially in a huge rivalry game like this, really helps," Howery said.
St. Mary's, who last year averaged 5.6 3-pointers per game, had no problem taking a step behind the line early against Vanguard. The Pirates made nine 3-pointers in the first half, including four from Howery.
"I try not to count of how many points I had, but definitely as 3s kept falling I was like, oh, this is good," Howery said. "It was definitely a confidence builder."
St. Mary's is averaging more than eight 3-pointers this season and had 11 Thursday, the second game this season in which they had 10 or more.
"It's a tough choice for defenses," Burkett said. "We have the ability to go to the basket and to shoot the 3 — I wouldn't want to guard us."
Howery leads St. Mary's now averaging more than 22 points per game, followed by Seneca Hackley, who averaged 16.3 heading into Thursday's contest. But with Howery taking care of the scoreboard, Hackley focused on settling into her favorite role as a shut-down defender.
"Defense is my thing and I like to do the dirty work for my team and do whatever it takes to get the win," Hackley said.
In the third quarter Hackley showed off her athleticism and vision, pulling down a defensive rebound in mid air, and sending it to Howery for a breakaway layup before her feet even touched the ground.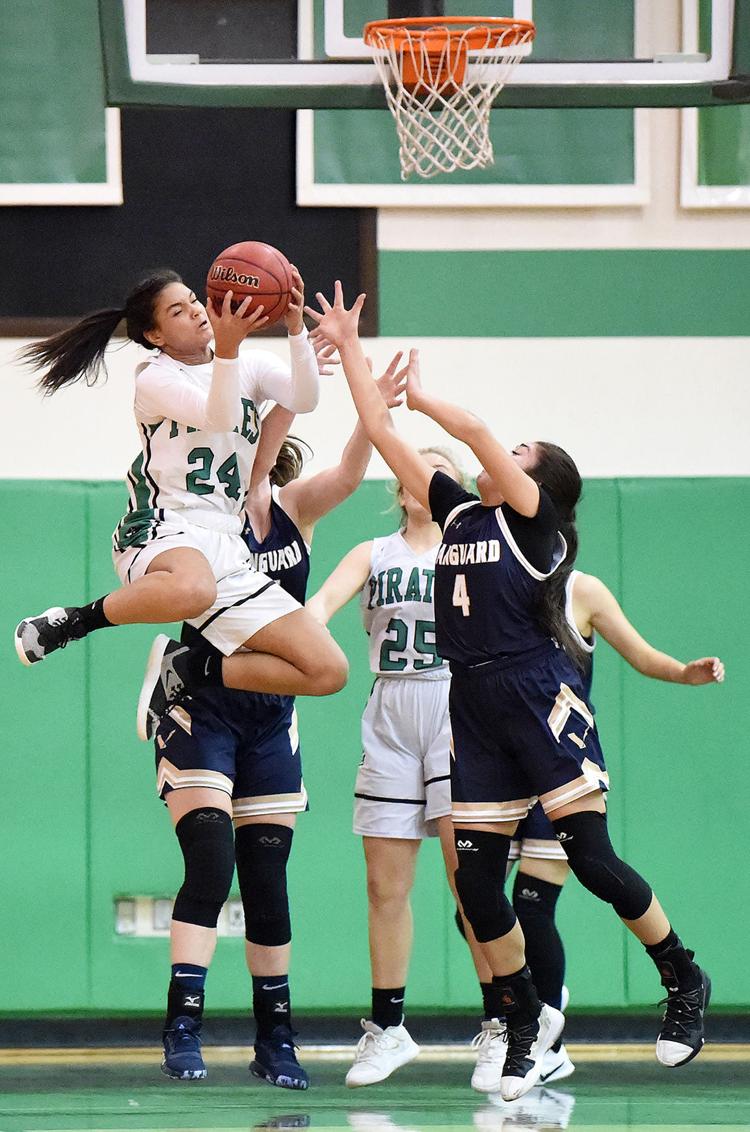 "Phew, I don't think I've ever seen a play like that," Burkett said. "She is just amazing and had a tremendous game."
Sophomore Ellie Hartman scored 14 for the Pirates, followed by Brooklyn Valdez with 12. Vanguard, which suffered its first loss of the season, was led by Hailey Blanchard with 16 points — 11 of which were scored in the second half.