LAKEWOOD - The secret to Jayden Omi's expedited return to the track less than five months after ACL repair surgery is not found in the mystic Manitou Springs mineral water.
Omi opted for modern medicine. He went under the knife Jan. 2, but recovery started in 2018 when surgery had to wait until the new year.
"How my doctor explained it to me, once you're put in that brace and it's fixed in this position for a week," Omi said straightening his powerful right leg, "you lose a lot of muscle, but the nature of an ACL injury, your leg can still function. So before my surgery I did lots of pre-hab, lots of machine work getting this quad nice and big."
Still, all signs pointed to his prep athletic career being done after racking up more than 1,000 all-purpose yards and seven touchdowns as a senior on the Mustang football team.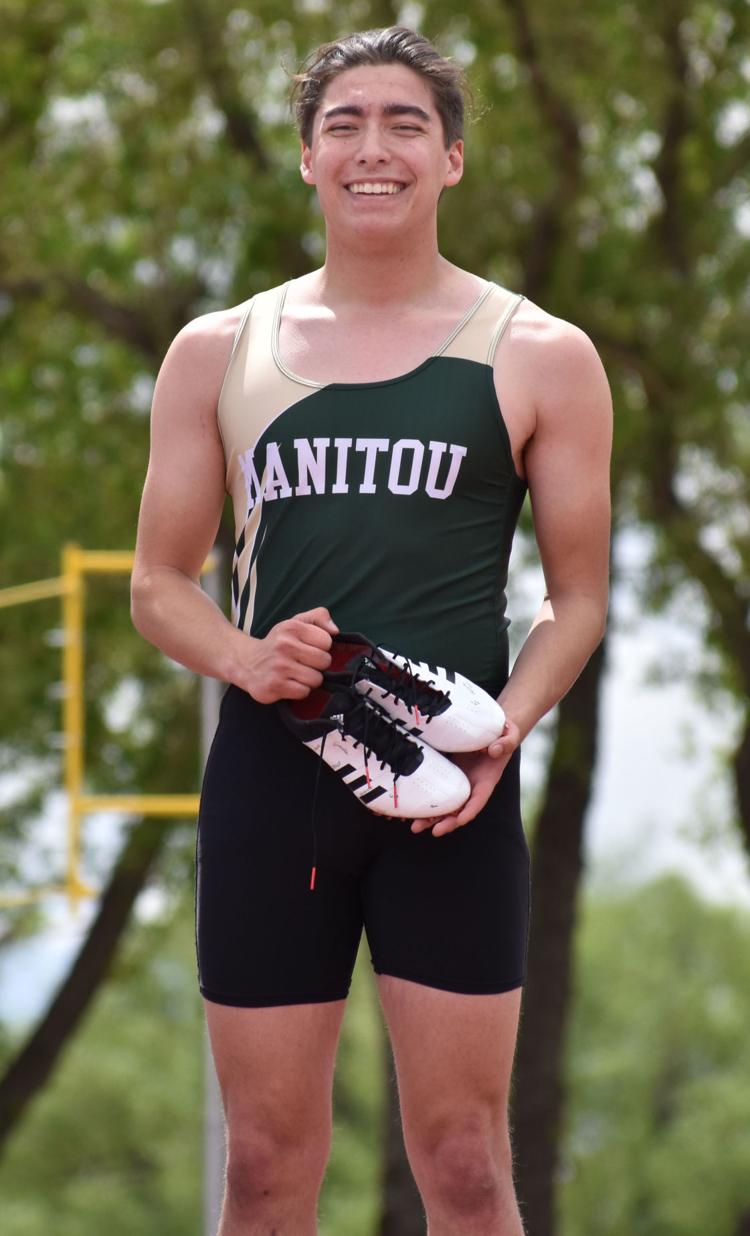 "Everyone told me I wouldn't be here," the Manitou Springs senior said Thursday at Jefferson County Stadium after running the best preliminary time of the 200 meters.
Saturday, Omi finished in 10.97 seconds to win the 100 meters with a personal best and later doubled in the 200.
"Last time I ran under 11 was my sophomore year behind that Luc Andrada guy who just ran that ridiculously fast time," Omi said. Andrada won the 4A 100 in 10.51 in the race after Omi's 3A win.
The prospects of Omi taking the track this spring slowly increased until he returned to competition in April, but that wasn't enough time to prepare for what he believes to be his best event, the 400.
"We kinda made the decision of like 'We don't have a lot of time, let's go after the 1 and the 2 and see what comes of it,'" Manitou Springs coach Anna Mack said. "So we just kind of scratched the 4 for the year."
Although he felt like vomiting as soon as he woke up Saturday, Omi chalked that up to being a competitor and showed no signs of recent surgery, not even a knee brace.
"I feel fantastic today," he said.
The speed of Omi's return gave Mack some concern.
"Even after the doctor released him, I was worried that something was going to go wrong, and I didn't want to be responsible for hurting him again," Mack said.
"I was just constantly bugging him and checking in and asking how he felt. He's always been very honest with me, so I trusted him, but yeah, every day I was terrified."
Omi was also honest when discussing his college plans — there aren't any yet. But Mack hoped to talk to some coaches after his showing Saturday, and Omi appears to take the same determination into his future as he did in recovery.
"Of course I'm going to run in college," Omi said. "That's my answer."
Mack said he's got the tools, physical and mental, to succeed at the next level.
"He's an awesome freak of nature," Mack said. "He worked really, really hard after he had surgery. He was like an A-plus student in physical therapy and just like went super, super hard and was dedicated and was just hopeful that he could run a little bit. This was not in the plan. It just worked out that way. I have no idea how he's actually doing it, but it's awesome."
Centuries ago, Native Americans discovered the bubbly springs and came to consider it a sacred source of water capable of healing. Over the years, word spread as miners, trappers and those seeking natural cures for illness came to Manitou to test the water's legendary properties. Omi enjoys the drink, but he didn't go looking for a secret potion after his football injury.
To celebrate, Omi's going with a different bubbly beverage.
"Drink a soda, it's been six months," Omi said. "I'm going to have a big fat glass of root beer."
His town's famed mineral water took a back seat to hard work when it comes to recovery, but he may leave the Mustangs with a new ritual.
"Maybe that should be a new tradition," Omi said. "Bring our mineral water with us."