Joel Scott excelled in an unfamiliar role in his final season at Lewis-Palmer — big brother.
The youngest of five boys, Scott watched as his brothers starred for the Rangers and waited for his turn.
That came early, as Joel made his varsity debut as a freshman, but older brother Jonathan led that Rangers team to the state quarterfinals. The next two seasons, Joel grew into his role as the Rangers' leader, taking L-P to the state championship games before coming up short.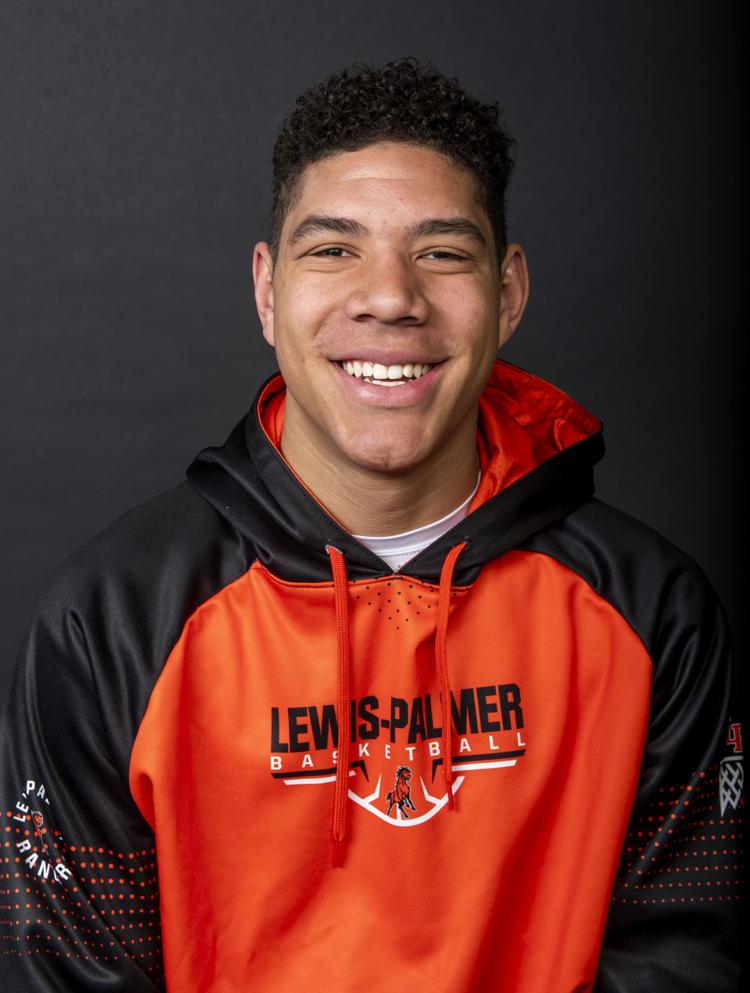 As a senior, his final chance to add to the family's trophy collection, Joel treated opponents like they were the pesky, irritating little brother.
He bullied opponents with strong drives and finishes at or above the rim, leading the Rangers in scoring at 18.7 points per game. He outjumped and outmuscled others on the glass, grabbing a team-best 6.1 rebounds per game. And when brave souls tried to penetrate the L-P defense, Scott was the protector, blocking two shots a game, while adding more than an assist and steal per contest. The all-around dominance helped Lewis-Palmer to an undefeated state championship and earned Scott a second consecutive Gazette Preps 5A/4A Boys' Basketball Peak Performer of the Year.
"When I was little, I always wanted to be out there with them," Scott said of watching his older brothers.
"It was always a dream of mine. For it to come true like that and go out there and win a state championship like my older brothers did, it's just an unbelievable feeling."
For Lewis-Palmer coach Bill Benton, Scott's rise to prep stardom was pretty easy to believe.
"He was the only senior that played all four years on varsity," Benton said. "It was evident for him as a freshman. You knew he was going to be a special young man. He had the tools, he had the mindset."
The coach added that each year Scott returned with an improved game. The result was a true, two-way player who was tough to stop on offense and a disrupter on defense capable of guarding any player on the floor. As a senior, that development included becoming the type of leader who would speak up when necessary.
"He doesn't just say things to say them," Benton said. "He's pretty intentional when he does speak."
His play did much of the talking his senior year. He led the Rangers to a 12-point win over Chapparal, a finalist in 5A, with 20 points and nine rebounds. Against Falcon, he hit all three of his 3-pointers and finished with a season-best 32 points.
In the state championship game, a rematch of last year's final that Longmont won 62-59, Scott didn't have his best night offensively, finishing with 15 points on 4-of-9 shooting, but he was stellar defensively, blocking seven shots in a five-point L-P win. After presumably having his shot sent back by older brothers throughout his youth, the roles reversed his senior year.
"It was really awesome," Scott said. "We really created a brotherhood, and it was really so much fun to go out the way we did this year."
Scott had all the answers for L-P this season. Now, he can resume his role as an inquisitive younger brother. He's planning to play college basketball, but he's not sure where yet. Fortunately, he's got a handful of older brothers.
"It's awesome because if I need help I can always call them and see what their thoughts are and see what they have to say," Scott said.
"It's really nice to have brothers that have gone through the process."
For Lewis-Palmer, Scott was the one with experience and expertise in a dominant championship season.