BASEBALL
Class 4A
No. 5 Lewis-Palmer 9, No. 1 Severance 7
At Rawlings Field: Lewis-Palmer claimed an upset win and ousted top-seeded Severance from the 4A state tournament with a win in the first round of the elimination bracket Saturday morning.
No. 2 Cheyenne Mountain 7, No. 5 Lewis-Palmer 3
At Rawlings Field: Cheyenne Mountain found redemption for two regular-season losses to Lewis-Palmer in postseason win to fend off elimination in the 4A state tournament.
Cheyenne Mountain took a 3-0 lead heading into the third inning before Lewis-Palmer was quick to load the bases off a base hit and two walks. Tommy Fiocchi hit a bases-clearing triple to tie the game with no outs. Cheyenne Mountain turned a double play and forced a fly out to limit the damage in the third.
Lewis-Palmer loaded the bases again in the fifth inning, but Cheyenne Mountain pitcher Ben Myers struck out the final batter to keep the Rangers scoreless.
Denton Damgaard opened the bottom of the inning with a leadoff triple, followed by two hit batters that loaded the bases for Cheyenne Mountain, which brought three runs across in the inning before Lewis-Palmer stopped the bleeding with three men stranded on base.
"I think both teams missed some opportunities today, and we were just fortunate to respond and put up some runs, so that was huge," said Cheyenne Mountain coach Mark Swope.
Damgaard finished with four hits to lead Cheyenne Mountain and had one RBI. Adam Jackson had two hits and two RBIs and Max O'Neil, Hays Chaney and Jaxon Siegel had an RBI each. Myers pitched a complete game and collected seven strikeouts.
Maxwell Randis had two hits for Lewis-Palmer and lefty Matt Rhoades pitched 4.1 innings with three strikeouts. Caleb Pepper threw 1.2 innings of relief and fanned two. The Rangers end their season 15-5.
"We've grown up playing these kids (from Lewis-Palmer) our whole lives, so it's a lot of fun. It's a close environment and fun to play against him," Damgaard said. "Every game moving forward is just as important as this one. This is the furthest I've ever gone. My freshman year we lost in this game right here so it's exciting and we have to play our hearts out and play like there's no tomorrow."
Cheyenne Mountain advances to the first semifinal contest in the elimination bracket against the winner of No. 8 D'Evelyn and No. 6 Evergreen on Friday at 10 a.m.
Class 2A
No. 3 Peyton 15, No. 11 Denver Christian 0
At Runyon Sports Complex: CJ Lashley threw a four-inning no-hitter in the opening round of the 2A state tournament as Peyton, the 2019 defending state champions, made a statement in a mercy-rule win over Denver Christian in four innings.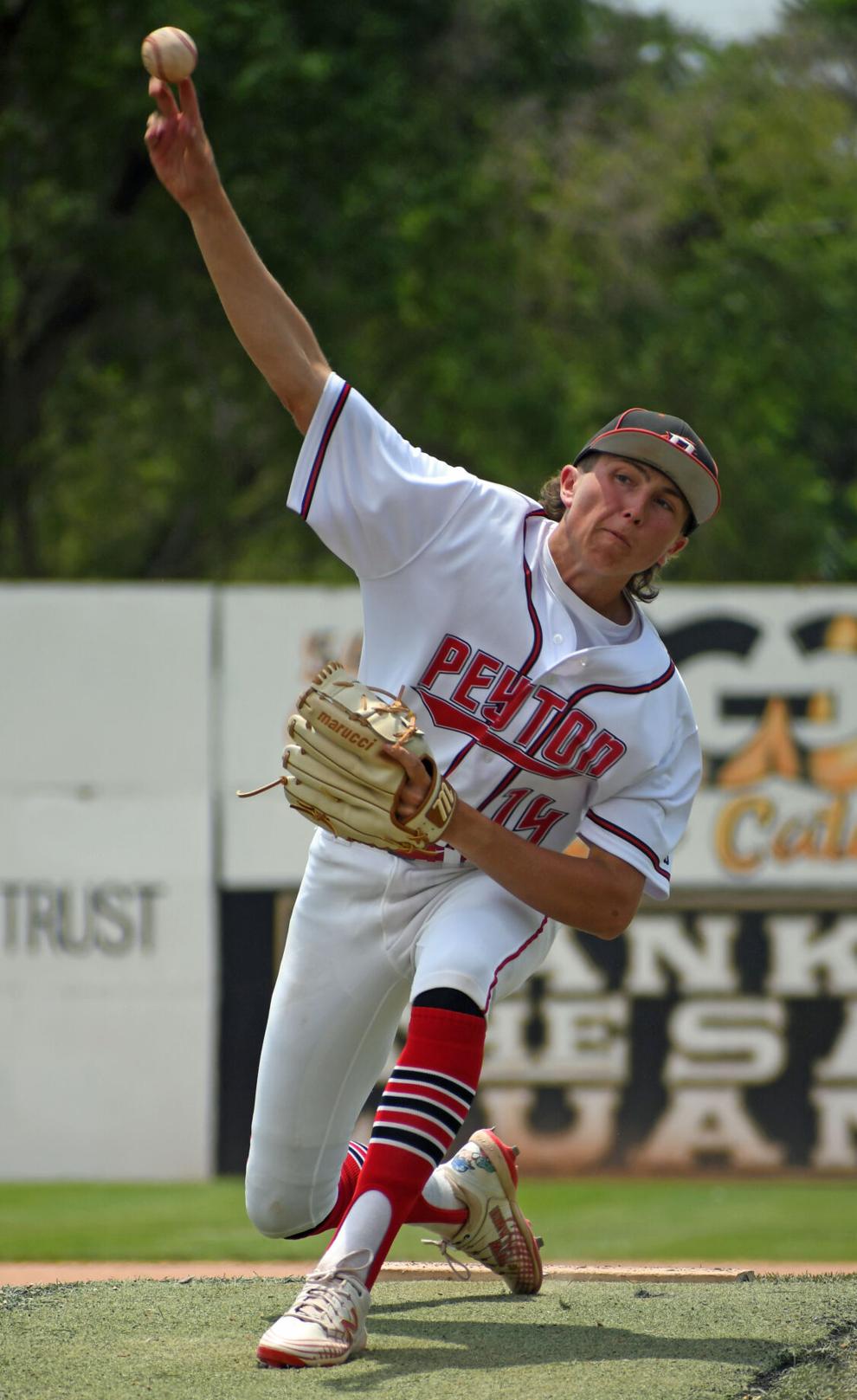 "I think this is our eighth or ninth straight season that we've been here, so not to be here last May was rough," said Peyton coach Kelly Nickell. "It's great to be back."
Lashley collected five strikeouts in his four-inning no-hitter and threw just 52 pitches in the win. Brandon Hussey had two hits and two RBIs for Peyton, while Brenton Battista, Luke Turner, Bryce Gregg and Lashley had an RBI each. AJ Lashley had three hits and Brennen Meyers had two.
No. 3 Peyton 8, No. 7 Buena Vista 1
At Runyon Sports Complex: Peyton punched its ticket to the 2A state championship to defend its 2019 title with a semifinal win over Buena Vista.
The Panthers took an early 2-0 lead over the Demons, and tacked on a few in the middle innings before scoring four in the top of the sixth on the way to a comfortable win.
The Panthers will face No. 1 Limon in the 2A state championship game next Saturday at 9:30 a.m. Peyton will be looking for redemption from a regular-season loss to the Badgers. The 4-2 loss to Limon is the only blemish on its record this year.
No. 1 Limon 8, No. 24 St. Mary's 1
At Runyon Sports Complex: St. Mary's impressive postseason journey came to an end Saturday against No. 1 Limon in the state tournament.
Last week No. 24 St. Mary's earned two upset wins in regionals to enter the state tournament, but ends its season 11-8.
Class 1A
Nucla 5, Evangelical Christian Academy 4
At El Pomar Sports Complex: Nucla scored three runs in the top of the fifth and took the lead with a single run in the top of the seventh as the Mustangs claimed a 1A quarterfinal win over Evangelical Christian.
Pavel Bernlohr had two hits for the Eagles and Jonathan Bunker had one hit and an RBI as ECA finishes the season 10-3.
BOYS' LACROSSE
4A Semifinals
No. 1 Cheyenne Mountain 9, No. 4 Erie 8
At Englewood High School: Cheyenne Mountain is headed back to the state championship after fending off a late attack by Erie in the state semifinals.
Cheyenne Mountain held a 5-1 lead at halftime but the Tigers pushed back in the second half, trailing by one in the final minute. But Erie ran out of time to complete the comeback.
Colby Erdossy scored four goals for Cheyenne Mountain while Aidan Hybl and Wyatt Furda had two each. Mitchell Lewis had a goal and an assist and Vance Maready had three helpers and Zak Paige had two. Goalie Matty Kelleher had 10 saves.
Cheyenne Mountain will face No. 2 Evergreen on Tuesday at 5 p.m. in the program's third straight appearance in the state final.
BOYS' VOLLEYBALL
James Irwin 3, Mountain Vista 0
At James Irwin: The Jaguars claimed the Region 4 championship with a sweep over Mountain Vista to move on to the state tournament next week.
James Irwin defeated Mountain Vista 25-18, 25-19, 25-21 in the team's 10th consecutive win in straight sets.
Ryan Longamore and Josh Livergood had 11 kills each to lead James Irwin and Ryan Hansen had eight kills and three blocks. Livergood led the Jaguars at the net with four blocks while Luke Ferrante and Aivan McCrary had two aces each.
The No. 4 Jaguars will face No. 5 Eaglecrest on Friday in the state quarterfinals.
Cherry Creek 3, Colorado Springs Christian 0
At Colorado Springs Christian: CSCS' inaugural boys' volleyball season came to an end with straight-set loss to Cherry Creek in regionals, falling to the Bruins 25-17, 25-13, 25-12. The Lions conclude the season with an 11-3 record.
GIRLS' SOCCER
No. 1 Northridge 1 (W), No. 9 Air Academy 1 (SO)
At D6 Stadium: Top-seeded Northridge defeated Air Academy in a shootout 5-4 in the state quarterfinals to advance to the semis next week.
Air Academy tied the game with a goal in the second half, which eventually forced overtime. The game went into a shootout where the Grizzlies came out on top to end the Kadets' season with a 9-3 record.