Sand Creek senior Nikki Derrell breaks school record for 3-pointers
Nikki Derrell has been a key part of the Sand Creek girls' basketball program since her freshman year. Now a senior, Derrell has had a double-figure scoring average through her entire career, and Thursday permanently wrote her name in the Sand Creek record books.
Derrell entered Thursday's game against Sierra with 200 career 3-pointers, one away from the school record. She sank six from beyond the arc to break the school record, and then some. She then added another two 3s against Fountain-Fort Carson.
As of Sunday, Derrell has 208 career 3-pointers, tying her for No. 18 all time in Colorado girls' basketball history.
Sand Creek will face Falcon, The Classical Academy and Cheyenne Mountain this week, before wrapping up the regular season against Elizabeth the following Tuesday.
Fountain-Fort Carson's Torie Bass earns McDonald's All-American Game nomination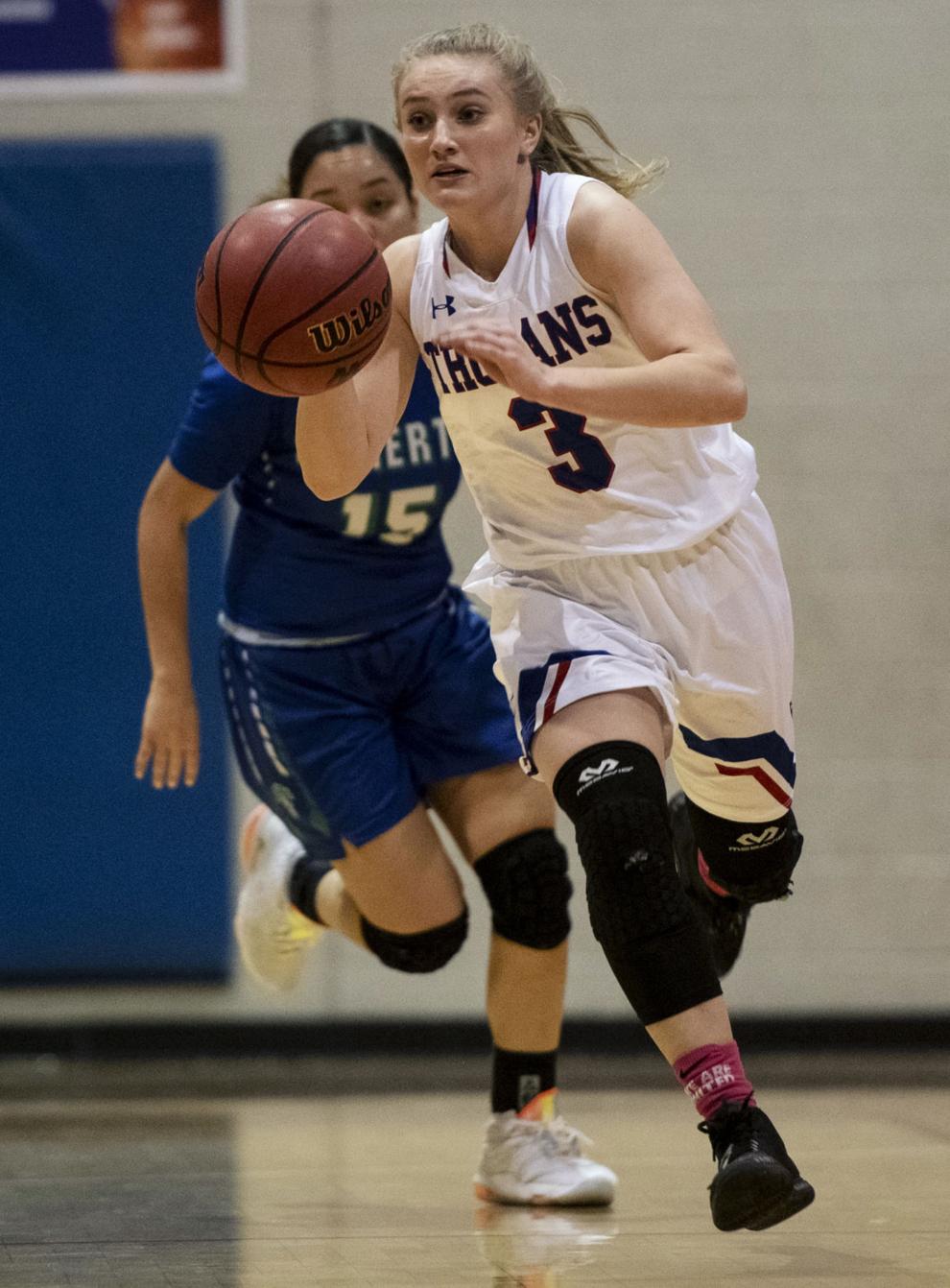 Fountain-Fort Carson senior Torie Bass was one of seven Colorado girls' basketball players nominated for the 2021 McDonald's All-American Game, announced earlier this week.
Bass averages 12.9 points for Fountain-Fort Carson, which is 6-1 and ranked No. 13 in Class 5A. Bass, a point guard, has been a vital member for the Trojans, leading the team in scoring the past two years.
More than 700 girls' and boys' players were nominated, and the final 48-player roster will be announced at the end of the month. The game will not be played, however, due to the ongoing pandemic. The 48 athletes named will be honored virtually.
Nine Colorado basketball players were nominated in total. Bass, along with KaCee Kyle (Cherry Creek), Addison O'Grady (Grandview), Avery VanSickle (Regis Jesuit), Kindyll Wetta (Valor Christian), Maya Whiteseide (George Washington) and Abigail Wrede (Cherry Creek) were nominated for the girls' team. Julian Hammond III (Cherry Creek) and Cade Palmer (Rangeview) were nominated for the boys' All-American team.
Lewis-Palmer girls' swimming smashes pool records
The Lewis-Palmer girls' swim and dive team hasn't had many opportunities to compete at home — but when it does, the Rangers make it count.
Lewis-Palmer broke six pool records through its three home meets this season. Three records fell in the team's home meet against Liberty earlier this month, and three came down against Pine Creek.
The Rangers' 400 free and 200 medley relay teams of Katie McClelland, Hannah Schoenauer, Sydney McKenzie, and Abby Nelson broke records this month. The 400 free relay team posted a time of 3:38.90 against Liberty for the L-P pool record, and in the 200 medley, clocked in a time of 1:47.11 against Pine Creek.
McClelland broke two pool records against Liberty with a time of 53.33 in the 100 free, and won the 50 free with a record-breaking time of 24.39. Lindsee Newman claimed a new record in the 500 free against Pine Creek with a time of 5:18.25, and McKenzie broke the 100 back pool record against the Eagles in 57.82.
Lewis-Palmer is undefeated heading into its final dual against Air Academy on Tuesday before the state championships next month.