Josh White could've easily disappeared from the St. Mary's baseball team for much of this season. He could've gone fishing or hiking — two of his favorite activities — in the afternoon and evening.
He didn't do that.
Instead, he attended every Pirates practice and even helped coach his peers while recovering from a wrist injury. And once he made his return to baseball, it was as if he never left in the first place.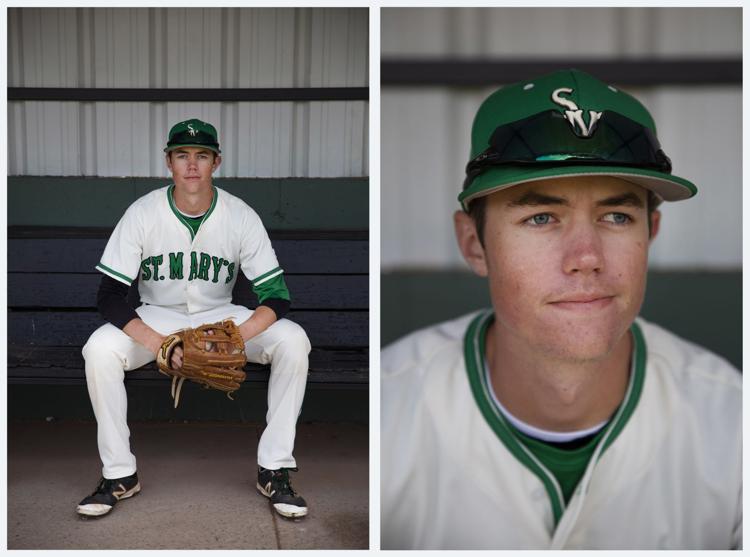 Look at what happened this past weekend. He provided offensive firepower with eight RBIs in St. Mary's wins over Brush and The Academy in the Class 3A Region 8 tournament to push the Pirates to the state playoffs.
It's first time since 2016 that the Pirates have made it this far.
Though he only started playing again six games ago, White has been on a hitting spree. For that, he earned this week's The Gazette Preps Peak Performer honor.
"He's been impossible to get out since returning from the injury," Pirates coach Bill Percy.
White has been waiting patiently for his return.
He played in the Pirates' first five games before he got hurt in mid-March. While playing basketball with his kid brother, the 6-foot-2 White dunked the ball, swung off the rim and landed on his wrist.
Still, he stuck around while he recovered, helping out in practice and staying in the dugout during games. Even though he couldn't do much but watch, he cheered his teammates on — all waiting for his return. That happened earlier this month.
No. 6 St. Mary's will open the state tournament against No. 3 Lutheran on Friday.
The Pirates have had a good season so far with a Tri-Peaks League championship, a 19-6 overall record and a state berth. But they're glad to have White back in the batting lineup with the likes of Eddie Romo (.338 batting average, 15 RBIs) and Sam Baldwin (.324, 16 RBIs).
"I'm just trying to do the best I can to help this team win," he said.
—
Just the Facts
Josh White, St. Mary's
Sport: Baseball
Year: Senior
Position: Outfielder
Highlights: He gave the Pirates an offensive boost with eight RBIs in two big wins at the Class 3A Region 8 tournament. That performance helped St. Mary's advance to the state tournament for the first time since 2016. White had a broken wrist for eight weeks and only returned recently to help the Pirates push through the postseason.
Favorite team: Colorado Rockies
Favorite athlete: Trevor Story
Favorite musician: George Strait
Hobbies: Fishing, hiking
Favorite school subject: Science
—
Other Top Performers
Baseball
Riley Cornelio, Pine Creek
The senior threw a no-hitter in the Eagles' 3-0 win the Class 5A Region 6 opener last week. He also finished with 10 strikeouts. Pine Creek lost in the regional title game to end its season with a 17-8 overall record.
Girls' soccer
Lisa Long, Cheyenne Mountain
The senior had the game-winner with about 7 minutes left in a 1-0 win over Silver Creek to lead the No. 21 Indians to another stunning victory and to the Class 4A state championship game. In the postseason, Long has had four goals as the Indians have been pulling upset win after upset win.
Boys' swimming and diving
Quintin McCarty, Discovery Canyon
The freshman helped lead the Thunder to a runner-up finish at the Class 4A state championship this past weekend, thanks to a first-place performance in the 50-yard freestyle in 20.90 seconds and a second-place showing in the 100 backstroke with a time of 50.7.
Jack Elbert, Air Academy
The senior had an impressive performance in the 1-meter diving competition at this past week's 4A state championships. He finished with 458.20 points, coming in second behind Denver South's Jack Ryan, who broke the 4A record in the event with a 581.5.
Track and field
Ava David, Gabrielle Hyatt, Zatee Jones and Ashlyn Ventimiglia, Cheyenne Mountain
They came together to give the Indians their third consecutive 4x100-meter relay title at this past weekend's 4A state championships. They finished in 48.72, a program best. The group featured three seniors and one freshman in Jones.
Brendan Young, Canon City
The senior and UCCS-bound athlete won two golds at this past weekend's 4A state meet. He took first in the long jump before he moved on to the triple jump, in which he leaped to 47 feet, 11 inches to win the event and set a Canon City record. He also helped the Tigers to a third-place finish in the 4x100 relay and placed fourth in the high jump.