When Cheyenne Mountain junior Jesse Boley stepped onto the mat for his first match of the season against the No. 5-ranked heavyweight in Class 4A, coach Tyler Seaney took a deep breath.
The stage was set, and the experiment was about to begin.
Before the season began Boley, a returning state qualifier at 170 pounds, found himself in the middle of a packed upper-weight lineup for Cheyenne Mountain. After weighing in too heavy for 182 pounds, he hit a roadblock with top competitors Nico Gagliardi and his brother Jake at 195 and 220 pounds, respectively.
So the only way to go was up.
Jesse Boley, at 6-foot-1, barely 200 pounds in his first match of the season, stood across the mat from one of the state's top heavyweights, who weighed in more than 40 pounds heavier.
And two minutes and 59 seconds later, Boley had him on his back.
"That first match was a big eye opener," Seaney said. "We thought well maybe it was a fluke, but now, with how he has wrestled going forward, it's pretty incredible."
"I think it was my speed more than anything and the confidence I had going into that match," Boley said, recalling his introduction to heavyweight wrestling. "No one expected me to win."
With three duals to go before the end of the regular season, Boley is 12-2 wrestling up as a heavyweight and has an eight-match winning streak. Last week he beat the fourth-ranked 220-pound wrestler from Montrose, Brandon Van Nooten, in 1:38.
He is the Gazette Preps Peak Performer of the Week.
"It is a bit intimidating when you first go out there, for sure," Boley said. "The guys I'm wrestling look a lot bigger than I am, they're bigger and stronger, but I have to put that aside and use confidence and try to persevere through it."
Boley wrestled at 132 pounds as a freshman, and moved up to 170 as a sophomore, and placed third at regionals to qualify for the state tournament.
Seaney said he's never seen a wrestler jump from lower to middle to heavyweight, but believes the skill set learned at the lower weights is what is propelling Boley's success this season.
"This light athletic kid is able to take over because they're not used to seeing legs come in or all these different shots and scrambles," Seaney said. "The skills-set he had that made him so good at 170 isn't seen in the heavyweight division. They don't know how to react, and it throws them off."
Boley uses his speed, conditioning a few moves not otherwise seen among heavyweights including the guillotine, which Boley said he used to pin two heavyweights last weekend.
"I like to throw legs," Boley said. "A lot of heavyweights don't know how to defend them, and I just had to use my confidence and my speed to get around them."
Boley's top training partner and most competitive adversary is his older brother Jake, who is undefeated at 220 pounds as a senior. Jake returns after placing third at state last year and is the top-ranked 220-pound wrestler in 4A.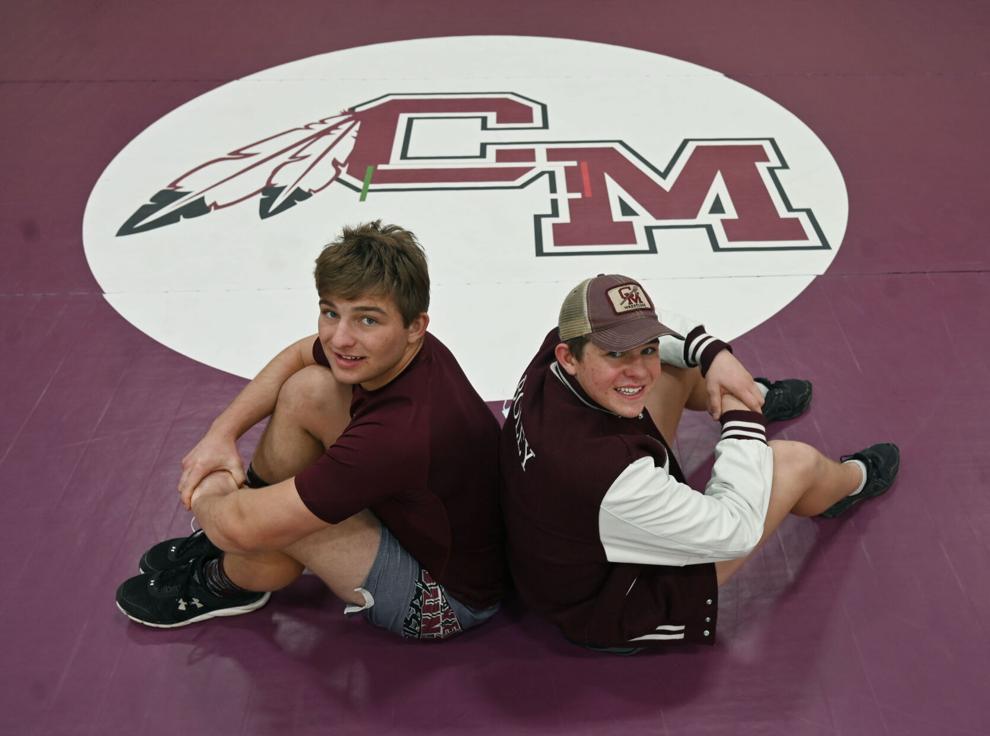 "When we practice together we are working hard and really trying to compete and make each other better," Jesse said. "There is a little sibling rivalry, but it's great to have someone who cares about you and also pushes you in practice and stuff."
Jake is known as the man to beat at 220 pounds, and last weekend he earned his biggest win of the season, defeating No. 2 Gavin Howes of Pueblo County 7-5 after three overtime periods.
Jesse, on the other hand, the eighth ranked 4A heavyweight, hopes to remain under the radar.
"When other heavyweights get on the mat and see that I'm barely 200 pounds and look tiny, they think, 'Oh, I got this', and they go out and make mistakes, and I capitalize on those mistakes. Flying under the radar helps because not everyone is going out looking to beat you; it's just another match."
But Seaney doesn't expect him to be under the radar for long.
"He's going to be seen before we know it," Seaney said. "He has far exceeded what anyone thought would happen and he continues to impress and put good kids down."