A portrait of 2019 Mitchell grad Ryan Coldren hangs to the right of the Marauder's scoreboard on either side of the gym.
Coldren, a captain on the 2018-19 Mitchell basketball team, died on October 27, 2019 after a brief battle with Lymphoma.
His portrait, featuring his bright smile, and of course, a basketball, serves as a reminder to the Marauders that their brother is with them each time they look at the scoreboard.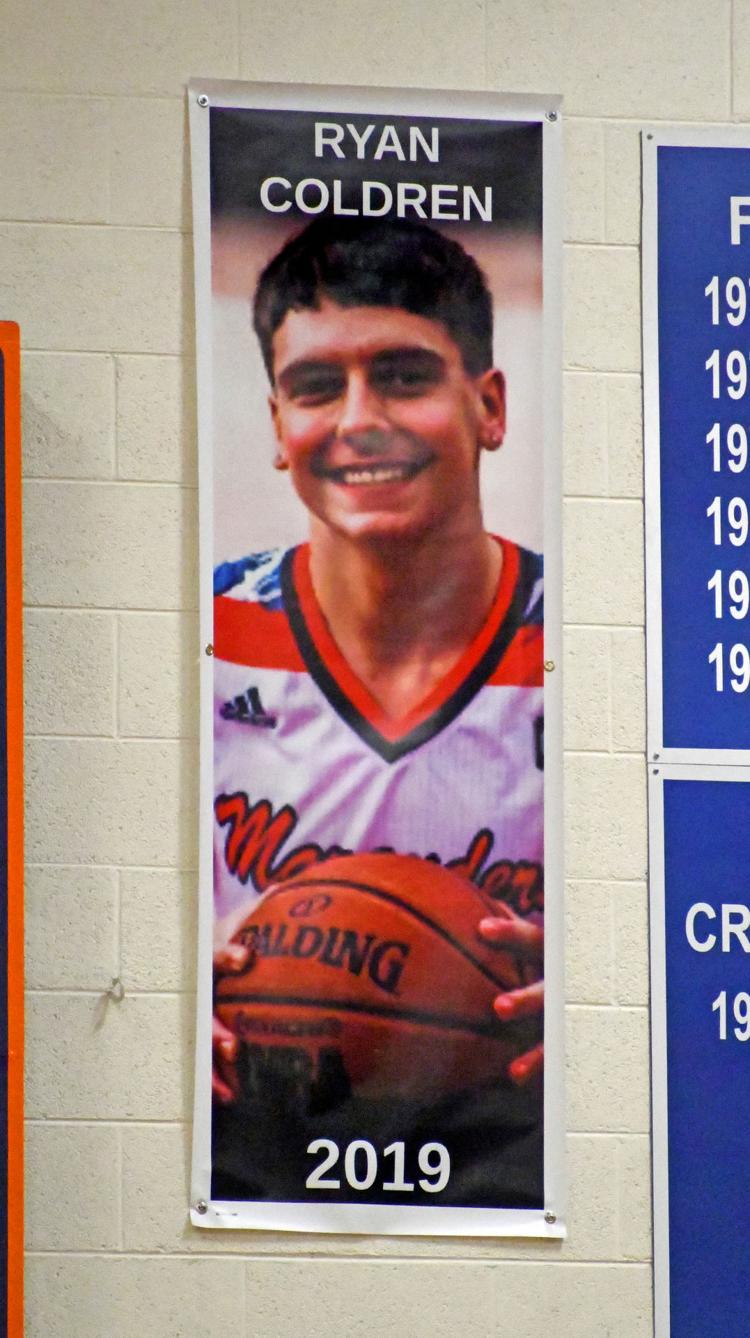 "We feel his energy each and every night, and it helps all of us," said senior Dom Ferris, who grew up playing basketball at Wasson Park with Coldren. "He inspires us to keep working, keep trying and to get to the playoffs."
Though the scoreboard reflected a 53-46 loss to TCA Thursday, the Mitchell basketball program is still in the midst of its best start in nearly a decade — a turnaround predicted by Coldren.
"Before he passed away one of his major things he always told the guys was, you guys are going to do it. You're going to change the school and you're going to change the culture for Mitchell," said Marauders coach Tyron Wright. "They have dedicated everything that they're doing to him."
Mitchell's 7-2 start is the best in nearly a decade and has already surpassed the win total from the last two seasons combined.
"Losing Ryan was a big moment for us. He has always been my brother, and he's still my brother.
I love you, Ryan," said Ferris, drawing a cross with his hands and sending a kiss to the sky.
In addition to the intrinsic motivation stemming from Coldren's death, Ferris said the team's attitude was the biggest change from years past. Wright echoed Ferris, saying the Marauders are more focused on each practice, each game and are eager to show others how far they've come.
"They have bought into the idea of playing hard and trying to change the culture of the school," Wright said. "Everything is an opportunity. And today we fell short on the scoreboard but these kids believe they are capable of doing some things that haven't been done in a while and they're just walking it out and proving themselves that they can do it."
Mitchell battled back from a seven-point deficit in the fourth quarter to come within one of TCA (8-3), but ultimately couldn't finish the task as the battle for the 4A CSML crown heats up.
Senior Micah Lamberth led the Titans with 22 points and had 11 rebounds, followed by Tyler Trogstad with 15 points and nine boards. Lamberth was responsible for nine of TCA's 11 points in the first quarter as both teams struggled to get shots to fall.
"It is always tough playing at Mitchell, I don't care what kind of team they have," said TCA coach Leo Swiontek.
Mitchell threatened late in the fourth quarter coming within one thanks to a 3-pointer by Domanick Trujillo, but after a timeout was called by Swiontek, the Titans capitalized on rebounds and turnovers to pull away in the final two minutes.
"Coach Ty has brought discipline, and he has brought competitiveness to this program," Swiontek said. "It's really great to see the program improve. I have seen a big difference. program is picking up and it's happening not just on the team but around the school."
Ferris led the Marauders with 12 points and John Wusstig had nine off the bench.
"I think we found out tonight that we are capable of maybe even a little bit more than what we thought, so hopefully moving forward this will be something that sparks some extra motivation to who we are," Wright said. "Mitchell is not a joke anymore. Mitchell is good enough to be in this game and in bigger games at the top of our league and that's what we are going for every day."