Tanner Widic's services are in high demand down at Mesa Ridge High School.
The 15-year-old plays center forward for the soccer team and is the starting wide receiver, kicker and punter for the football team. All of this was more manageable as a freshman when the football teams played in the fall and boys' soccer was moved to the spring.
Now his coaches help map out his afternoons to maximize the 5-foot-11, 183-pound sophomore's potential.
"We're joint-custody parents," Grizzlies football coach Jerimi Calip quipped. "A lot of it really is just communication."
Widic has his sights on breaking a few of the Mesa Ridge soccer records set by older brother Tristan, who plays for Colorado Mesa. Tristan was also a kicker for the Grizzlies.
Catching up to Tristan is made more difficult, but not impossible, by the fact that football comes first right now. A high school team shopping for a kicker one practice field over isn't unheard of. When he or she has capable hands as well, that's a wrinkle in the arrangement.
It's a lot sometimes, Widic said, but he prefers to be busy. His teammates are amused and happy — usually — to help.
"They don't like me going to the other sport but they'll support me," Widic said. "If I miss a day of practice they'll get me back in the loop."
Tristan influenced Tanner's interests, and Tanner saw himself similarly — a soccer player first — for years, even after his friends convinced him to try football. As a freshman, Widic tied for the varsity team lead with 13 goals and tied for second with 13 assists through eight games as the Grizzlies went 6-3 and reached the postseason.
But his skills on the gridiron were growing and he was falling in love with football. First-year soccer coach Jay Drake said he had to sell Widic on his vision for Mesa Ridge's program.
"He's definitely worth sharing," he said.
When there's a conflict, Calip gets dibs due to the nature of his sport. Drake understands, having shared players in the past with Calip during their years at Vista Ridge, though not like this.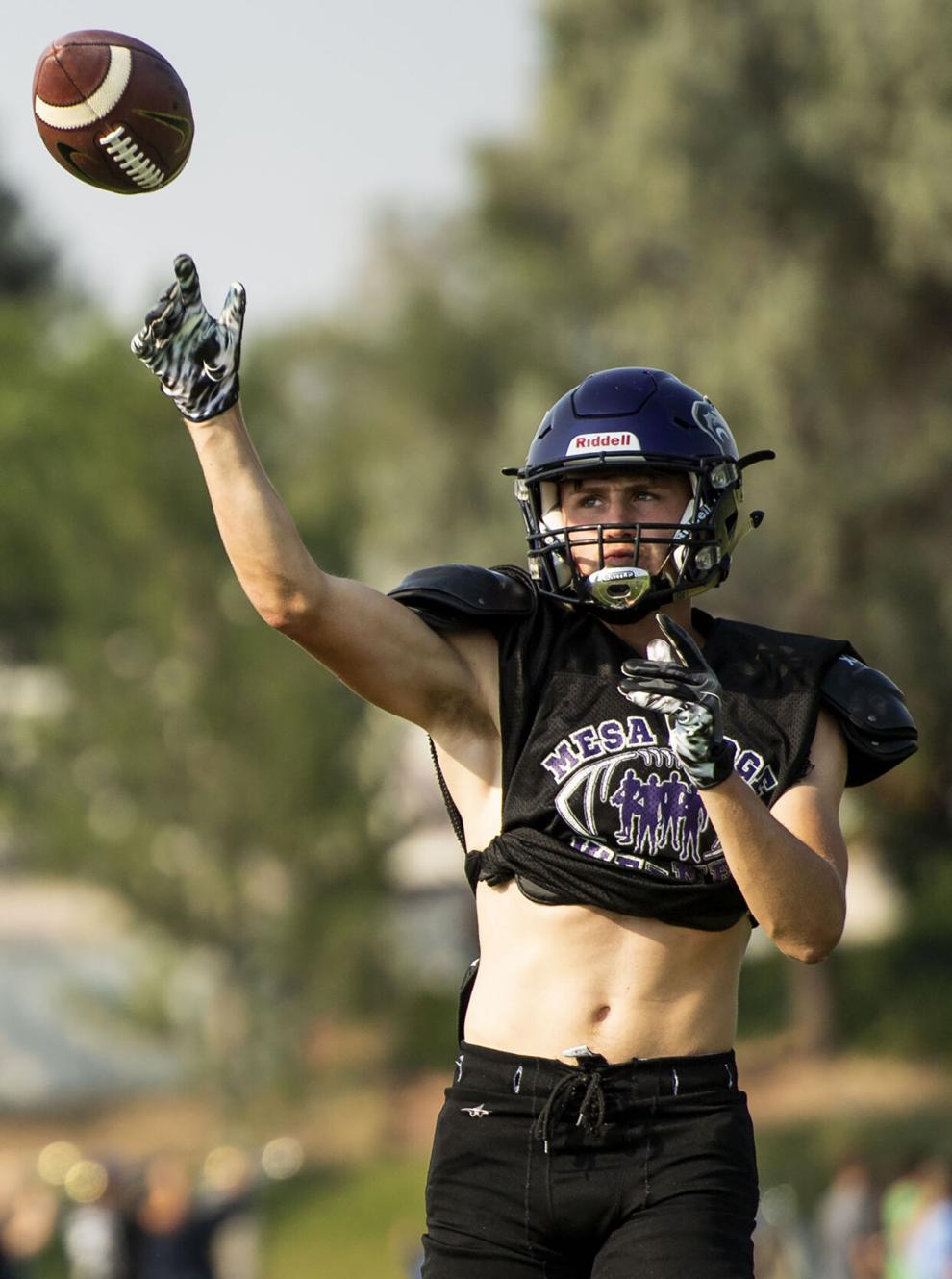 It's easier for Widic to slide back into the more fluid soccer, and Drake said he's skilled enough to drop in on game day. Widic recorded four goals and two assists through four games. He took part in football practice Tuesday before Wednesday's 1-0 soccer loss at Erie.
"He's one of the most talented players that I've coached in this city at his age group," Drake said.
"The kid's got a drive and a motor that you rarely see in a high school player."
In a comeback win Aug. 26 at Denver South, Tanner had five catches for 58 yards, including one to get the Grizzlies within a point, according to father Al. He then kicked the 20-yard, game-winning field goal with 42 seconds left.
In addition to three soccer games last week, Widic added another TD catch as Mesa Ridge fell 30-27 to Palmer Ridge. That differential against last year's 4A state finalist encouraged Widic and his teammates.
"We were trying to show the state that we're here to play and I feel like we did," Widic said. "We stuck with them the whole game."
He also plays safety and could be a two-way starter, Calip said, but they don't want to overwhelm him.
"If you don't game-plan for him, he's probably going to eat you alive," he said. "I'm pretty sure it's the same thing on the soccer field."
Though he wasn't sure what to expect out of him at first, Calip now sees the "fast, big, strong, physical" Widic as a Division I receiver, if that's the way he leans.
"In my opinion, he has the opportunity to go play at the next level in both," Drake said. "At some point, he'll probably have to make a decision, but as of now, as a sophomore, he's got time."
Widic also plays travel basketball and kept his GPA above a 4.0 last year. Drake said someone tried to convince him to add track and field.
"Maybe he is a five-sport athlete," Drake theorized. "Who knows, the kid might wrestle."
Maybe don't mention that.