When Tarin Thomas steps on the field, her Rampart softball teammates look to her to gauge their moods — because she is always having a good time.
It doesn't matter if her team is down a few runs, or dominating, Thomas always brings a positive attitude and a smile.
And after her performance on the softball field last week, there's a lot for Thomas to smile about.
After Rampart started the season with two tough losses the Rams regrouped, led by Thomas and eight other seniors, and found a spark heading into the team's first tournament of the year — the Fountain-Fort Carson Invitational.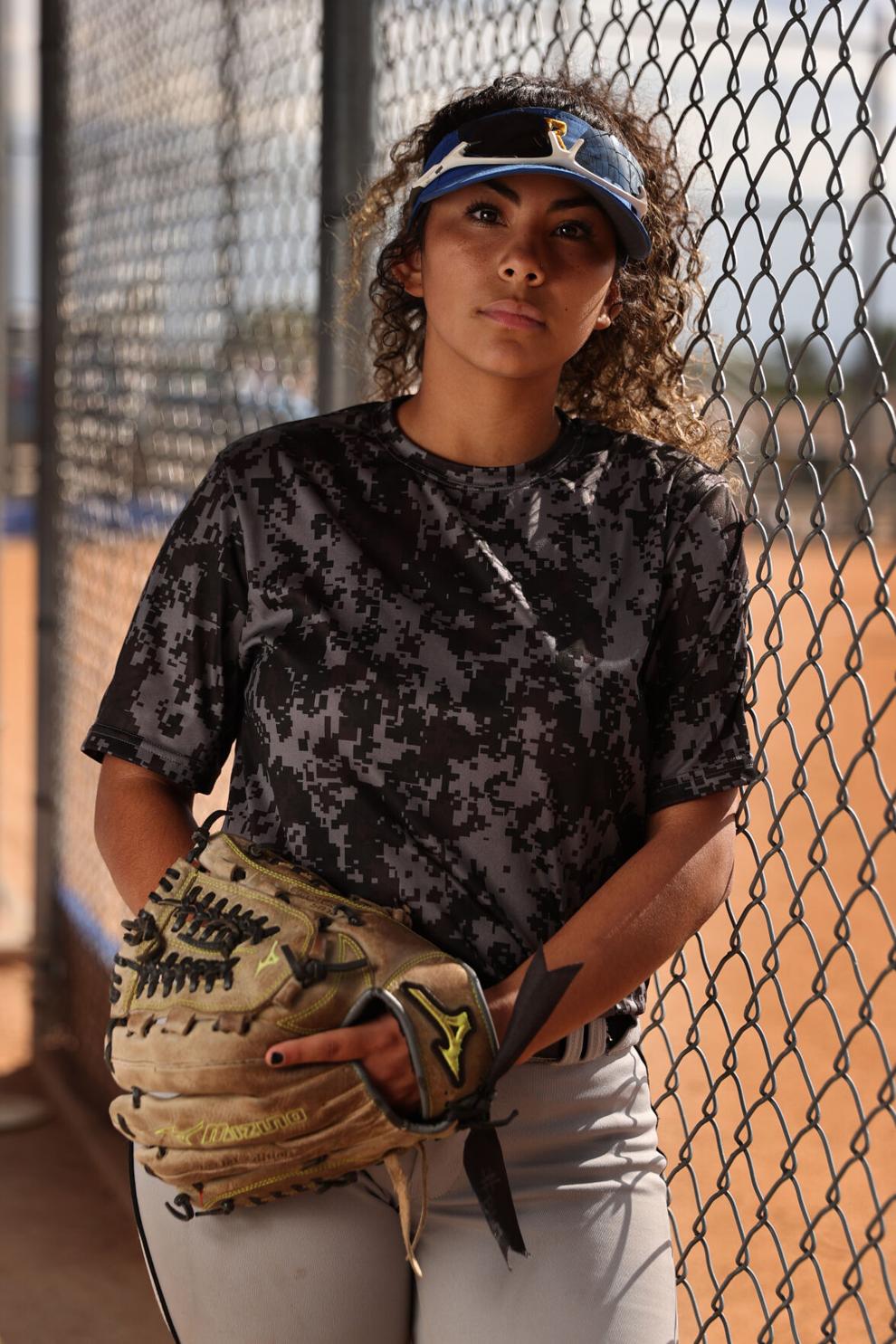 "(Assistant) Coach Kelly (Noga) told us we needed to play our hearts out because it's the last time you're going to play in high school," Thomas said. "We didn't even think we were going to have a season this year, so I think that really got to us. We all cried afterwards and we were like, OK, we have to get this going."
The Rams went undefeated in the Fountain-Fort Carson Invite and were 4-1 last week, outscoring opponents 71-29.
Thomas led the way with 10 hits, 16 RBIs, and had 15 strikeouts in the pitching circle. But for Thomas, it was all about having fun and taking a break from some of the stress.
Preparing for her senior year through a global pandemic hasn't been easy, Thomas said. After adjusting to COVID-19 regulations and navigating online learning, softball has become a way for her to let loose and have fun in the midst of a "weird" senior year.
"I feel like sometimes we are just too stressed," she said. "School is stressful, and we stress about our future and sometimes we forget that we're living in the now. I don't want softball to be something we have to stress about."
Thomas and the Rams relieved their stress through aggressive offense, collecting no fewer than 15 hits per game through the invitational.
"Early in the season we were a little timid at the plate, but we worked on just being aggressive and they really showed that at Fountain," said Rampart coach Ryan Sheets. "We didn't get too many two-strike counts because we were attacking early. Tarin hits in the four hole for us so she has a lot of RBI opportunities and every time she came up with runners on she came through."
After playing six games in seven days Rampart has a week off. A slight benefit of the shortened season is the Rams now have time to regroup, practice and apply what they learned before next week's 5A/4A Pikes Peak Athletic Conference game against Discovery Canyon.
OTHER PEAKS
Peak Performers and Other Peaks are selected based on performances from Aug. 24-29. To nominate a Peak Performer of the Week email preps@gazette.com.
Campbell Grage, jr., Cheyenne Mountain boys' golf: Last week Grage had two top-10 performances at invitationals. First Grage shot a 79 at the Liberty Lancer invite, placing ninth, then rebounded with a 2-under par performance at the Frederick Classic thanks in part to four birdies in his round at Coyote Creek Golf Course.
Brianna Jennings, sr., Rampart softball: Jennings finished a 4-1 week with the Rams collecting 12 hits, nine RBIs and two home runs. She also helped turn two important double plays in a close 12-10 win over Cheyenne Mountain, which sparked a four-game winning streak.
Colby Schultz, jr., Palmer Ridge cross country: Schultz won the Peyton Cross Country Invitational last week with a time of 17:09.6, kicking ahead of Cheyenne Mountain's Knox Exton earning a three-second gap and the win. His efforts helped award Palmer Ridge the team title.
Jade Allen, Lewis-Palmer cross country: Allen cut the tape at an Air Academy PPAC Invitational last week with a time of 18:55.40, more than nine seconds ahead of teammate and second-place finisher Aubrey Surage. The next runner would not cross the finish line for another two minutes.
Steven Zhou, so., Cheyenne Mountain tennis: Zhou helped the Cheyenne Mountain tennis team remain undefeated with three dominant wins at No. 3 singles last week, allowing just seven games scored against. He defeated opponents from Palmer Ridge (6-1, 6-2) Discovery Canyon (6-2, 6-0) and Air Academy (6-2, 6-0).