Nine months ago, Riley Simpson was ready to pack her bags and leave Colorado Springs to enroll early at Baylor University, where she had earned a full ride to play volleyball.
But in typical 2020 fashion, the pandemic changed her plans.
Simpson got the call in September that she wouldn't be able to join the volleyball team a semester early. It was a disappointing phone call, but it also meant one other thing: She could play her final year of high school volleyball at Rampart.
"I'm really ready to go play college ball, and I'm excited to do that, but at the same time I was sad that I was going to miss the high school season, so it was kind of bittersweet," Simpson said.
Flash forward to May 2021, and Simpson is on the bottom of a dog pile on the court at The Broadmoor World Arena after Rampart won the program's first volleyball state championship.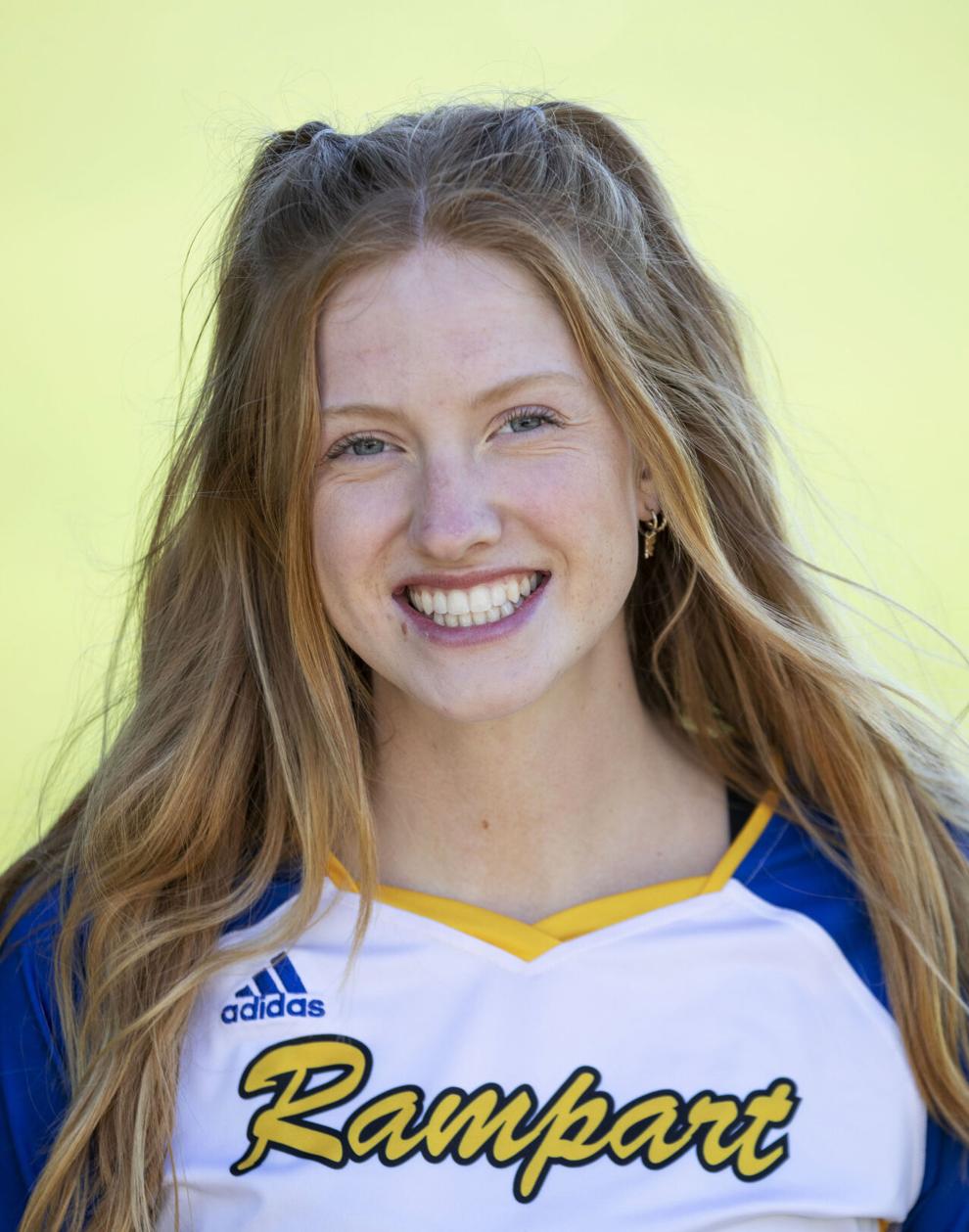 "I have the worst fear of missing out," Simpson said. "I would have kicked myself in the butt my whole life, like, 'Wow I missed the state championship.' Honestly I'm a strong believer that it is all in God's plan and he has a grand plan for us, and it just all fell into place for us this year."
Simpson's impact was undeniable throughout the season as the Rams lost just six sets through the regular season on the way to a 13-1 record to finish at the top of the Colorado statewide rankings, and No. 27 nationally.
She is the 2021 Gazette Preps 4A/5A Girls' Volleyball Peak Performer of the Year.
As the youngest of four sisters, who are all accomplished volleyball players in their own rights, Simpson learned to use competition as her driving force. Her sisters Cierra and Gabby helped Doherty complete an undefeated run to the 5A state championship in 2012 and her oldest sister Taylor graduated from Doherty in 2011.
"My sisters were always my guiding light," Simpson said. "I'm really competitive, I always have been because I'm the youngest in my family so it's always a competition. Who can get things done in my family first, who is the tallest, all this stuff. I think the competition between us, it just made us stronger volleyball players because we've always had to look up to one another."
The 6-foot-4 outside hitter entered the state tournament leading Rampart with 181 kills, averaging 4.7 kills per set. She collected 44 kills during the state tournament and finished with the second-best hitting percentage (.326) in 5A among hitters with 200 or more kills. Simpson also had 123 digs, 23 aces and 19 blocks. In the 3-1 win over Grandview that clinched the 5A state championship, Simpson had 18 kills and tied a career-high four aces.
Looking back on the moment the Rams became a state champion, Simpson can't believe it almost didn't happen.
She wrote her name in the record books forever by helping to finally push Rampart up to the tier of state champions.
"I'm so thankful I was able to be a part of history and that program," Simpson said. "It has always been a great program, but also kind of like a bubble team. They've gotten really close in finals many years in a row, and I think finally taking this step forward and saying, 'Hey, we can do this.'
"And now Colorado Springs is on the map a little bit more than it was before. And that really means a lot to me. We did it for our city, we did it for our school and we did it for our fans."