Taylor Knox and Ciara Monger grew up in the Calhan wrestling room. Their fathers coached them since they were wobbly toddlers, waiting for an opportunity to win a state championship.
Back then, the idea of girls' only wrestling was simply a pipe dream. But this year, it became a reality.
In 2021, Colorado joined at least 25 other high school state associations offering its first season of girls' wrestling as a sanctioned sport, opening opportunities for athletes like Knox and Monger, who aim to make a statement in a sport typically dominated by boys.
"I never actually thought we were going to get here," said Knox, a sophomore. "I remember a couple of turning points when I was little when I was like, 'Man, I am so over wrestling boys.' But now, finally some equal ground so we can finally get some wins that feel satisfactory."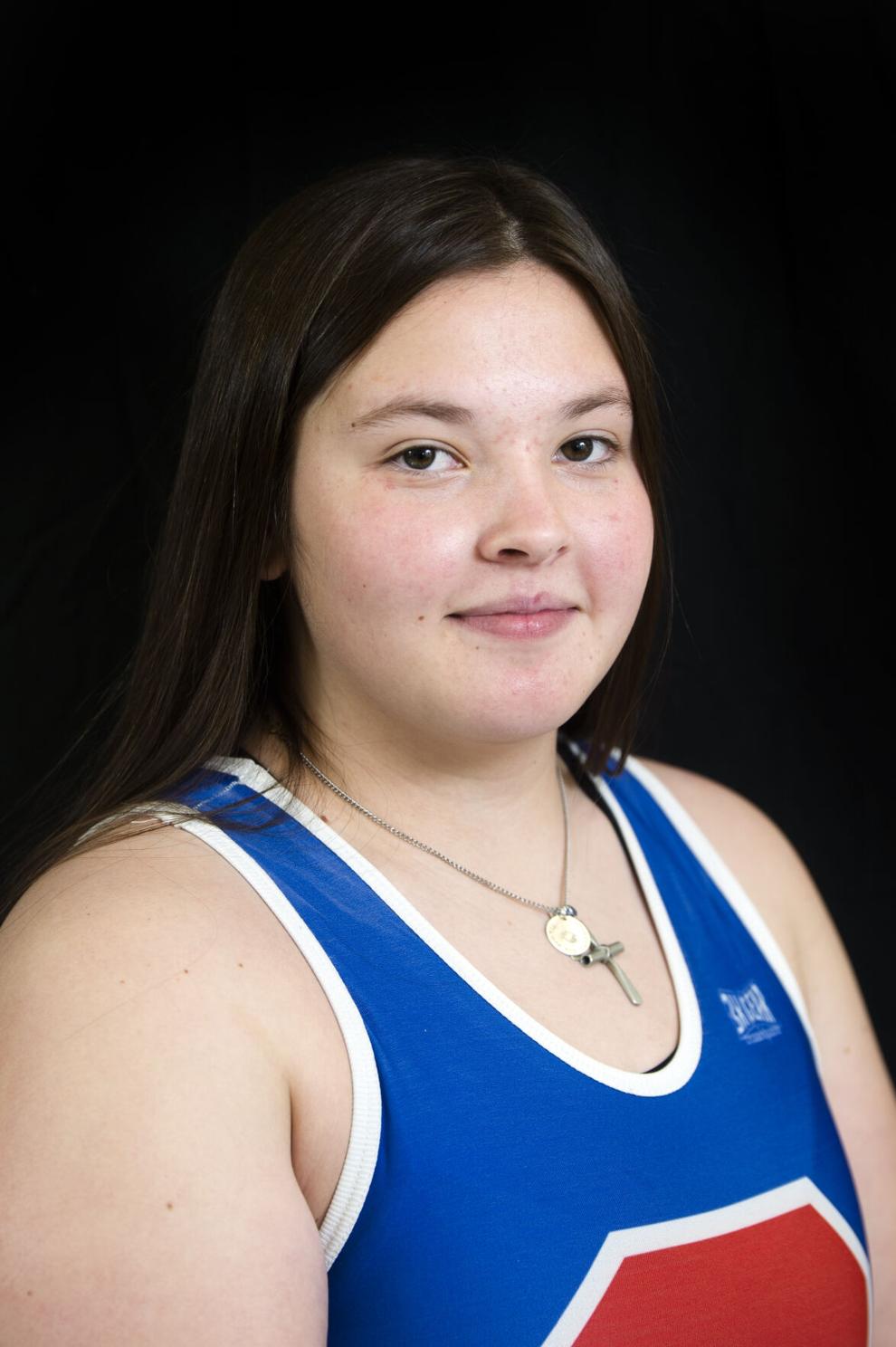 Knox and Monger, who have been training partners since they were young, earned their fair share of satisfactory wins this season. Monger finished her freshman season undefeated with a regional and state championship. Knox finished 17-2, also winning her region and state bracket.
Knox and Monger became the first girls' wrestling state champions at 185 and 215 pounds, respectively, and the first Pikes Peak region state champions in the sport. And in honor of the area's inaugural girls' wrestling champions, Knox and Monger have both been selected Gazette Preps' first Girls' Wrestling Peak Performers of the Year.
Monger stormed through the 215 state bracket with dominant performances through the first two rounds, pinning her opponents in 37 and 47 seconds, respectively. In the title match, Monger had her opponent on her back in 1:25. Directly across the mat, Knox pinned her 185-pound opponent in 3:52 for the state title.
"It was so cool to win together because we have grown up together and worked so hard together," Monger said. "It gives me a lot of motivation to go out and win the next three years and it makes me want to work harder and push even more. And we know people are going to be after us next year, we just have to be ready for it."
In the Calhan wrestling room, photos of past state qualifiers line the wall, with a single portrait of the program's lone state champion hanging above each qualifier. It's been 16 years since a portrait was added under the state champion banner. But soon, it will feature Knox and Monger.
"We worked hard and got our state championship, and I think the whole school was like 'Woah, someone from Calhan can win,' and I think that was a big stepping point for our school because no one, besides our other state champion, had won like that," Knox said.
Monger hopes their wins will help encourage other female wrestlers to try out the sport.
"I think it's cool to bring something like that back and it motivates others to do better and push to get up there too," Monger said. "We don't have a lot of girls in our younger programs, and we hope this helps them stay with it and push harder and they know they can do it."
Growing up, Knox and Monger felt at home in their wrestling room, and gained respect from their male teammates. But as they got older they yearned for something more.
"I was excited, because this gives every girl a chance to go out there and do something other than just girls' sports and it gives girls more power to show what they can do," Monger said. "I think it helps wrestling the boys because it makes us stronger and more competitive, but it feels nice to have equal competition."
Looking ahead, Knox and Monger both feel the pressure to repeat as state champions, and are excited for the challenge. Monger has the chance to become the state's first four-time state champion in girls' wrestling, while Knox hopes to earn a college scholarship.
"Being a junior next year is exciting because I've always wanted to go to college and wrestle, so if I win another state championship that makes my chances better of getting a scholarship or to try out for another team after high school — just to be that good would be the best," Knox said.
But both believe they've only scratched the surface.