Amyah Moore-Allen and her sister Diamond grew up watching their dad, Bobby, play basketball at the Pueblo Slabs, and it was love at first sight.
Amyah, now a senior at Harrison, waited for the day in sixth grade when she could finally put on a jersey.
"I loved the sport from the day I put the ball in my hands or put the ball through my legs," Moore-Allen said. "I just loved everything about it."
While she said she is still trying to perfect Allen Iverson's crossover, Moore-Allen's game is better than most — just check the rankings.
As a senior, Moore-Allen led a struggling Harrison team to a 5-9 record and was responsible for 58% of her team's total scoring. Her competitive fire, athleticism and guts helped her finish the year as the Colorado girls' basketball points leader, averaging 28.2 points per game, and 20th nationally. She is also the Gazette Preps 2021 5A/4A Girls' Basketball Peak Performer of the Year.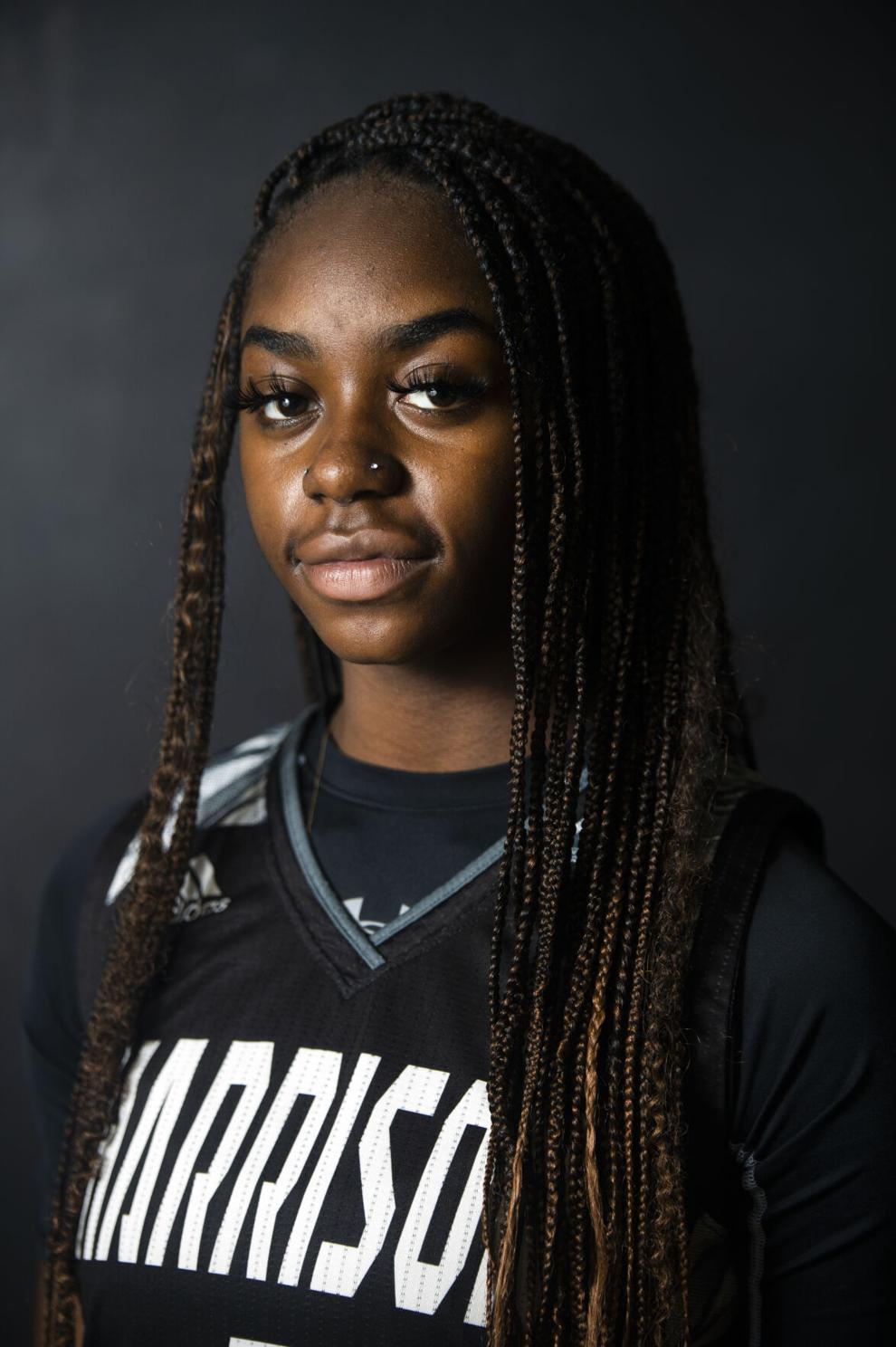 "It feels really great, honestly. Where I'm from people don't expect people from Harrison to be top 20 in the nation or anything, so it feels really good to know that I'm up there, doing good and accomplishing my dreams," Moore-Allen said. "It warms my heart because it kind of feels like I left a legacy. Me and my sister were doing the most for this team so we could win."
Diamond Moore-Allen, a 2020 Harrison grad, kept Amyah grounded and motivated throughout a taxing season. The two were a dynamic duo for Harrison throughout their varsity careers. But in her first season without her sister beside her, Amyah said the first few games were a challenge.
But Diamond's message was simple: Be positive.
"I had her in my ear telling me that being negative wasn't going to help," Amyah said. "But I realized all I have to do is just have fun and play. The first two games of the season I wasn't really scoring, and my defense was a little lazy, but after I talked to her, the transition was just to have fun. And that was it. And now I'm top 20 in the nation by just having fun."
Moore-Allen had a double-double average of 28.2 points and 13.1 rebounds, and also averaged 6 steals, 2.9 blocks and 2.8 assists. She had the fourth-highest field goal percentage (59%) of the top 20 scorers, nationally, and would have been ranked second in Colorado in points per game among both boys and girls.
To put it simply: She is a playmaker.
"I could be a shooter or a scorer, but I think my best ability is getting the ball up the court and knowing where to put it, whose hands to put it in," Moore-Allen said.
She finds comfort in competition and wants the ball in her hands, regardless of the sport. She is also the setter on the Harrison girls' volleyball team.
As the main target for opposing defenses in virtually every game this season, Moore-Allen said her skills only improved, as well as her mental toughness.
"Patience is a virtue, especially in a close game, and as soon as I slow down and just see the court, I can go and do my thing," Moore-Allen said. "I went and did my thing, and we ended up winning because I was calm. When I did come out in that second half, I was all anxious and everything. You have to be calm and breathe; everything is going to be okay; you don't have to do it all yourself.
"You have to work through that every game. And even though the outcome might not be what you want, as long as you're doing what you're supposed to, it will be okay."