Those who watched Bethany Michalak race as a youngster knew something special was coming through the Air Academy cross country program.
And after her first year of high school racing, their presumptions were proven true.
The Air Academy freshman dominated the 2020 season, winning every race she competed in, complete with a 4A state championship.
So what is it like to dive into high school competition and find such immediate success?
Well, for one, she had to learn to race against herself.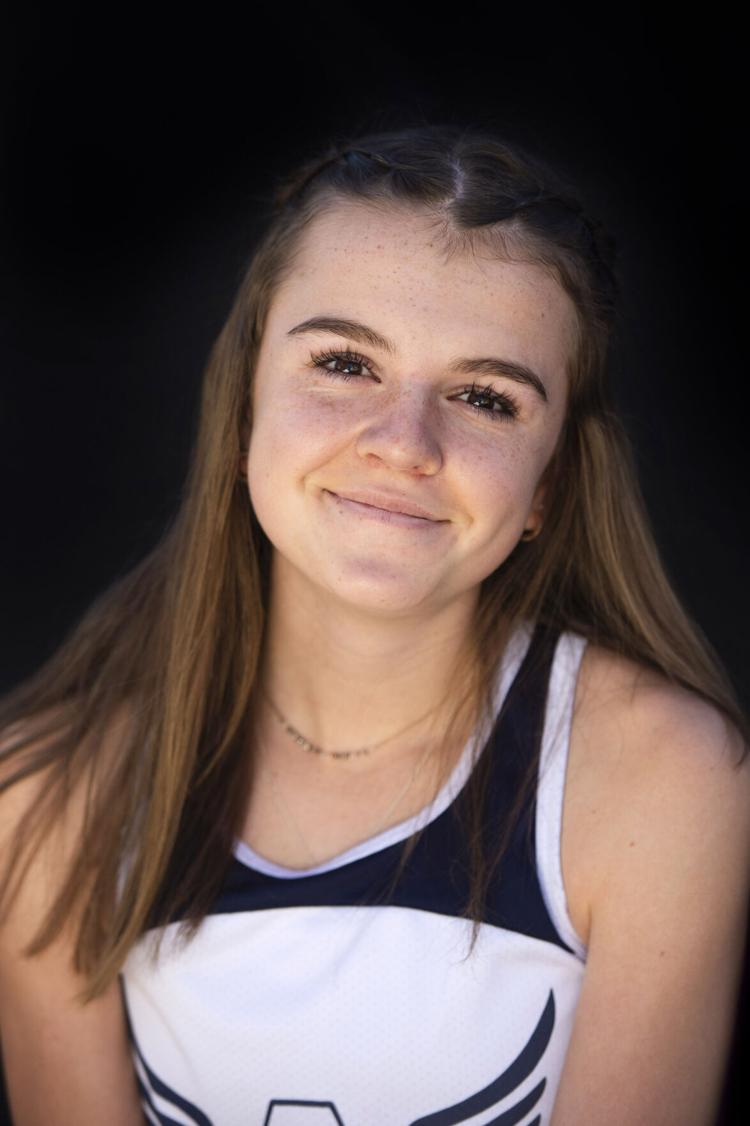 "It is really hard especially when you don't have people right with you to push you to go faster, so you really have to have the determination and motivation in your head to keep going," she said. "I just repeat to myself, 'Just keep going, Bethany; it's almost done.'"
During the Cheyenne Mountain Stampede, which serves as a pre-state meet on the course at Norris Penrose, the Air Academy boys' team lined up to watch the girls' race at the half-mile mark.
"How far ahead do you think Bethany will be?" one teammate asked.
Usually about 57 seconds.
"This whole season, other than state, I was kind of by myself most of the time, so I really have to have goals to keep myself going and not slack off," Michalak said. "I figure out the best way to motivate myself through those races to get the times I'm aiming for."
The state meet was the closest anyone has come to Michalak's time all season, with second-place runner Mia Prok crossing the line just three seconds after Michalak's state winning time of 17:59.1.
While Michalak became the first local athlete to win the girls' 4A race since Air Academy's Maria Mettler won the title in 2016, the state championship race isn't at the top of her list when she looks back on her freshman season.
Warm conditions and a bit of dehydration kept Michalak from achieving the state time she was aiming for, but she earned a PR on the state course during the Cheyenne Mountain Stampede, and certainly has time to do it again.
Her Stampede time of 17:27.5 was, at the time, a personal record, and punched her to the top of the national cross country rankings for the fastest time of any female runner in the class of 2024. Michalak has since broken that PR, however, with an out-of-state time of 17:14.84, placing fourth at the AAU National Cross Country Championships in Tallahassee, Fla.
Her expectations are high — and have been since she was young.
She discovered her love for running in third grade and began competing in club races shortly after, where she developed her mature mindset and optimistic expectations.
"When I was younger and I figured out, 'Hey, I really like doing this running thing, I said to myself, 'Okay, let's try to get good at it,," Michalak said. "So when I was younger and I was working on becoming a great athlete, I told myself I could never give up and [would] work through it all even when it's hard because that's what's going to help you get the best outcomes. And I learned even during workouts and stuff you need a good mindset, too, not just in races.
"You have to be determined and never give up."