It's that time of the year again. The bright lights of a football stadium will shine on a pastime unlike any other: prep football.
To help kick off this season, Gazette Preps has compiled a list of some of the region's stadiums along with their histories and the stories behind their names.
Most of the stadiums also host other events, including track and field, soccer, field hockey and lacrosse.
Academy District 20 Stadium
Address: 8720 Scarborough Drive, Colorado Springs
Host teams: Discovery Canyon, Liberty, Pine Creek, Rampart
Opened: 1991
Capacity: 3,500
What's in a name? The stadium is in its second home. The original was on the Air Academy campus, which was shared by Air Academy, Liberty and Rampart. The current location was constructed on the Liberty campus in 1991. Three years later, it was renovated and renamed District 20 Soccer Stadium.
Fun facts: Starting this year, the stadium's football field will be known as Hatchell Field at Academy District 20 Stadium to honor Mark Hatchell, one of the state's longest-tenured superintendents before he retired after 12 years as the head of District 20.
Citizens' Stadium
Host team: Canon City Tigers
Address: 230 Yale Place, Canon City
Opened: Jan. 28, 1965
Capacity: 3,300
What's in a name? The stadium got its name because of the many townspeople who gave their time, money, equipment and loyalty to see that the stadium was completed. The first game was played in 1966.
Fun fact: In the early 1990s, the townspeople took offense when workers wrote "Citizen's Stadium" instead of Citzens Stadium or Citzens' Stadium, so much so that the city's newspaper started receiving complaints and history lessons through letters. It was even brought up to the school board, as critics pointed out that the position of an apostrophe could change the meaning in the name. Today, there's no mistaking the stadium's name.
Don Breese Stadium
Host teams: Lewis-Palmer Rangers and Palmer Ridge Bears
Address: 1300 Higby Road, Monument
Opened: 1980
Capacity: 2,800
What's in a name? The stadium was named after Don Breese, who was the Lewis-Palmer principal from 1963-89. The stadium was built in 1980 and dedicated in Breese's honor in 1989. He moved to New Mexico after his retirement and died in 2014. He also served the Colorado High School Activities Association chairman and, later, on the organization's board of Control. He was inducted into the CHSAA Hall of Fame in 1999. Thanks in part to Title XI, Breese is credited with helping bring competitive statewide sports for girls, according to his obituary.
Fun fact: When he arrived at L-P in 1962, Breese intended to only teach. The high school lacked administrators, secretaries and even custodians. But a month in, he was offered the job of principal at the high school.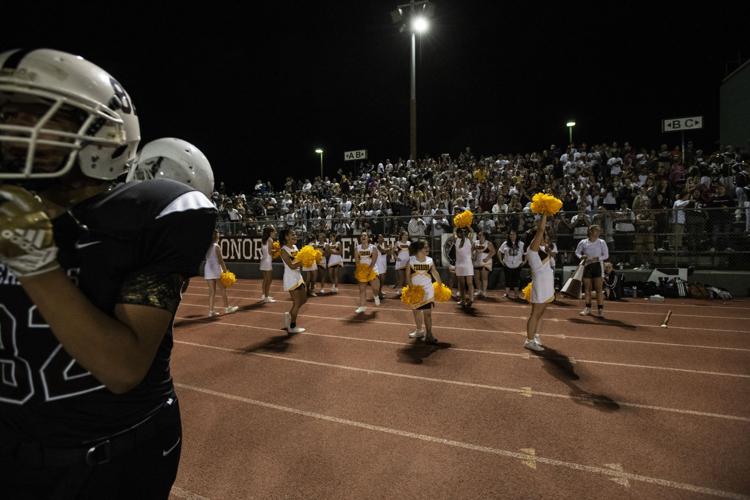 Garry Berry Stadium
Host team: Coronado, Doherty, Mitchell, Palmer
Address: 2020 Glenn Summer Road, Colorado Springs
Opened: 1959
Capacity: 5,917
What's in a name? When Wasson High School was built, an additional $330,000 was spent on the adjacent field used by all D-11 schools. The stadium opened in 1959. It was renamed to Garry Berry Stadium in 1974, in honor of the district's first athletic director. He died in 1988.
Fun facts: The stadium hosted countless games, and was the site of graduation ceremonies as well until the district moved them to the World Arena in 1998. The track was renovated this past summer, and the stadium hosts all boys and girls district middle school track meets as well. A turf field, called Garry Berry South Field, was built and opened in the fall of 2015 to host soccer and lacrosse games.
Grace Center for Athletics
Host team: St. Mary's Pirates
Address: 1655 Pirate Heights, Colorado Springs
Opened: 2006
Capacity: 1,500
What's in a name? Land developer Leroy Landhuis donated the land, valued at about $3 million, starting at 1999. Seven years later, the school opened the athletic complex that featured an artificial playing field, a track, a soccer field and a baseball field. It was named in honor of Landhuis's mother, Grace, who died in 2010. This summer, the school replaced the Center's track and turf field.
Fun fact: Before the facility opened, the Pirates football team played their home games anywhere they could find, even Leadville, more than 100 miles away.
Guy R. Barickman Stadium at Fountain-Fort Carson
Host team: F-FC Trojans
Address: 900 Jimmy Camp Road, Fountain
Opened: 1989
Capacity: 5,000
What's in a name? The stadium was named for Guy R. Barickman, an assistant football and track coach at F-FC in the '70s. He also had a head coaching stint at Cheyenne Mountain. Barickman played at the University of Missouri and was nicknamed "The Bear" because of his 6-foot-2, 350-pound frame. He died in 1998, a year before the stadium's completion and opening.
Fun facts: Longtime coach Mitch Johnson guided the Trojans to a 21-7 victory to open the stadium. His late mother, Jacque Johnson, was honored with a painted blue seat situated on the facility's northern homestands. The seat — on the 40-yard line, right above the student section — was where she sat at every home game until her death in 2004.
Harlan V. Sprock Stadium
Host team: Calhan Bulldogs
Address: 8000 Bulldog Drive, Calhan
Capacity: Unknown
Opened: 1965
What's in a name? The stadium was named after Harlan V. Sprock, a Calhan student in the mid-1990s. The night of his junior prom, he suffered a brain aneurysm and died. Sprock's parents, Paul and Velma, donated money from their son's insurance policy to start a football program at Calhan. The program started in 1965, and the stadium was dedicated shortly thereafter in Harlan's name.
K-Dome
Host team: Air Academy Kadets
Address: 6910 Carlton Drive, Colorado Springs
Opened: 1958
Capacity: 1,500
What's in a name? The on-campus stadium has been known as the K-Dome dating back to 1958, when the school was built.
Fun fact: In the 1970s, Kadets athletic director Blue Anderson said, the field was illuminated with pools of lights. But the lighting wasn't evenly spread out, so teams would run their passing routes only in areas that were the brightest, he said.
Mountain Lion Stadium
Host team: Colorado Springs Christian School Lions
Address: 5225 N. Nevada Ave., Colorado Springs
Opened: 1990
Capacity: 1,200
What's in a name? The stadium belongs to the University of Colorado at Colorado Springs and honors the school's mascot. But CSCS calls this place home, too. The Lions, whose campus is nearby, have helped with stadium developments.
Fun facts: Though the bleachers hold 1,200 fans, the stadium has an overflow capacity of about 4,000. The facility was known as the Four Diamonds Sports Complex until it was changed to its current name.
Richardson Field
Host team: Manitou Springs Mustangs
Address: 401 El Monte Place, Manitou Springs
Opened: 1955
Capacity: Unknown
What's in a name? Prof Richardson graduate from Manitou Springs in the early 1900s and went on to teach at the school for 40 years. The stadium was constructed in 1955 and named in his honor.
Fun fact: With a unique backdrop of mountains and forests, the field can sometimes welcome unexpected wildlife, mostly deer.
Sierra Field/Stadium
Host team: Sierra Stallions
Address: 2250 Jet Wing Drive, Colorado Springs
Opened: 2019
Capacity: About 1,000
What's in a name? The stadium has been in place for at least 14 years but never used for varsity games until 2019. Several upgrades were made to the restrooms and concession stands to go along with more bleachers and a viewing platform for coaches.
Fun fact: Prior to 2019, Sierra traveled to the campus of its District 2 rival, Harrison, to play games at Veterans Memorial Stadium.
Titan Stadium
Host team: The Classical Academy Titans
Address: 975 Stout Rd., Colorado Springs
Opened: 2006
Capacity: 1,400
What's in a name? The stadium — named after the school's mascot — was a community effort, said former TCA athletic director Blake Galvin. It was built by parents and, in some cases, players and coaches. The original press box and concession stands were constructed by a parent. Another parent built the latest press box around 2011 after the previous one was destroyed by an apparent strong wind gust that pulled nearby discus throws net poles from the ground — concrete still attached, Galvin said.
Fun facts: The Titans previously played at Colorado College's Washburn Field, which was named after Rev. Phillip Washburn, rector at Grace Episcopal Church in Colorado Springs and an avid CC football fan.
Other stadiums/fields in the Pikes Peak region
Cheyenne Mountain (1200 Cresta Rd., Colorado Springs): The unnamed stadium was built in the 1960s. Its capacity is unknown.
- Ellicott (350 S. Ellicott Hwy, Ellicott): With a 300-person capacity, Thunderhawk Field is situated at nearby Ellicott Middle School. Though it is unknown when the facility opened, it went through revitalization about five years ago.
- Elizabeth (345000 Co Rd 13, Elizabeth): No information available about the school's football field/stadium.
- Falcon (10255 Lambert Rd., Peyton): The first game played at the school's stadium took place in 2001.
- Harrison (2755 Janitell Rd., Colorado Springs): The Panthers play at Veteran's Memorial Stadium, dedicated to prisoners of war and those missing in action in the Vietnam War. It was built in 1971.
- Peyton (13885 Bradshaw Rd., Peyton): The Panthers play at a football field about a mile southeast of the school.
- Sand Creek (7005 N. Carefree Circle, Colorado Springs): The stadium was built in the 1970s but doesn't have an official name. At one point, in the early 2000s, the football team called it The Scorpion Pit.
- Vista Ridge (6888 Black Forest Rd., Colorado Springs): The school opened in 2008, and the football field is situated on the campus.
- Widefield, Mesa Ridge (615 Widefield Drive Colorado Springs): Foster Stadium, located on the Widefield campus, opened on Oct. 5, 1962 (about four years after the school opened) and was named in honor of in honor of Clarence A. Foster, a member of the District 3 School Board. The cost for the stadium was $80,000.
- Woodland Park (151 Panther Way, Woodland Park): Panther Stadium was built in the 1970s. One unique distinction the school has is this: Its located at 8,298 feet, the highest of all the schools in the region. Also, the light poles used to be atop Pikes Peak.