Bill Peer is known to have an eye for volleyball talent around the Colorado Springs area thanks to the success of his club team Colorado Juniors, which he owns alongside his wife, Judy.
While the talent in the club's sand pits Sunday wasn't quite at the elite level of Peer's typical players, it was a bit of lighthearted fun for a good cause.
Peer invited three Colorado Springs-area police departments, Monument, Manitou Springs and Fountain, to the sand volleyball courts to participate in a round-robin tournament for a cash donation and bragging rights.
Peer donated a total of $5,000 split between the three departments. Fountain, which won the tournament, took home the grand prize of $2,000, with Manitou Springs and Monument receiving $1,500 each for their departments.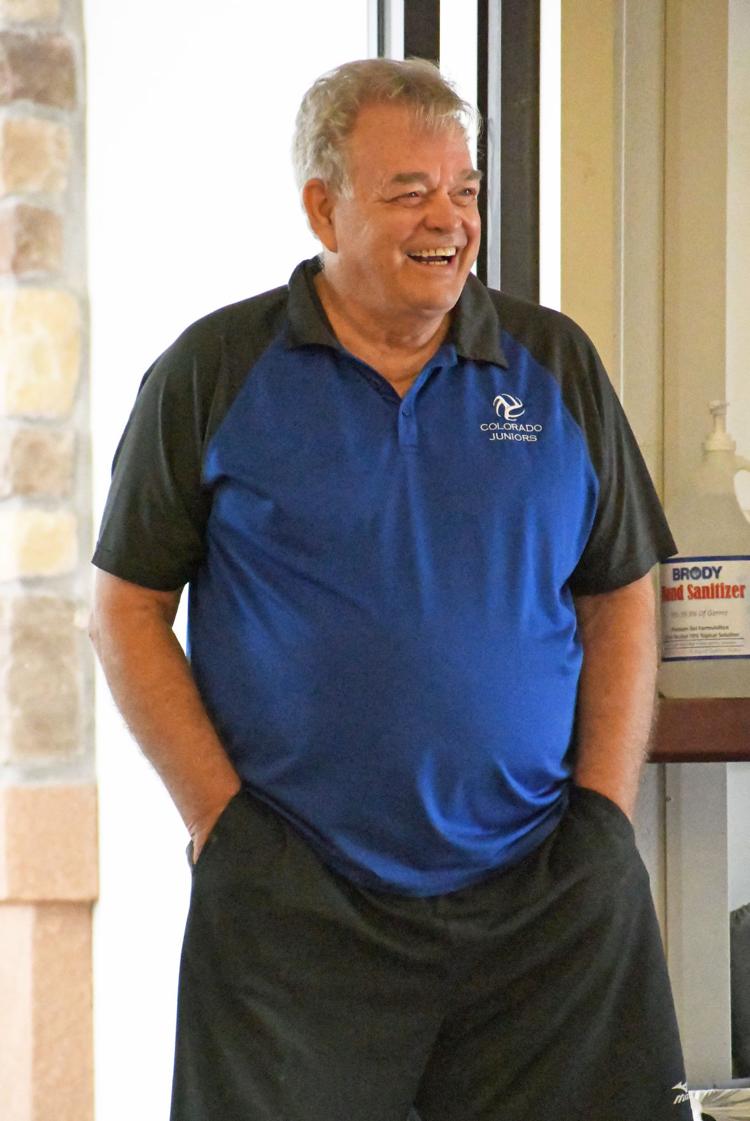 "My dad was a cop, and just with all the things going on I just think cops deserve to be recognized," Peer said, adding that his contribution was a private donation, not affiliated with Colorado Juniors. "It's not a political statement, it's just not all cops are bad. So I just wanted to get them down here and let them know that."
Peer decided he wanted to help after the civil unrest against police following the murder of George Floyd at the hands of the Minneapolis Police Department at the end of May.
"Bill called me a couple weeks ago as everything is going on in the nation and said, 'Hey, I want to do something to support our law enforcement, just so they know how much support they have in the community'," said Fountain Deputy City Manager Todd Evans.
Evans, who previously served as Fountain's police chief, has been a part of the Colorado Juniors community for over 15 years. His daughters, Morgan and Mariah, were two of the 421 athletes to receive college scholarships through playing for Colorado Juniors, the fourth-ranked club team in the nation.
"We hope you know how much of the community is supporting you every day," Evans told the roughly 20 officers who joined the tournament.
While the tournament kicked off with some smack talk between departments, each chief in attendance spoke about solidarity between their units, and thanked Peer for his donation and opportunity to play at the facility.
"We are all in this together and we all play for the same team," Fountain Police Chief Chris Heberer said. After defeating both Monument and Manitou Springs, Heberer donated an additional $200 from Fountain's winnings to Manitou Springs, the second-place department.
"Everyone always talks about the silent majority that loves us, but where are they? This gentleman (Peer) is one of them," said Sean Hemingway, Monument's police chief. "People like (Peer) are making a difference, thank you."
Brian Churchill, who began his tenure as the Manitou Springs chief of police in October, said his squad is full of young officers who are starting their careers in a 'hostile' environment against police.
"To be getting into this profession now with this attitude of 'the police are bad', we need to see things like this to let us know that the public does support us, and the silent majority is behind us. I appreciate what you're doing for us," Churchill said.
Peer said he has also offered Colorado Juniors' sand courts to the Monument Fire Department to not only have some fun, but to help get into shape.
"It was fun to see them have fun and bring their families out," Peer said. "And it was good to see them have a good competitive nature with each other."