Editor's note: This story was published before CHSAA announced late Thursday night that all remaining basketball tournaments would be cancelled. 
DENVER — For about an hour and a half Thursday, life inside the basketball bubble was pretty awesome. I counted 157 folks scattered around Hamilton Gym to celebrate the occasion.
Celebrate high school ball, the best kind there is. Celebrate the Colorado boys and girls state tournament. No hysterical social media. No moral grandstanding from mainstream media.
Sterling High beat The Vanguard School 53-37 in the Class 3A boys quarterfinals and afterward a couple of the guys were told this one, like so many other postseasons, might get canceled.
"Really?" Vanguard star Dominique Clifford said. "Why?"
COVID-19, specifically. Overreaction being the new go-to reaction, generally.
"We were just grateful to CHSAA that they allowed us to play. We weren't really worried about catching a virus," coach Joe Wetters said.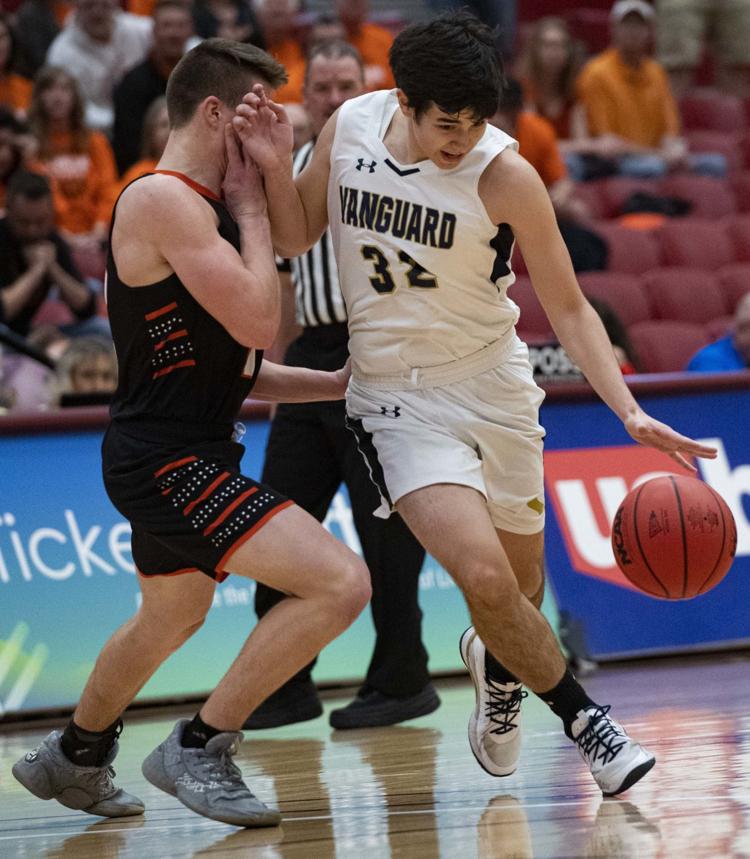 Only four guests per player were allowed in Saturday, so here's what happened inside the delightful basketball bubble, a place a bunch of us are dearly going to miss. (Since the NCAA Tournament was just canceled, for example, like a punch to the gut.) Sterling played like the senior-driven, rock-solid team it is. Vanguard picked a bad day to have a bad day.
Having coached and witnessed ex-Sterling star Bodie Hume up close, the Tigers had a vague idea what to expect facing Clifford. Hume's a shooting star up at Northern Colorado, my pick for Big Sky Player of the Year next season. Clifford's on his way up to CU-Boulder as the gem of Tad Boyle's 2020 recruiting class.
"That's actually what we talked about, how it was like seeing (Hume) again," coach Mike Holloway said. "They're different players, but that Division I ability is there."
Credit Sterling, the embodiment of fundamental basketball. It broke the press without the ball touching the floor. It didn't miss a free throw until the fourth quarter. I envision a Sterling practice as one that involves old-school dribbling and passing drills and three-point marksman Axel Henry telling his coaches, "I'll make it." The Tigers sprinted to a 14-2 lead after the first quarter, and the gap in the score was no fluke. The only Vanguard bucket in the first quarter came from Joe Padilla, who had seven points.
"This loss is just a loss. I'm just going to remember this season as an amazing season with my teammates," Padilla said.
Nique was Nique, but with one hand. Clifford had 18 points (6 of 20 shooting, 3 of 9 on threes), 13 rebounds, three blocks and four fouls.
And here's all you need to know about Clifford's potential, courtesy my coach. Denver Christian legend Dick Katte, whose 876 wins top Colorado record books, said from the bleachers: "He's the best player I saw in CHSAA basketball at any level this year."
His right wrist taped tight after a pair of nasty tumbles in recent games, Clifford saw his biggest impact on defense, where he had two eye-popping blocks and a steal (and dunk) in a burst of potential. That personal run closed the deficit to 20-16 at halftime.
"I'm going to miss each and every one of these guys," Clifford said. "They're my brothers."
Five of its six seniors have attended Vanguard together since kindergarten, he said. Now it's on to the Pac-12. The Buffs have told me they have no plans to redshirt Nique. He's going to play.
"He has all the tools to get paid to play basketball someday," Wetter said.
"I want to start my first year and make an impact on the team," Clifford said of his Buffs plans. "I want to be a team guy that impacts our team in a positive way and do whatever I can to help the team win."
Sterling (21-4) gets Faith Christian (21-4) in the semifinals. Should be a good one. And it could be the last one, if the Vanguard game wasn't.