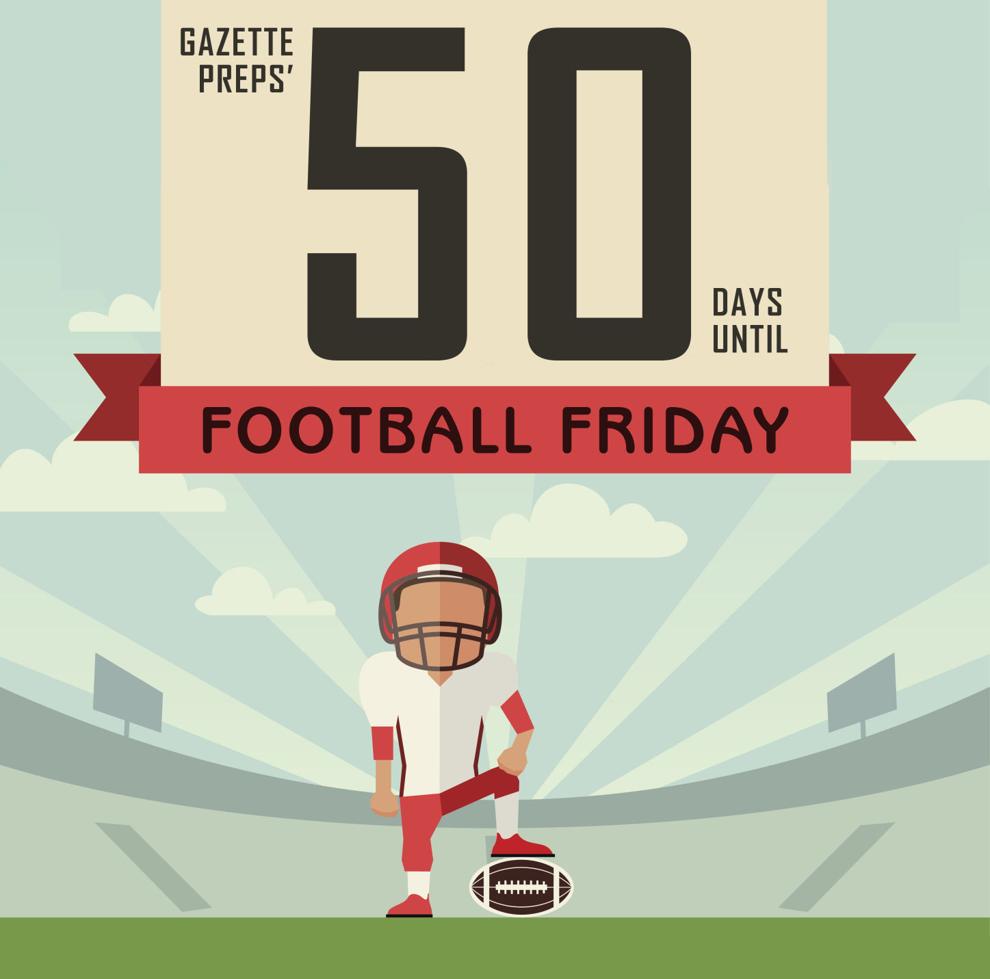 Football season is around the corner, and as teams prepare for the season, Gazette Preps is preparing to keep an eye on these 50 players from around the Pikes Peak region.
CLASS OF 2021
Grant Baker, running back, CSCS - Baker was a threat virtually everywhere for CSCS. He was the Lions' top receiver and one of a handful of the Lions' options at running back. He had 141 receiving yards on eight receptions — averaging 17.6 yards per catch, and two touchdowns as a freshman. He also had 155 total rushing yards.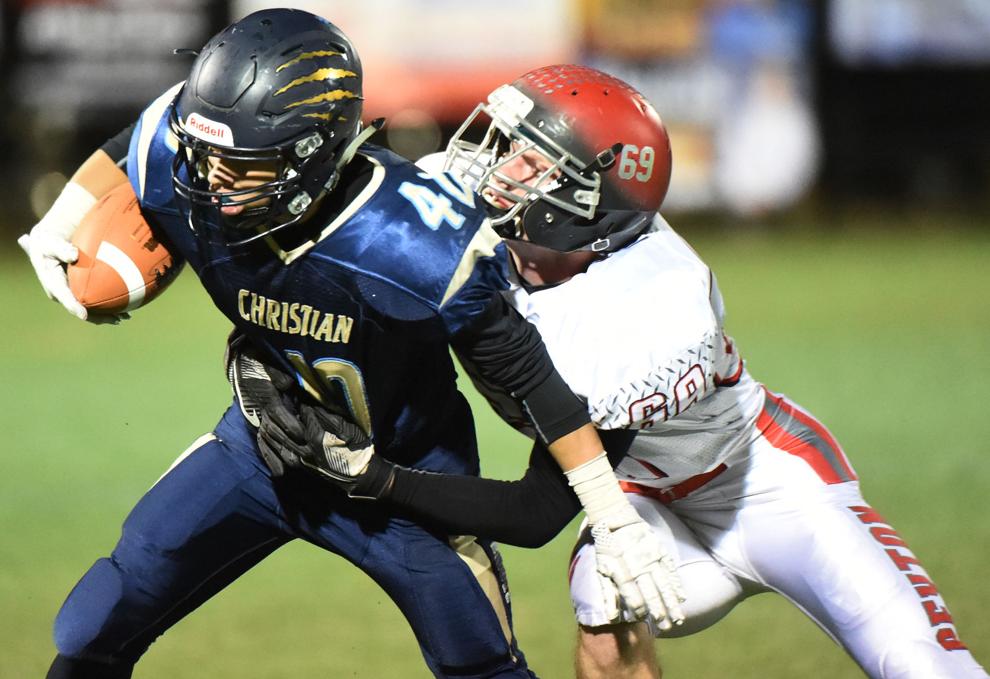 Kaden Dudley, wide receiver, Palmer Ridge - Dudley, a transfer from Vista Ridge, spent his offseason making his name known around the country as a top 2021 wide receiver. He earned an invite to the U.S. Army All-American Bowl and was named the USA Football Denver Regional MVP. The 6-foot, 185-pound receiver already teamed with quarterback Ty Evans to win the Mile High Shootout 7-on-7 championship.
Brad Helton, quarterback, Cheyenne Mountain - Last fall Helton had 255 passing yards for the Indians and 66 yards on the ground. After football season Helton appeared in 21 varsity basketball games and in the spring he helped the Indians on their journey deep into the state baseball playoffs. With a 4.67 ERA Helton has 10 strikeouts in 15 innings pitched and bat .455 in 12 plate appearances.
Q Jones, running back, Fountain-Fort Carson - Jones will have a big role as the top returning running back after losing 2018 grads Eric Donnell and Gavin Green. He had 120 return yards on just three kickoffs, averaging 40 yards per return. He ran back his best return for 75 yards against Highlands Ranch. Jones also had 35 rushing yards in four appearances.
Noah Renner, tackle/defensive end, Manitou Springs - Renner solidified his place on the defensive line early with a pair of solo tackles in his varsity debut. From there Renner remained a constant threat to opposing offenses, finishing the year with 37 total tackles — 31 solo. He also had 3.5 sacks. At the end of the year, Renner ranked among the top 15 of the CO class of 2021, and was a top-5 Class 1A tackle.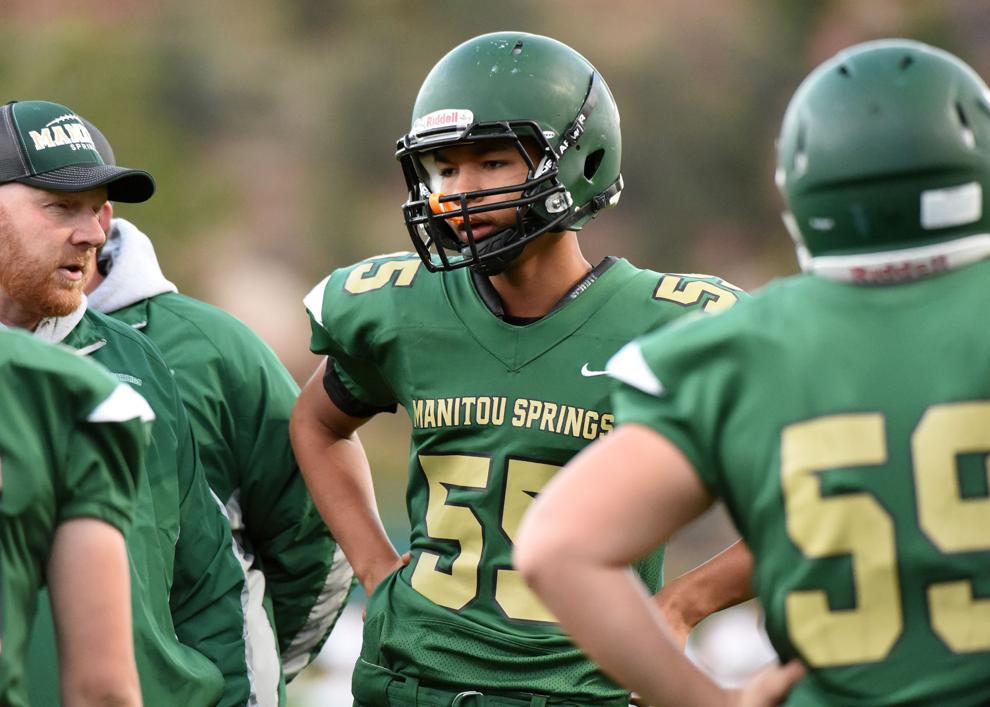 Caleb Stockton, returner, CSCS - Stockton had 391 total return yards in 2017, good for second among Colorado Class of 2021. He racked up 135 punt return yards in a 48-0 win over Rye. When the Lions' season concluded Stockton was one of the top four scorers on the CSCS boys' basketball team, averaging 8.7 points, three rebounds, 3.6 assists and 1.5 steals per game.
CLASS OF 2020
Peyton Brones, linebacker, CSCS - With 84 total tackles, including 12 for a loss as a sophomore, Brones set himself apart on a defense stacked with senior talent. In addition to his work on the defensive side of the ball, Brones also had 249 rushing yards and caught seven balls for 81 yards. The best game of his career came against rival St. Mary's in which he racked up 86 rushing yards and pulled down 12 tackles.
Hayden Cooper, kicker, The Classical Academy - Cooper was TCA's kickoff specialist, finishing his sophomore season as the Class 2A leader in kickoff yards with 3,611. He averaged 56.4 yards per kickoff, and 35.3 yards per punt, pinning nine in the 20. He was also 41 for 44 on point-after attempts and 3 for 7 on field goal attempts. He was crucial in a three-point win over D'Evelyn, making a 40-yard field goal to help his team to victory.
Gavin Herberg, quarterback, Pine Creek - Although listed as quarterback, Herberg was a catalyst in other areas of the Pine Creek offense in his junior season. He had 175 rushing yards and 148 receiving yards on seven receptions last year, in addition to some work under center. He was 5 for 12 for 58 yards, with his biggest game coming on the state's biggest stage, throwing for 47 yards in the 4A state championship game against Pueblo South.
Eddie Kyle, wide receiver, Pine Creek - Kyle is the top returning receiver entering his junior season at Pine Creek. He had 226 receiving yards last year behind 2018 graduates Wyatt Wieland and Danny Fuhr. Kyle also stood out as a returner, racking up 132 yards on just two returns last year. He also had 11 tackles, three interceptions and a fumble recovery.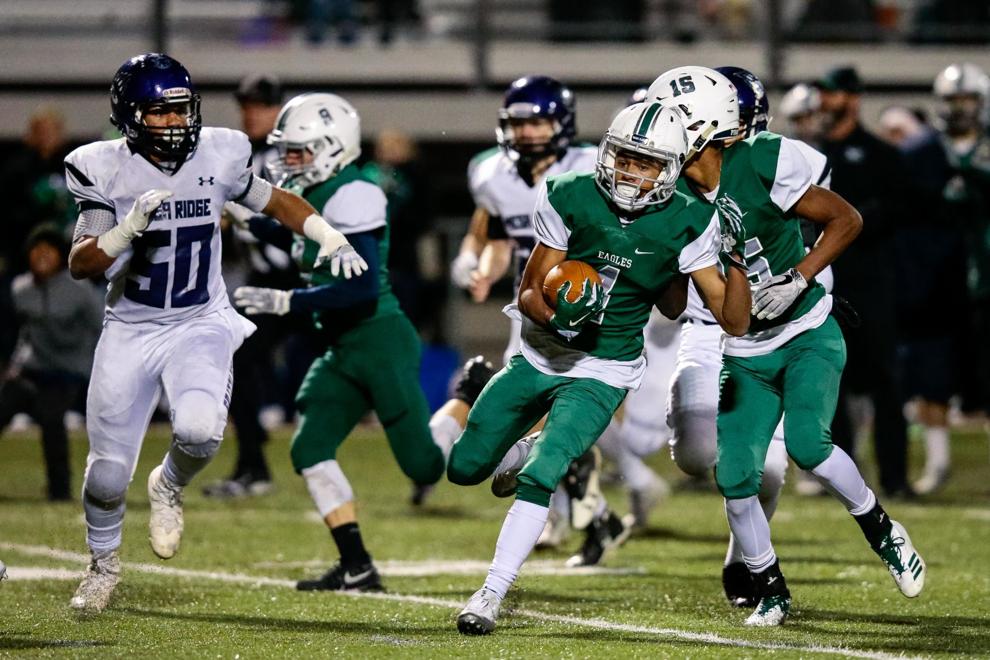 James LaCerte, running back/ returner, Cheyenne Mountain - As a sophomore LaCerte earned a first-team All-Star nod as the area's top 5A-4A returner with 443 return yards. He also had 818 rushing yards and 10 touchdowns, and 102 receiving yards. He was second on the team with 971 yards from scrimmage and led the Indians in scoring. In the spring he also helped the Cheyenne Mountain boys' lacrosse team to a state championship with 28 goals.
Max Lofy, wide receiver, Pine Creek - Look for Lofy to step up as one of the team's top receivers in 2018. As a sophomore he was the fourth-ranked receiver behind grads Wyatt Wieland and Danny Fuhr. Fellow sophomore Eddie Kyle also had a big impact down the field. Lofy had 215 receiving yards and three touchdowns. He averaged 11.9 yards per catch and also had 24 rushing yards. In addition Lofy also had 42 total tackles and a 45-yard interception return.
David Moore III, running back, Pine Creek - It didn't take Moore long to solidify his place as one of the state's top running backs with back-to-back 1,500-yard rushing seasons. He had 23 touchdowns and was ranked No. 15 nationally among sophomores with 1,946 yards last year. Moore was the top-ranked Colorado RB in the Class of 2020, and ranked third overall in the state. He had three 200+ yard games on the ground last year, and ran for fewer than 90 yards just five games in his career. This offseason he worked out with multiple DI programs.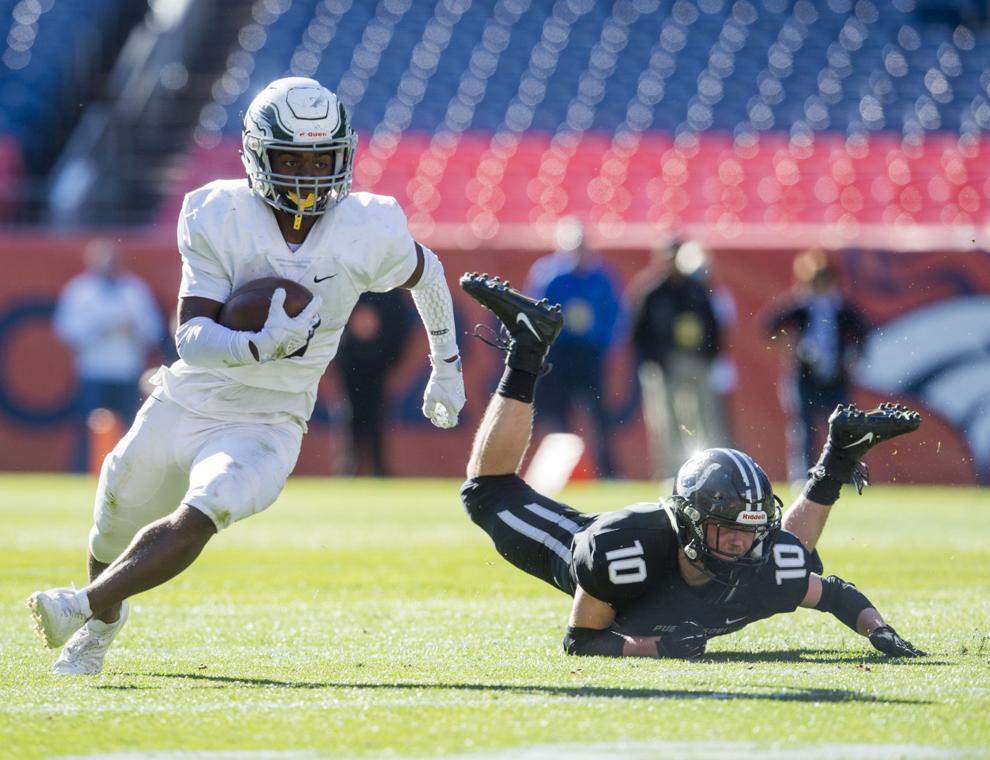 Marshall Pike, full back, Discovery Canyon - Look for Pike to make a big impact for the Thunder as Discovery Canyon lost its top running back and receiver, Caleb Grotelueschen, to graduation. Pike ran for 368 yards and appeared in 10 games his sophomore year. He put up career numbers against Palmer Ridge, running for 95 yards and a touchdown against the eventual state champions.
Deuce Roberson, wide receiver, Palmer Ridge - Roberson's broke onto the scene with 1,485 receiving yards his sophomore year, good for second in the state. He averaged more than 100 receiving yards per game and averaged 21.5 yards per catch. He had two 200+ yard performances last year and had fewer than 90 all purpose yards just twice last year, which included 65 rushing yards.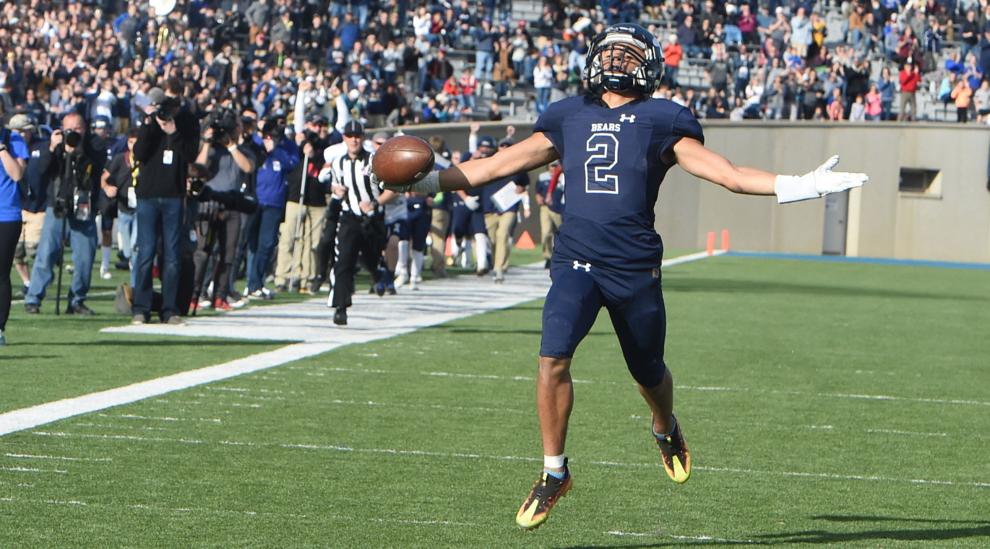 Elias Rolfe, defensive end, Pine Creek - Rolfe made his varsity debut count on the defensive line racking up 26 tackles and four sacks to earn him a Gazette Preps 5A-4A second-team nod. He also had 10 tackles for a loss. He got better as the season went on, earning seven total tackles including one for a loss in the 4A state championship game against Pueblo South.
Reece Rowan, middle linebacker, Pine Creek - As a sophomore Rowan was ranked second on the team in tackles with 84 — putting him among the top 10 class of 2020 linebackers in the state. He was third among sophomores in tackles for a loss with 10. He also had two sacks and an interception.
Raef Ruel, running back, Palmer Ridge — Although Palmer Ridge is known for its immense passing game, the Bears also boast a solid ground game led by Raef Ruel. Ruel racked up 1,075 rushing yards in his sophomore season and had 22 rushing touchdowns. The 5-foot-10, 175-pound back averaged 76.8 rushing yards per game and 6.8 yards per carry. He also had 161 receiving yards on 11 receptions and two touchdowns.
CLASS OF 2019
Zach Anderson, quarterback/ defensive end, Discovery Canyon - Anderson proved himself to be a dual threat in his junior season, throwing for 481 yards and a .514 completion percentage, all the while leading the charge on the ground with 536 rushing yards and 18 touchdowns. He had four solo tackles and two sacks.
Drake Antoon, running back, Falcon - As the top returner from last year's run-heavy offense, Antoon will likely have a big role controlling the Falcons on the ground. In his junior season he had 455 rushing yards and ran for five touchdowns. He was vital in keeping Falcon alive in a one-point loss to Pueblo County last year, running for a career-high 130 yards and two touchdowns.
Brady Badwound, linebacker, Air Academy - Badwound racked up 96 total tackles for the Kadets, including nine for a loss and four sacks to earn a first team Gazette Preps 5A-4A All-Star nod. Badwound was also honored on the first team of the 2017-18 Gazette Preps Wrestling All-Stars after placing fifth in the state at 160 pounds.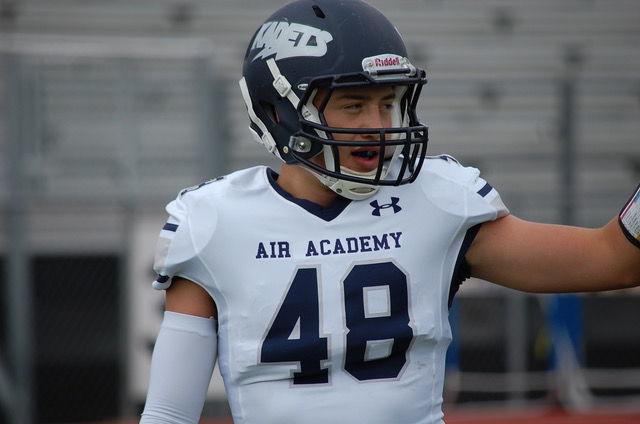 Daniel Bone, safety, Pine Creek - As a junior Bone solidified himself as one of the top 4A safeties in the state, pulling down five interceptions and 66 total tackles. He also put on his receiver hat in the 4A state championship game against Pueblo South, with two receptions for 35 yards. Bone had a career game against Fountain-Fort Carson last year with six solo tackles, four assists and one tackle for a loss.
Ethan Boyles, quarterback, The Classical Academy - After playing primarily receiver last year, Boyles will make a switch to quarterback for his senior campaign — a move that coach Justin Rich said he's more than qualified for. "Ethan is a freak. He can run, he can throw, and he's a great athlete," Rich said. Last year Boyles had 472 receiving yards and 105 yards rushing. He also had 34 tackles — 23 solo — and three interceptions.
Tristan Burris, running back, Sierra - As a junior Burris ranked in the top five in the state with seven interceptions. He is also the top returning rusher after racking up 201 yards last season. He had four rushing touchdowns, and three receiving as the top threat down field. Burris led the team with 276 receiving yards. In addition he also had 41 tackles, 22 of which were brought down solo.
Carter Bussone, linebacker, Vista Ridge - After his junior season Bussone was crowned the top linebacker in the Pikes Peak region, leading the area with 144 tackles — good for seventh in the state last year. Sixty five were solo tackles, and 17 were for a loss. He had fewer than 10 tackles in a game just twice last year and had five sacks.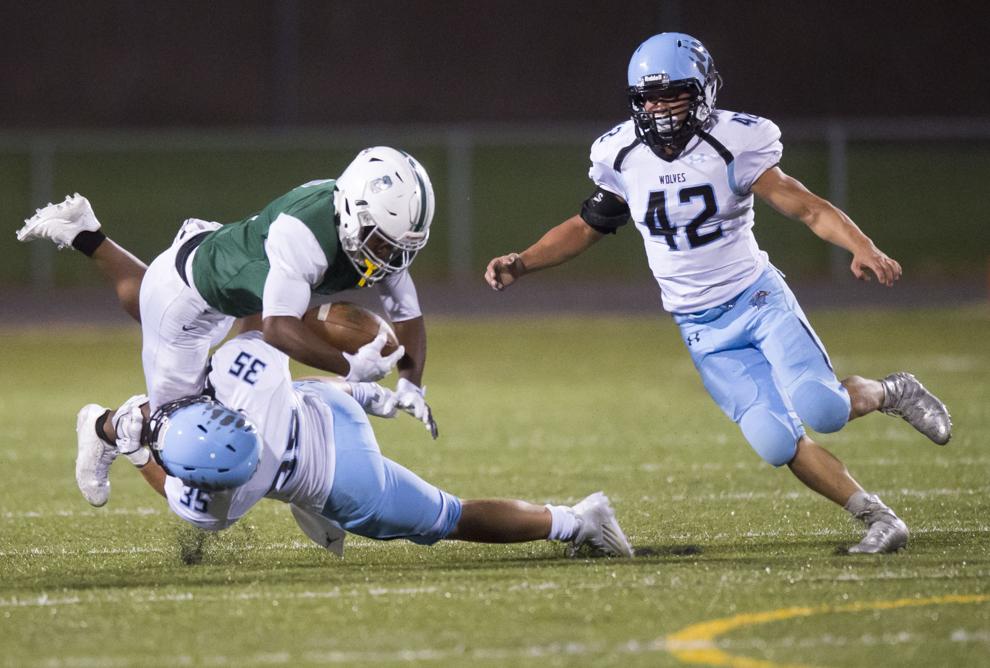 Aidan Cullen, OL/DL, Palmer Ridge - Cullen continues to gain interest from top Division I programs as the 6-foot-5, 245-pound lineman capped off his impressive junior campaign with more work on his form and speed in the offseason. In eight games reported on MaxPreps, Cullen had 34 total tackles and three sacks at defensive end. He also helped Palmer Ridge's high-powered offense as a key member of the O-line last year.
Charlie Deeds, quarterback/ linebacker, Palmer Ridge - Deeds has been a jack of all trades for Palmer Ridge, appearing as a quarterback, wide receiver, running back and linebacker. On the defensive side of the ball Deeds racked up 108 tackles — good for third on the team. He also racked up 121 rushing yards and caught a pair of receptions for nine yards and earned a .714 completion percentage for 75 yards under center.
Bryce Delahoy, guard, Rampart - Delahoy is the top returning guard to the 2018 squad, ranking fifth in last year's senior-packed defense with 53 total tackles, including seven for a loss. The 5-foot-10, 255 pound starter also had 36 rushing yards on five carries. Delahoy put up career numbers in a battle against Montrose with 13 tackles, including two for a loss to help the Rams to a four-point win over the Indians.
Colton Dill, middle linebacker, Palmer Ridge - Dill had 96 total tackles as a junior and had nine sacks. He also caused two fumbles to help Palmer Ridge post three shutouts on the way to a perfect 14-0 season. His junior campaign was a vast improvement from his sophomore year which he had 49 tackles and one sack through seven games. Look for him to make even more improvement as he has been working with FYX sports for some linebacker gains.
Jake Dillon, tackle, Palmer Ridge - Dillon returns to the line after a successful junior season in which he had 71 tackles and was ranked second on the team with 9.5 sacks his junior year. Dillon is a 6-foot-1, 245-pound senior that helped the Bears' defense limit opponents to just nine points per game on average last year on the way to a 3A state championship.
Terrance Dishmon, wide receiver, Cheyenne Mountain - Dishmon is the top returning receiver after last year's 309 receiving yards. On the defensive side Dishmon had 41 tackles — 37 solo — and six for a loss. He also forced a pair of fumbles and had two recoveries.
Marshal Ehrlin, guard, Rampart - The 6-foot-4, 225-pound guard saw a huge jump in his junior season, improving from 17 tackles in 11 games to 36 through 12, including 12 solo tackles nad 3.5 sacks. He also caused two fumbles and blocked a field goal. Ehrlin was integral in a four-point win over Montrose, in which he helped the defense hold the Indians by pulling down a career-high eight tackles.
Ty Evans, quarterback, Palmer Ridge - Evans, the reigning Gazette Preps 3A-1A Football Peak Performer of the Year, used his offseason to perfect his already stellar arm by participating in elite camps, solidifying him as one of the top quarterbacks in the country. Last year he racked up 3,627 passing yards with a .625 completion percentage and just seven interceptions.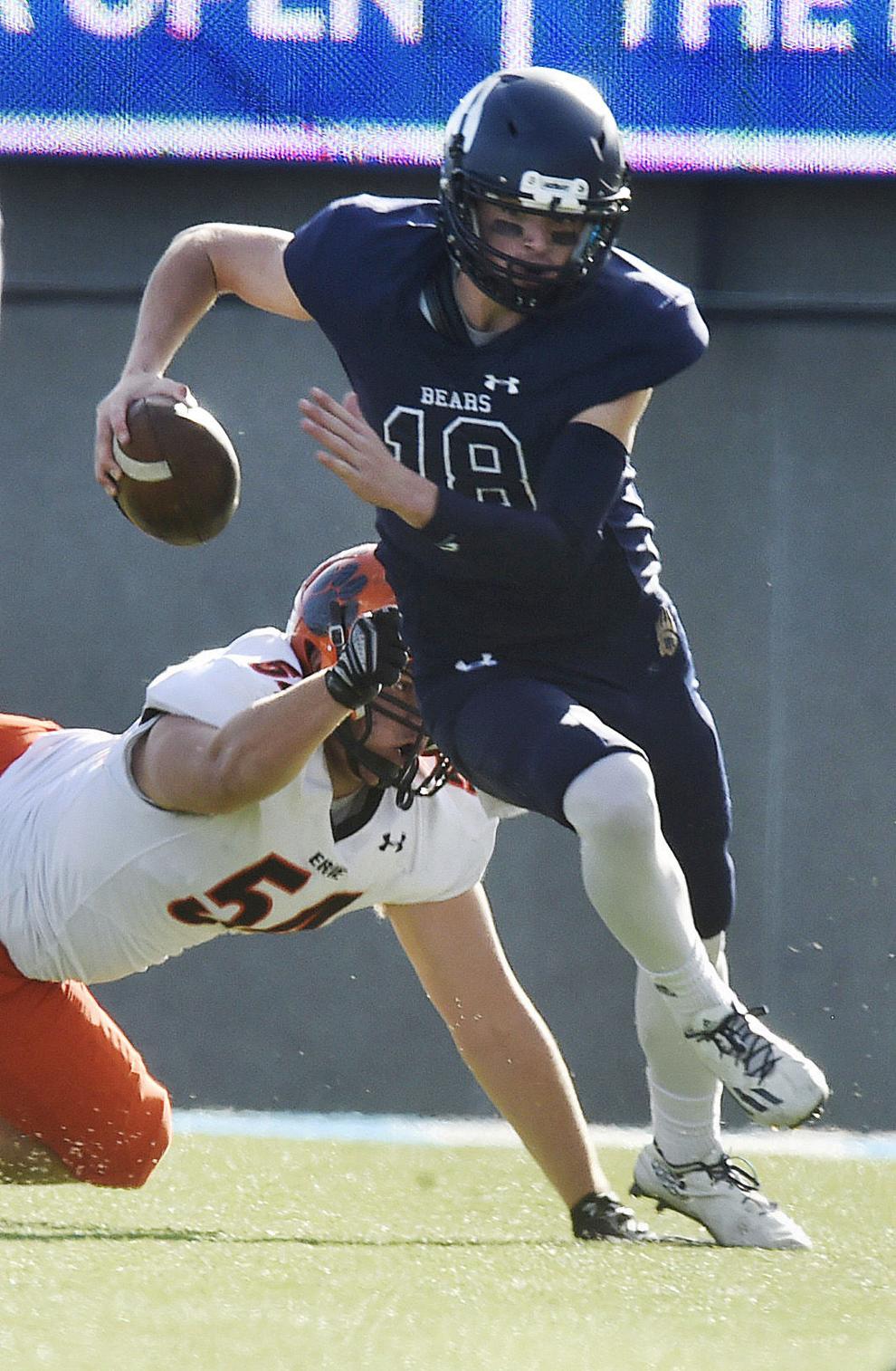 Josh Gonzales, running back, Peyton - Gonzales led Peyton with 1,349 all-purpose yards, racking up more than 500 more yards than the next ranked player. He earned more than 100 yards in each offensive category, including 502 rushing and 305 yards receiving. He also had 229 kick return yards, 213 punt return, and 100 interception return yards. He also had 30 tackles and four interceptions.
Micah Hilts, wide receiver, Vista Ridge - Last year Hilts used his 6-foot-6 frame to pull down 31 receptions for 510 yards. He also had 18 tackles, an interception, fumble recovery and blocked a field goal. Hilts is a three-sport athlete, helping the basketball team averaging 11.5 points per game and this spring Hilts placed second in the 4A state championships in the triple jump.
Frankie Ingraldi, running back, Widefield - Ingraldi is the top returning running back from 2018. As a junior Ingraldi had 156 rushing yards, ranked third on the team behind 2018 grads TJ Davis and Nathan Daniel. He also had 36 punt return yards, two touchdowns and a pair of two-point conversions.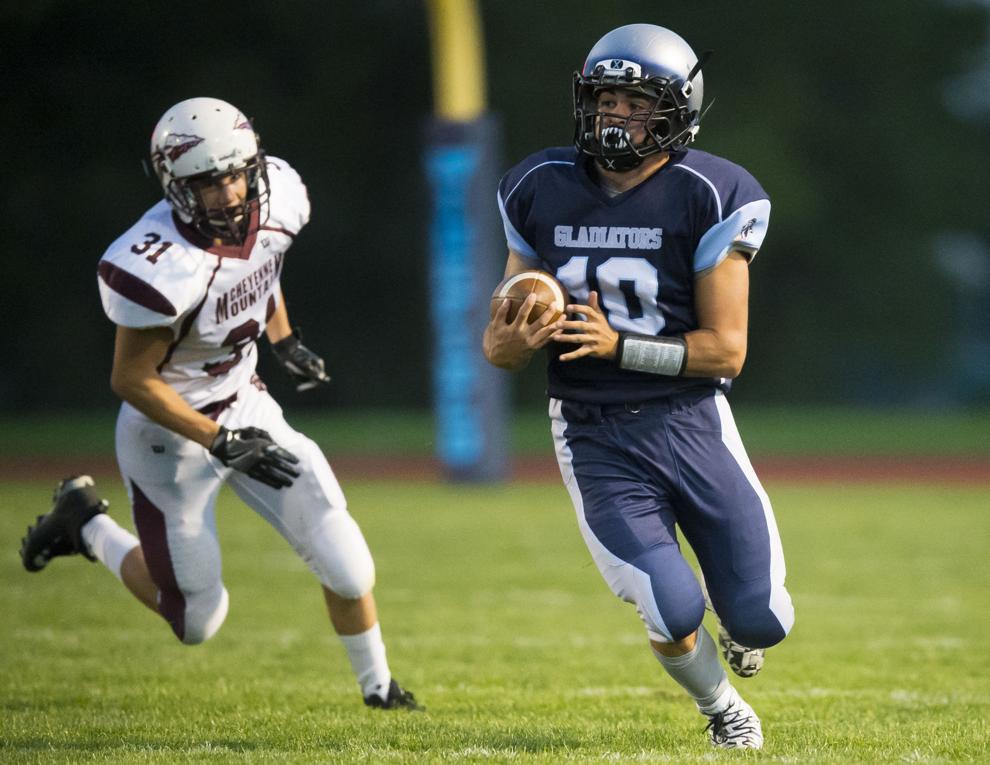 Zach Martin, running back, Air Academy — Martin was responsible for almost half of Air Academy's total offense in 2018, rushing for 1,100 yards and 12 touchdowns, and also had 109 receiving yards. His 1,209 total yards was just 130 fewer than exactly half of the Kadets' 2,689 yards last year. Martin also has kicking experience, making 13 of 15 point-after attempts as a sophomore.
Connor McCain, wide receiver / defensive back, Canon City - McCain is the top returner from an offense that put up nearly 4,000 total yards last year. He was the top receiver with 754 yards, and also had 355 kickoff return yards. McCain also had 17 rushing yards and eight tackles — six of which were solo.
Nate McLarty, center/ defensive line, Peyton - McLarty led the Peyton defense with 113 tackles, ranking him in the top 5 among last year's Class 1A players. He had 20 tackles for a loss and pulled down six sacks. Look for McLarty to step into an even bigger role on the defense now that Peyton's top defensive stud Mitchell Swartz has graduated.
Vincent Merlino, linebacker, Cañon City - Merlino led the 9-2 Tigers with 98 total tackles, pulling most of the weight himself with 54 solo. The 5-foot-11, 205 pound back also had five tackles for a loss, two sacks, two interceptions and three fumble recoveries — two of which he caused. Merlino, a 3A-1A Gazette Preps first-team selection, pulled down 10 or more tackles in four games last year, including two in which he had 15.
Sam Miller, middle linebacker, Pine Creek - Miller led the Pine Creek defense with 105 tackles in his junior season — more than 20 more than the next-ranked defender. He averaged 7.5 tackles per game and had 10 for a loss. Miller also had 4.5 sacks and caused three fumbles. He racked up 10 or more tackles in a game four times, and pulled down a career-high 14 tackles in last year's season opener against ThunderRidge.
Jake Pavlica, safety, Rampart - Last year Pavlica proved himself to be a threat on both sides of the ball as one of the team's top junior defenders in addition to a hazard on offense. He used his 6-foot-2, 160-pound frame to pull down 52 tackles and four interceptions. He also had 48 kick return yards last year and rushed for two touchdowns.
Kyle Pope, running back, Air Academy - Pope returns as just one piece of a strong 2019 class at Air Academy. Last year he was the second-ranked rusher with 422 yards on 61 carries and four rushing touchdowns. He also had 129 receiving yards and returned his only interception for 35 yards.
Cian Quiroga, tackle, Cheyenne Mountain - With 61 total tackles and 18 tackles for a loss, and 11.5 sacks, Quiroga anchored the Cheyenne Mountain defense and was a force to be reckoned with on the line. Forty-six of his 61 tackles were solo and he also caused three fumbles. Quiroga had a career day in last year's season opener against Air Academy, pulling down 12 tackles including four for a loss.
Troy Renner, running back, Coronado - Renner was tantalizingly close to breaking 1,000 rushing yards as a junior with 943 rushing yards. He led the team with 13 touchdowns and averaged 8.3 yards per carry. Renner had a career game early in the season as he sprinted for 303 yards in a marathon game against Skyline. He had three more 100+ games last year, and nearly hit 200 against Palmer.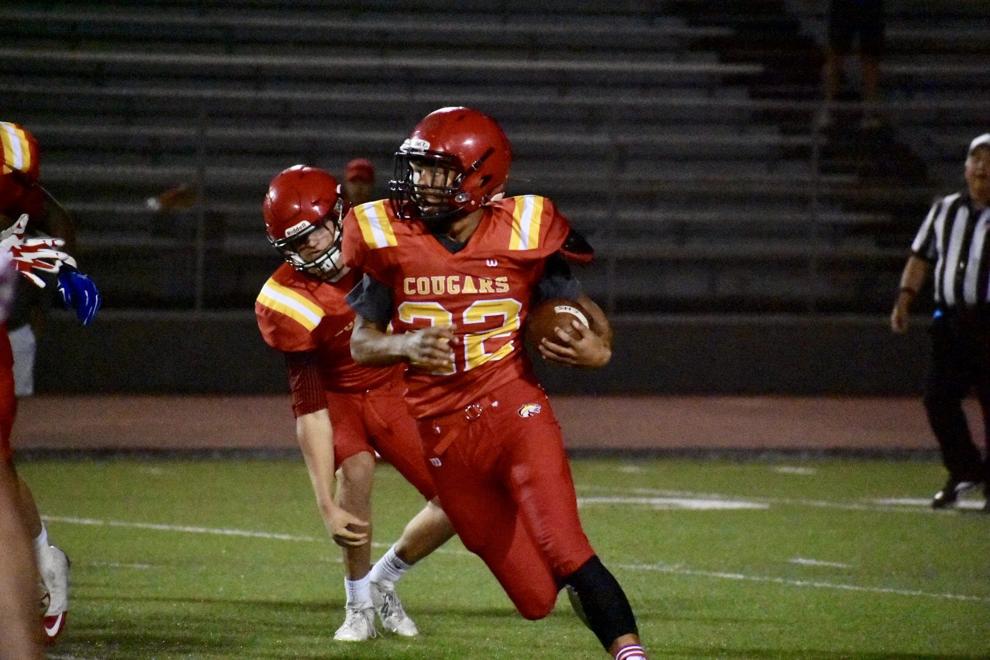 Aumiere Shedrick, running back, Harrison - Shedrick's athleticism is hard to miss when he has the ball in his hands. The 5-foot-10, 220-pound running back ran for 1,287 yards and 15 touchdowns, and rushed for more than 100 yards in all but two games last year. Shedrick also had 301 receiving yards and also put in work as the team's punter, averaging 41.2 yards per punt.
JC Sparks, linebacker, Palmer Ridge - Sparks earned a coveted invitation to an Elite 11 regional and came home with the title of linebacker MVP from the Las Vegas regional. Expect more from the 6-foot, 190-pound backer this fall. Last year he led the Palmer Ridge defense with 121 total tackles, including an astounding 20-tackle game against Lewis-Palmer. He also had eight sacks, three interceptions and four fumble recoveries.
Gage Vanaman, running back, Doherty - After playing through his high school career behind stellar running backs like Julian Cooks, Vanaman is ready to make a statement in his senior season. The 5-8, 165-pound back had 460 rushing yards last year on 63 carries and four touchdowns. He ran over Palmer with a career-high 149 yards and his second 100+ yard game of his career.
Orlando Westbrook, quarterback, Harrison - Westbrook proved his junior season to be a dual-threat quarterback, completing his season with a .648 completion percentage and 1,848 passing yards. Westbrook was also ranked second on the team in rushing with 511 rushing yards and 12 touchdowns on the ground.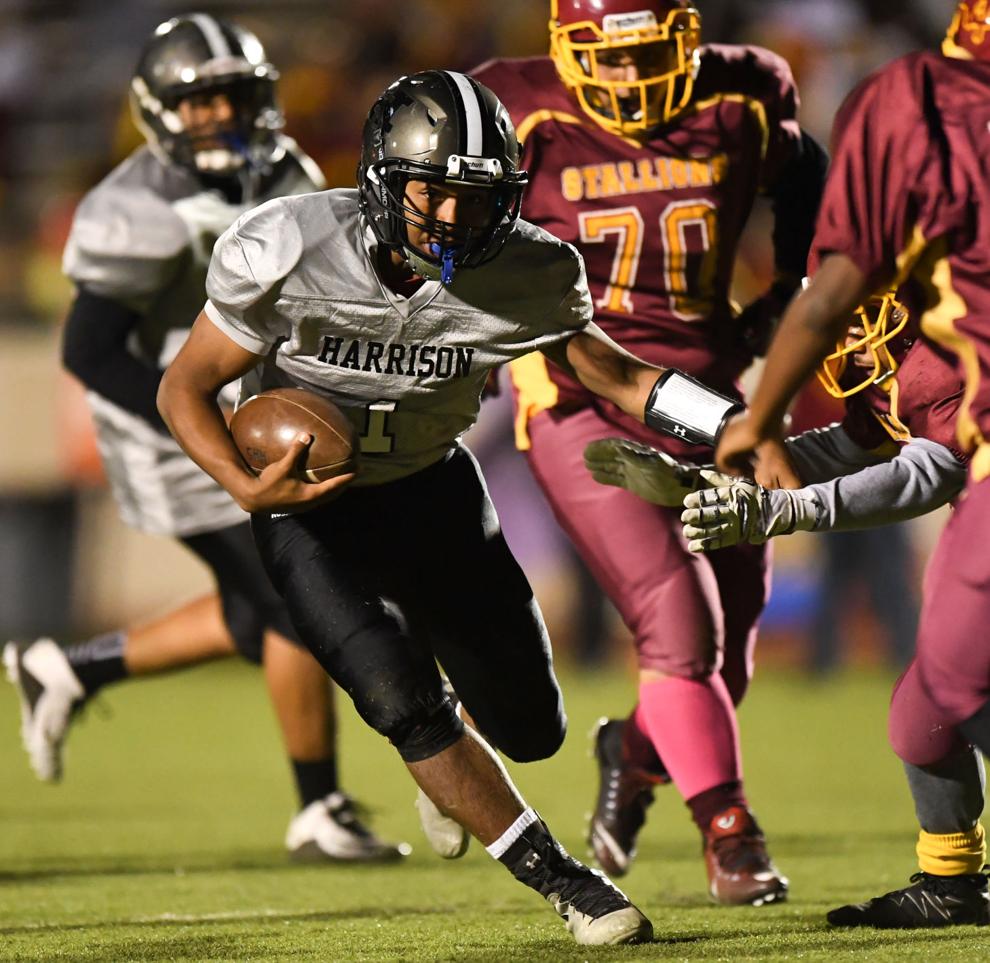 Lawson White, outside linebacker, Fountain-Fort Carson - White, a 5-foot-11, 190-pound linebacker has a hefty task ahead of him in an attempt to rebuild a defense that lost a mass amount of talent due to graduation. As a junior White had 22 tackles, including 14 of them solo as one of the most productive junior products on the defensive line.
Pikes Peak Players to Watch list was compiled using the 2017 Gazette Preps Football All-Stars and nominations from area coaches.