Gone were the well-coiffed business executives in suits.
Gone were mothers herding their children to get ice cream or teenagers from nearby Palmer High School on lunch break.
Hours after Colorado's governor enacted a statewide "stay-at-home" order, the streets of downtown Colorado Springs looked almost as quiet as dawn on a Sunday morning.
But the sidewalks weren't empty.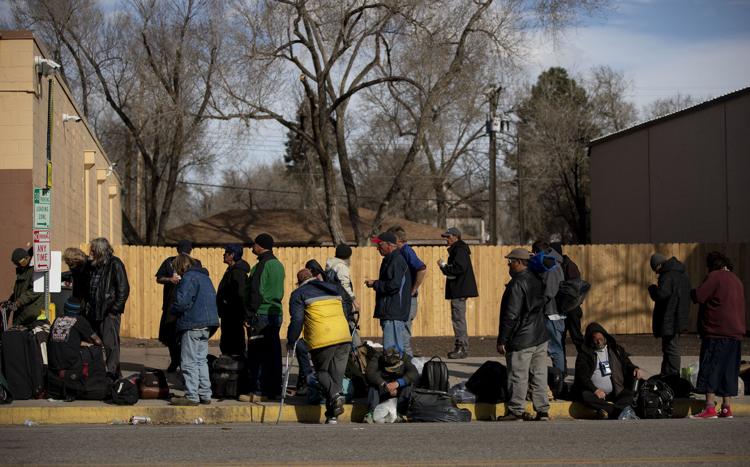 Dozens of people wandered the streets carrying suitcases, sleeping bags and piles of blankets. Ordered by the governor to "stay at home," people experiencing homelessness in Colorado Springs had nowhere to go.
- FULL COVERAGE: Coronavirus in Colorado.
- CHART: Number of COVID-19 cases in the state.
While most others retreated into their houses and apartments to escape the coronavirus pandemic, hundreds of homeless people — if not more — in the Pikes Peak region stayed where they could: crowded shelters, dusty encampments or the suddenly empty sidewalks of downtown Colorado Springs.
They rank among the most vulnerable during the coronavirus outbreak sweeping the nation. Their bodies worn down and weak after years of living outside, they often suffer from asthma, diabetes and heart and lung disease — conditions that make people more susceptible to the coronavirus.
Meanwhile, many nonprofit leaders have limited their services or completely shifted how they help those in need.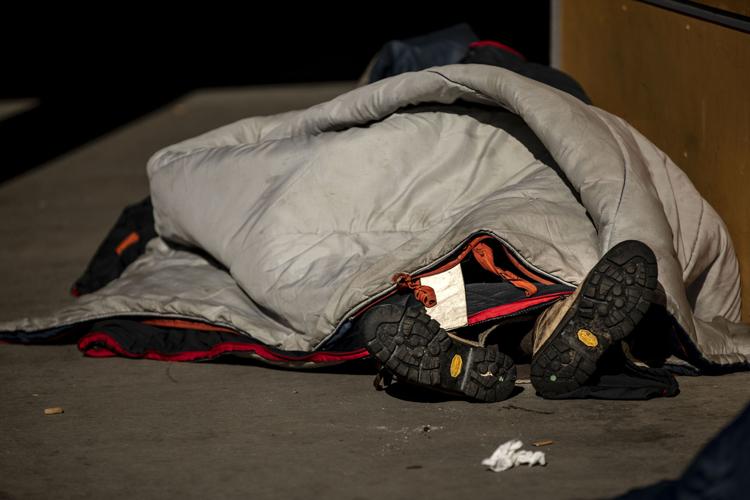 "This is a grave public health crisis," said Bobby Watts, CEO of the National Health Care for the Homeless Council. "All of the things that make it hard for them to maintain health on the street or in the shelter is now compounded by the pandemic."
For most homeless people in Colorado Springs, the practice of "social distancing" remains a pipe dream — a luxury afforded to the rest of society that must be ignored if they hope to sleep indoors every night.
And should the virus begin circulating inside one of the city's homeless shelters, the outcome could be no different than in nursing homes or assisted living facilities, homeless advocates say.
"I can just imagine that it would be fast, I imagine that it could be widespread," said Capt. Doug Hanson, who oversee's the Salvation Army's El Paso County chapter and its 220-person shelter. "I'd defer to smarter people than me, but since they are in close proximity, that's why its such a great concern of ours."
Sitting on a bench Friday outside a downtown Starbucks — a common daytime refuge for homeless people before the pandemic hit — Melanie Hickman, 60, surveyed the largely empty city block. She ate a sack lunch provided by the Marian House Soup Kitchen — hot meals were replaced by to-go bags — and shrugged.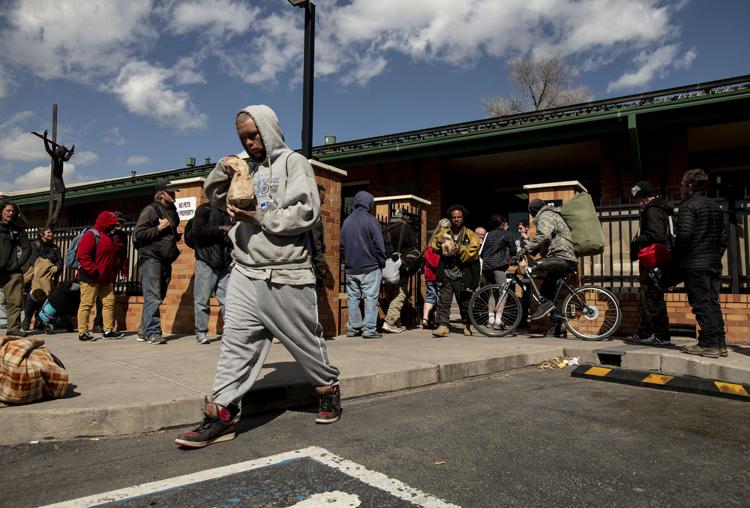 "If I had a home, I'd stay home," Hickman said. "Where is there to go? What else is there to do?"
And she continues to visit the Springs Rescue Mission's shelter, her home of three years, despite the threat that crowds pose in this pandemic.
"I'm taking every precaution that's possible," Hickman said. "I can't avoid crowds. The shelter has 200 people."
Lamenting business as usual
It's difficult, if not impossible, to know how many local homeless people have been infected so far. No positive cases have been announced by health officials, though experts say, as with other sectors of society, it's only a matter of time.
As of Friday, six people have been denied entry into the Springs Rescue Mission due to symptoms related to COVID-19, the disease caused by the novel coronavirus.
No one had been turned away from the Salvation Army's R.J. Montgomery shelter as of Friday, and the number of people showing up with mild symptoms dwindled from up to five a day to barely one, Hanson said. Those visitors were allowed to stay after having been given masks.
There's simply been nowhere else for them to go without overloading hospitals with people who don't need high-level care, Hanson said.
All last week, nonprofit leaders raced to create a 130-bed isolation shelter on the Springs Rescue Mission's campus, complete with showers, bathrooms and a staff of nurses.
But the plan fell apart Friday morning due to insurance liability issues, a stunning blow that left government and nonprofit leaders once again scrambling for a new location.
Officials are now finalizing plans to open the isolation shelter in the coming days at the City Auditorium, 221 E. Kiowa St., said Andrew Phelps, Colorado Springs' homelessness prevention and response coordinator, in what he has described as an "all hands on deck" effort to avoid an outbreak.
"We are all working diligently to get another isolation shelter secured as quickly as possible," Phelps said.
In its absence, shelter operators described unprecedented efforts to clean and sanitize their facilities. The Salvation Army's shelter, for example, has gone through cleaning supplies at six times its normal rate, and admitting people has taken an extra hour every night, due to extra screening questions.
Meanwhile, fault lines emerged on how best to deal with homeless encampments that have long been present on vacant plots of land, beside trails and along creek beds.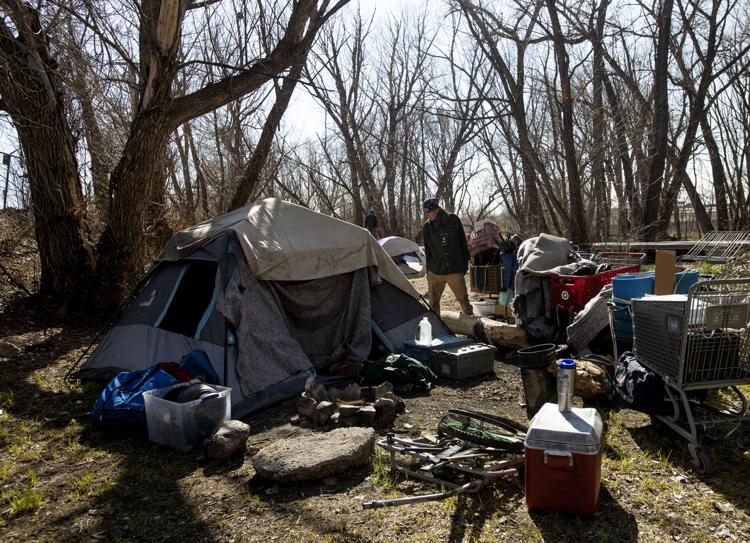 Colorado Springs police continued posting warnings as recently as Thursday of imminent action by officers against homeless campers. That's against recommendations by the U.S. Centers for Disease Control and Prevention to stop clearing encampments amid fears of dispersing people and spreading the virus.
Lt. Mike Lux, who oversees the department's Homeless Outreach Team, said he saw no indication the virus had made its way into shelters, and he pointed to previous outbreaks of different diseases that affected homeless campers — such as hepatitis A — as justification.
But in another move, Colorado Springs police suspended enforcement of a ban on recreational vehicles parking on city streets, "because of the danger of the virus," Lux said.
That isn't enough, said Jennifer Mariano, director of homeless programs for Community Health Partnership. The organization oversees the Pikes Peak Continuum of Care, a coalition of nonprofits and agencies that receives federal funding to address homelessness.
She lamented the "business as usual approach" by police to the camping ban.
"The recommendations have been sent — the CDC feels strongly that the camping ban should not be enforced during this time," Mariano said.
Closures also impact homeless
For homeless people, the everyday essentials that so many people take for granted have disappeared.
Closed are the downtown coffee shops and the Penrose Library, where people used to charge their phones, fill out job applications on public computers and stay up to date on the news and the latest health alerts.
Even getting fresh drinking water is difficult with the closure of the Penrose Library, a literal watering hole where the city's homeless population was known to fill up bottles and stay hydrated. For now, homeless people often must buy water, meaning less cash for other essentials, and an increased risk of being exposed to the virus while visiting convenience stores.
Restaurants and cafes have less food to hand out. Even dumpster diving — a key source of food and goods for many people living on the streets — is becoming an unreliable source for food, said Beth Roalstad, executive director of Homeward Pikes Peak.
When survival is an everyday struggle, the virus merely presents one more issue to deal with, several homeless people said.
"We stare death in the face every day, so what the hell?" said Lou Behlmann, 64, while scores of people walked around him at the Springs Rescue Mission's day center — many, if not most, passing less than six feet from each other. "I've got 65 years in, I've had a hell of a good life."
Indeed, several homeless people contacted by The Gazette expressed a range of opinions on the virus ranging from guarded concern to ambivalence. And many fear the stigma of being homeless will only grow worse, despite the pandemic affecting all corners of society.
"You can't go into a bubble," said Jamie Wilson, 39, through the doorway of her tent along the Pikes Peak Greenway, where she's camped for years.
She spoke over the muffled coughs of another person inside her tent. He's had the cough for three weeks, she said, after spending a night outside in the cold without a blanket.
After all, she said, even if they did try to quarantine, where would they go?
"When you're homeless, you don't really have that option," she said.
The novel coronavirus' long incubation period — 14 days, as opposed to just one to four for influenza — could complicate efforts to keep the virus at bay. Someone showing up to a shelter without any symptoms can spread it without even knowing the harm they're causing to others.
Even before the coronavirus hit, homeless people died on average every six or seven days in El Paso County, according to the El Paso County Coroner's Office. They succumbed to drug overdoses, heart disease, lung disease, hypothermia, homicide, traffic crashes, suicide and accidental carbon monoxide poisoning.
Now, they must contend with a new virus for which no vaccine or treatment exist.
A recent report issued by the National Alliance to End Homelessness estimated that homeless people are twice as likely to be hospitalized and two to three times more likely to die from the virus than other Americans. The report was compiled by researchers at the University of Pennsylvania, UCLA and Boston University.
And should hospitals become overwhelmed — as Colorado officials expect to happen — people experiencing homelessness could find themselves unable to get care if existing health issues flares up, experts say.
In many ways, the pandemic has cast a harsh light on the city's — and the nation's — shortage of affordable housing, and its inability to stem the tide of homelessness.
"The larger community really needs to step up here," said Steve Berg, the National Alliance to End Homelessness' vice president for programs and policy. "People sort of get used to the fact that they have homelessness in their community. But I think it's time to let go of that and say, 'This needs to be fixed right now.'"
Social distancing unrealistic
For the time being, nonprofit leaders are worried that homelessness could only grow due to the crisis, and its economic fallout.
Many nonprofits have cut back services, often because staff members or volunteers are elderly and, being at most at risk of the virus, are staying home. And nearly a dozen food pantries had closed as of Thursday, putting unbearable strains on the nonprofits still open and handing out food, said Beth Roalstad, executive director of Homeward Pikes Peak.
It's all led people to congregate at the Springs Rescue Mission, where daytime visits have surged, or at the Marian House Soup Kitchen. And at both locations social distancing has become increasingly unrealistic.
"We have tried to implement social distancing, but as you can see, it's not working very well," said Rochelle Schlortt, spokeswoman for Catholic Charities of Central Colorado, which operates the soup kitchen. "There's only so much you can do. You try to tell people so many times to give each other space."
Since March 16, an average of nearly 100 more people a day have visited the Springs Rescue Mission's day center, which includes showers, washing machines and other resources.
With nearly 275 daily visitors, the nonprofit was forced to open two extra buildings to thin the crowds. But the facility is struggling to keep up with demand, and to keep its programs staffed. The mission expects to spend hundreds of thousands of dollars in the next few months responding to the crisis. Time-and-a-half pay is being offered to staff members working on the front lines.
That has coincided with a 20% to 25% drop in donations during the month of March, a significant hit for a nonprofit that can't stop working, said Larry Yonker, the Springs Rescue Mission's president and CEO.
"We're doing more than we ever dreamed we'd be doing," Yonker said.
The age of many volunteers and their susceptibility has made keeping pace more difficult, said Andy Barton, Catholic Charities' president and CEO.
"We're used to coming together to support folks in need, and we're having to not come together. That's a part of the dynamic of this that's so weird is it goes against all of our desires in terms of what it means to help."
Leaving their neighbors behind
Some people are trying to get others indoors anyway.
For Anna Horn, 55, the call came after seeking a ride on a city bus — one of the few options left to charge her phone.
No more would she and her partner have to camp, the caller said. Within a day, they would be living in a fully-paid motel room with a sink to wash their hands. And with a door to keep them quarantined.
But first, Anna and her husband had to take down their tent and leave their friends and neighbors to survive another day outside amid a global pandemic.
"It broke our hearts, because we couldn't take them with us," Horn said. "It broke my heart, it did. Because I felt like I was abandoning them."
Horn and her partner, Doug Olig, 60, were among the lucky ones to receive a 45-day motel stay, courtesy of the Department of Veterans Affairs.
To house people more quickly amid the pandemic, the agency loosened funding restrictions on short-term motel stays, said James Sieffert, operations manager for Homes for All Veterans, the nonprofit that coordinated their motel stay. Four couples or families across the state were recently placed using that pot of money, more than they've placed the last four years, Sieffert said. About 10 more motel stays are in the works.
Even so, it's a fraction of the families who need help.
Other communities have taken novel approaches to the crisis. In California, for example, state officials have put up hundreds of homeless people in vacant hotel rooms, supplying cash flow to businesses while helping people hunker down and quarantine away from crowded shelters.
Horn wishes the state would take a similar approach.
For months, the two lived along the Pikes Peak Greenway within eyesight of the Springs Rescue Mission, setting up their tent at night and taking it down in the morning to avoid being ticketed under Colorado Springs' bans on camping on private property, and near creeks.
They avoided the shelter each night for fear of catching a respiratory illness, a common concern among homeless campers.
Now, they fear for their friends still outside.
"It's still hard to see the people under the bridge," Horn said. "Because everybody is scrambling to get the same thing, and there's only so much they're giving out."