A former mental health director at the El Paso County jail quit in late 2017 after the facility's for-profit health care provider demanded that she slash her already thin counseling staff, she told The Gazette.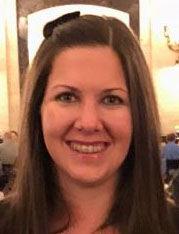 Stephanie Gangemi said she feared that cutting her team of six full-time counselors would place the most critically mentally ill inmates at even further risk.
In ending her career with Armor Correctional Health Services and other correctional health care giants, she concluded the companies are part of a "broken system" in which patient care will always come second to profit.
"Private, for-profit health care companies get away with so much because they gradually erode the quality of services provided for inmates in the name of cost-savings, while simultaneously decreasing support, supervision and leadership for line level staff," she said in an email to The Gazette.
The company responded with a statement of its own, saying Armor "disputes Ms. Gangemi's contentions" and "does not comment on employment disputes with past employees."
But Gangemi's charges shed new light on Armor's turbulent first few months as the jail's medical provider, and highlight already known questions about whether the facility's mentally ill inmates are getting the care that they need.
The Sheriff's Office acknowledged that it's "concerned" with Armor's performance when asked about Gangemi's revelations.
The agency has notified Armor of its complaints and is working with a Michigan-based consulting firm, Health Management Associates, to explore "options with community partners to see how we can improve the overall medical and mental health care" for the jail's inmates, sheriff's spokeswoman Jacqueline Kirby said. 
Gangemi previously worked for Correct Care Solutions, the jail's past health care provider, and was hired by Armor in mid-2017 when the company took over the facility's medical contract.
While employed by Correct Care Solutions, Gangemi said she was successful in convincing the company that she needed another counselor. Her team grew from five to six full-time staff, plus additional part-time employees, she said.
Their caseloads were already "dangerously high," she said in an email.
But Armor pressured her to make cuts once its tenure began, she said.
"I advocated, explained, showed statistical evidence and provided clinical explanations for why this would be unsafe for the inmates, the jail and the company, but Armor was adamant about their demands," she said.
The company "retained staff above the contracted level at the company's expense for more than a year" after it took over for Correct Care Solutions, spokeswoman Yeleny Brody said in a statement.
The jail is currently staffed by six full-time behavioral health professionals, according to another statement from the jail's current mental health director, Tanya Belknap.
Armor also addressed a backlog of inmates in need of behavioral health services and made other improvements after taking over for the past contractor, Brody said.
"Under Armor's supervision, the behavioral health team is providing more patient care and advocacy to the greatly underserved population," Brody said.
The switch in contractors increased the cost of inmate medical services by nearly 40 percent.
Last year, the county paid Armor about $7.5 million for inmate medical services. The county might still be billed for costs of pharmaceuticals and inmate hospital visits in 2018, county procurement specialist Ron Neely said in a recent interview. 
Like many of its correctional health care counterparts, Armor has been scrutinized for claims of substandard care at correctional facilities across the country and faces dozens of lawsuits alleging its staff members neglected inmates' health care needs.
In Wisconsin, the company is facing criminal charges over accusations that it falsified inmate medical records, including those of a man who died of dehydration at the Milwaukee County Jail, according to the Milwaukee Journal Sentinel. 
Armor is just one of a handful of companies that dominate the for-profit jail health care industry. 
Gangemi worked for Correctional Healthcare Companies, which Correct Care Solutions acquired in 2014. Last fall, Correct Care Solutions merged with another company to form Wellpath.
She was also employed by Prison Health Services, now Corizon Health, when she was a social worker at Rikers Island jail in New York.
Clinicians working for these companies often have good intentions, she said.
But the daily trauma and hardships of working in a correctional setting are exhausting and employees are often put in a position where they must "make compromises to adapt to the dysfunctions of the system" to keep their jobs.
"Every time there's a contract renewal, everybody has this fantasy that the new one's going to come in and cure everything, and I've been through enough of those changes to know that that's not it," she told The Gazette in an interview. "If the goal is to make money and not to keep inmates healthy, then there's just going to be this constant battle about how money is getting spent."
There were other signs of dysfunction early in Armor's tenure in the jail, after what Gangemi described as a "tumultuous" transition from one health care provider to another.
The county threatened Armor with a $100,000 fee for early stumbles on the job, which Armor attributed to lapses leftover from the past health care provider. 
A national accrediting agency initially put the jail on probation after an audit discovered a backlog of requests that had left more than 300 inmates without access to prompt medical care and a laundry list of other issues. 
But the National Commission on Correctional Health Care chose to renew the jail's accreditation last spring, after medical staff reported they had fixed the problems.
After leaving Armor, Gangemi briefly served as the manager of the Sheriff's Office behavioral health programs.