Coronavirus and economic hardships aren't necessarily next-door neighbors in Colorado, according to an analysis this week by the Common Sense Institute think tank.
The paper concludes that a one-size-fits-all approach will be an ill-fit across the state.
When Colorado was under a stay-at-home order from March 25 through April 26, outbreaks swung widely between counties, and yet "some counties have seen very few cases, most have suffered large increases in unemployment," the paper says.
The data comes from the Centers for Disease Control and Prevention and the monthly job reports issued by the Bureau of Labor Statistics between March and April.
"The data suggest that there is no correlation between the infection rate and the change in unemployment," concluded the Common Sense Institute. "Counties with high infection rates are not any more likely to have had greater growth in unemployment rates; the obverse is also true. This disconnect between infection rates and economic disruption should warrant more public scrutiny and policy consideration should we see another surge in cases and be facing another stay-at-home order."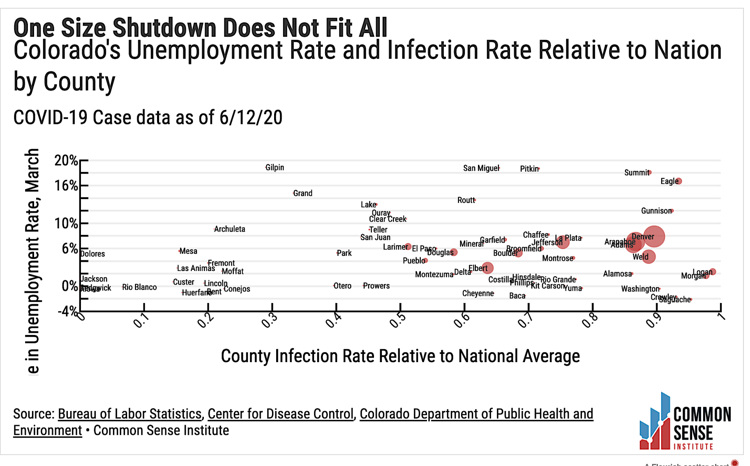 Read the full report by clicking here.
The report highlights:
• Thirty-five of the states' 64 counties have had 50 or fewer cases.
• Grand County saw a "drastic" 15% rise in unemployment against only 15 infections.
• Denver accounts for 22% of all Colorado's cases, about 6,000 people, or 0.83% of the county's population.
• Larimer, Pueblo, Douglas and El Paso counties, collectively with 27% of Colorado's population, have a combined infection rate of 0.23%.
• Logan, Morgan, Washington and Crowley counties have high infection rates because of the cases in local prisons.
• Eagle, Summit and Pitkin counties had large increases in unemployment as well as relatively higher infection rates, as "the impacts to their job bases reflect their disproportionate share of industries that rely on tourism and recreation, given they contain some of the largest ski areas," institute researchers said.