In what may be a first, the parents of a woman twice hospitalized for complications from heroin use are suing the man they say got their daughter addicted and continues to endanger her life.
It's not a criminal case.
Kyle Monson, 25, was never caught with or caught administering any drug, and their daughter, Carla Pena, 29, "might have asked for the heroin," despite her fragile state. So parents Carlos Pena Jr. and Gail Sistrunk are going after damages for Monson's "monstrous actions" toward Carla and "cruel tauntings and threats" toward Sistrunk, which "obviously caused severe emotional distress," according to a complaint filed in June in El Paso County Court.
If Carla, their second child, should die, the parents will be seeking a wrongful death lawsuit on behalf of Carla's estate and her 8-year-old son, the complaint warns.
The lawsuit does not list the amount sought by Sistrunk and her ex-husband, but says they will be seeking at least court costs, attorney fees and "damages in an amount to be proved later." In an email to The Gazette, Sistrunk called it a "multimillion dollar lawsuit."
"It's time we hold these people accountable," Sistrunk said. "If law enforcement has a hard time doing it, and I understand it's a big task, we need to help them."
Monson's criminal record does not show a history of drug use, but Sistrunk's lawsuit describes a series of events which suggest he supplied her daughter with heroin, even while she was hospitalized and including the night before she underwent open heart surgery.
"This isn't only the money, we are trying to fashion a tool to help people take back control of their communities and control this plague," Sistrunk said of the heroin epidemic that has impacted communities across the United States and led to staggering death rates. "(Carla) is obviously very important to me, but who she is, is less important. (She's) a human being. (She) could be your sister or your friend or niece.
"This has to stop."
Sistrunk's attorney, Peter Krumholz, a "high-stakes appellate and trial court litigation" expert out of Denver, said it is that context which makes this case so unique.
More than 100 states, cities, counties and even parents have filed lawsuits against prescription drug makers they say flooded the market with powerful painkillers that led to the opioid addiction crisis. Drug overdoses have skyrocketed, with The National Institute on Drug Abuse estimating a spike of more than 600 percent since the early 2000s. Last year in Ohio, the death toll was so high coroners' offices were using cold-storage trailers as overflow morgues.
But Krumholz said he can't recall a case of a parent suing another citizen over the issue.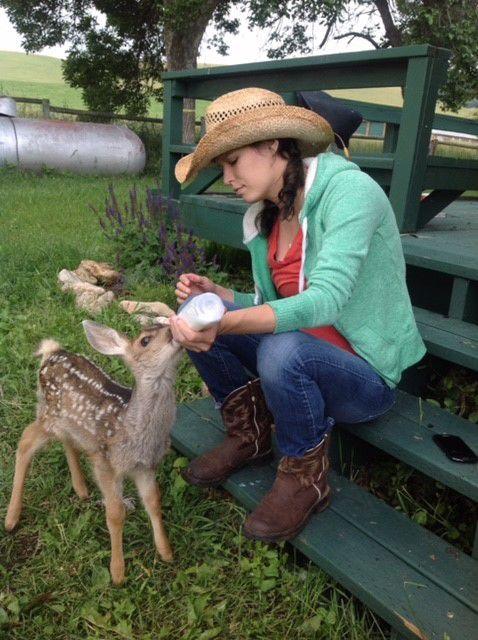 "My client is a loving parent trying to use appropriate legal processes to save her daughter from the kinds of influences, including the influence of the defendant, that have resulted in her daughter's addiction," Krumholz said.
When contacted by The Gazette about the allegations, Monson hung up and did not return subsequent voicemails. His mother, Lorna Monson, called back several times, calling the lawsuit "lies" and threatening that if the paper printed the story she would "sue with everything I have and make your life miserable," before also hanging up.
'My leg is turning black'
The emotional journey started in March when Sistrunk said she found a burnt spoon among Carla's belongings during a family visit. She confronted Carla, who admitted heroin use. They talked about how to get her help, but her condition quickly worsened.
On April 20, Carla was taken to the hospital with an open abscess caused by a "missed heroin shot," the complaint said. The doctor warned Carla and her live-in boyfriend, Monson, that if left untreated, the abscess could develop into septicemia.
Sistrunk, who lives in Wyoming, sent money twice to fill Carla's prescription for antibiotics, but the drug was never picked up.
Within six days, Carla was complaining that her "leg is turning black," but said Monson refused to take her to the hospital and accused her of "faking it," the complaint said. Carla called Sistrunk for help because she was "tired of slowly dying," it said.
The two devised a plan to get Carla care without arousing Monson's suspicion, as he already was combative toward Sistrunk, she said, and had been abusive toward Carla in the past — harassment charges were filed against him on behalf of Carla in 2017, but they were later dropped, court records show. Sistrunk said she booked a flight to Colorado for May 8 under the guise of celebrating Carla's birthday, but really the two planned to go to drug rehabilitation.
They never made it. On May 6, Carla was checked into a Pueblo hospital "urine soaked and 'lethargic," and, apparently, "within hours of death" from septicemia, endocarditis, pneumonia and renal compromise, the complaint said. Carla was placed on "massive doses of multiple intravenous antibiotics" to combat the infection and ease her through heroin withdrawal, it said.
It should have stopped there, Sistrunk says, but she alleges Monson continued to supply her daughter heroin while she was hospitalized.
Parkview Medical Center records, shared by Sistrunk, showed staff found "contraband drug-related paraphernalia" on May 9 in Carla's room and said Carla "admitted" Kyle had brought her marijuana in a vape pen.
Another time, Sistrunk found two hypodermic needles — one used and another partially used — in Carla's room after Monson visited, the complaint said. Sistrunk explained she did not report the needles because she feared it would prevent her daughter from receiving heart surgery. Parkview records note the doctor was postponing the surgery "because of the patient's lack of interest in abstaining from opiate use."
Monson was barred from visiting, hospital records said.
Sistrunk said Monson retaliated by "convinc(ing)" Carla to move her care to UCHealth Memorial Hospital Central in Colorado Springs. Carla checked out May 12 and drove away with Monson. "Too bad you won't know which hospital we go to and will let them and the police know immediately that you are not welcome around her," Monson texted Sistrunk, the complaint said.
Monson actually took Carla home, where "he administered more heroin, with a full knowledge of how much further damage it could cause her and her grossly infected heart," the complaint said. The next day, Carla was checked into Memorial, again lethargic, it said. UCHealth records show she tested positive for opiates.
"The staff tried to make (Monson) understand that it was likely the heroin itself that was contaminated with staph bacteria and that injecting it into (Carla's) bloodstream was directly pumping a fresh bacteria load into her body, making it nearly impossible for her to recover," the complaint said.
Though UCHealth staff noted that Carla "left against medical advice from Parkview Hospital because her boyfriend was apparently bringing her heroin" and because he had been banned from visiting her there, Memorial permitted him to visit her if he agreed to searches before entry, which he did.
Somehow, Carla continued to use.
On May 16, the day before Carla's open heart surgery to remove the infection around her heart, UCHealth records said Carla "reported that she has used heroin while at this hospital, stating, 'You didn't give me enough pain meds and I was in so much pain.'" Security searched her room but found nothing, records said.
Carla would survive the surgery, despite the odds and "repeated crisis," but she later told staff that Monson had injected her with heroin the night before the operation, the complaint said. Hospital logs, provided by Sistrunk, show only she and Monson were with Carla that night.
Carla would recant her statement in June, saying "she had the drugs on her when she was admitted," a hospital report said.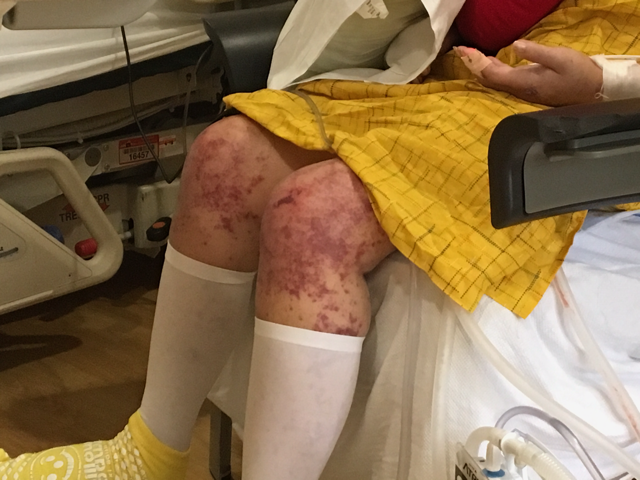 From the jail in Prowers County, where she is being held on unrelated charges, Carla doubled down, repeating again she had brought the drug in and injected herself. "They don't search you when you come in in a wheelchair," she said.
Asked to respond to Carla's statement, Memorial spokeswoman Cary Vogrin said the hospital "cannot discuss specifics about some of our security policies."
Memorial prohibited Monson from visiting, with hospital staff writing numerous times in Carla's files that "the patient's boyfriend Kyle is not allowed at the hospital due to him bringing drugs to this patient."
Around that time, Carla also barred Sistrunk from visiting, records show. Carla's health started to improve; she no longer tested positive for heroin.
Carla said she stopped using after her surgery because she was under constant supervision and had run out of the drug. Monson had nothing to do with it, she said.
"I can't get mad at her because it isn't her," Sistrunk said of her daughter's changing stories. The Carla she remembers is educated (she was trained in paralegal work and recently started her own jewelry business), artistic and headstrong. Sistrunk calls her "Lexie" or "Kitty."
"I know my daughter is in there still," Sistrunk said. "She's buried deep, but she's in there and I just have to let her come back out."
Continuing the f ight
Carla has since been released from the hospital and is currently being held in the Prowers County Jail on a failure to appear warrant for suspected theft of $100,000 to $1 million in the form of a lottery ticket.
Monson is accused in the same incident. They both have hearings scheduled in late July.
Sistrunk said she's refusing to pay Carla's bond, as jail is the only sure-fire way to keep her daughter from Monson while she pushes to get Carla into rehab under court order. Hospital records show Carla declined to go herself despite being accepted into a California program.
"I don't think I need (rehab)," Carla told The Gazette from the jail. "I'm a functioning addict."
Sistrunk said she'll remain in Colorado Springs until she wins the fight or, sadly, until she buries her daughter.
"All I can do is hope that she won't do something that will kill her," Sistrunk said, her voice breaking. "I am not leaving until I do everything possible to keep my daughter safe. This has been the horror of my life, hands down. I have been depressed, I have been anxious, and some days I have wished that I would die so I would be in heaven when she got there."
All the while, Monson has mocked Sistrunk's pain, the complaint said.
Before he was barred from visiting, he texted her, "must be sad to be so pathetic lol your lil trick didn't work so while I'm here at the hospital I'll be super relaxed knowing you can't be here but I can," the complaint said. It also noted he threatened to break her jaw, which Sistrunk said she took seriously.
"Past criminal charges against Monson for abusing (Carla) demonstrate he is perfectly capable of such behavior," the complaint said.
According to Colorado court records, Monson has twice been accused of harassment, though both charges were later dropped. A 2015 misdemeanor assault charge also was dismissed upon his successful completion of a court diversion program.
Sistrunk said she tried to pursue criminal charges against Monson for giving her daughter heroin but was told by Colorado Springs police that she didn't have enough evidence to proceed. She plans to continue that fight another day.
"First, I have to save my child and then we have to change the way we do things in this country," Sistrunk said. "If our laws are such that we can't protect our family then the laws are wrong."