Like most people, Don Baldwin was a complicated man.
Raised during the Great Depression on a tight budget in 1930s Long Island, N.Y., he was later molded by the Army Air Corps into a perfectionist and disciplinarian. But he was the kind of soldier who wrote love letters to his infant daughter back home, knowing it would be years before she would read them.
Decades later, 73-year-old Carol Baldwin Cook sat in her Colorado Springs home, gently turning the pages of her late father's letters. The ink faded with time, but the words still brought tears to her eyes.
"I always had a respect for what he did and for what we did as a country," Cook said. " … As I aged, my appreciation and respect also aged."
Baldwin was a middle child who captured every stereotypical middle-child trait there was, Cook said. He excelled in school, but with little opportunity afterward, the 16-year-old got a job at a local gas station.
In 1943, Baldwin joined the Army Air Corps as a B-17 pilot. Deployed to England, where he flew bombing missions to Germany, he quickly rose in rank, from lieutenant to captain.
"He was very proud and pleased at getting rid of Hitler," Cook recalled. "He was very proud of what he and the United States armed forces accomplished … they were his glory days."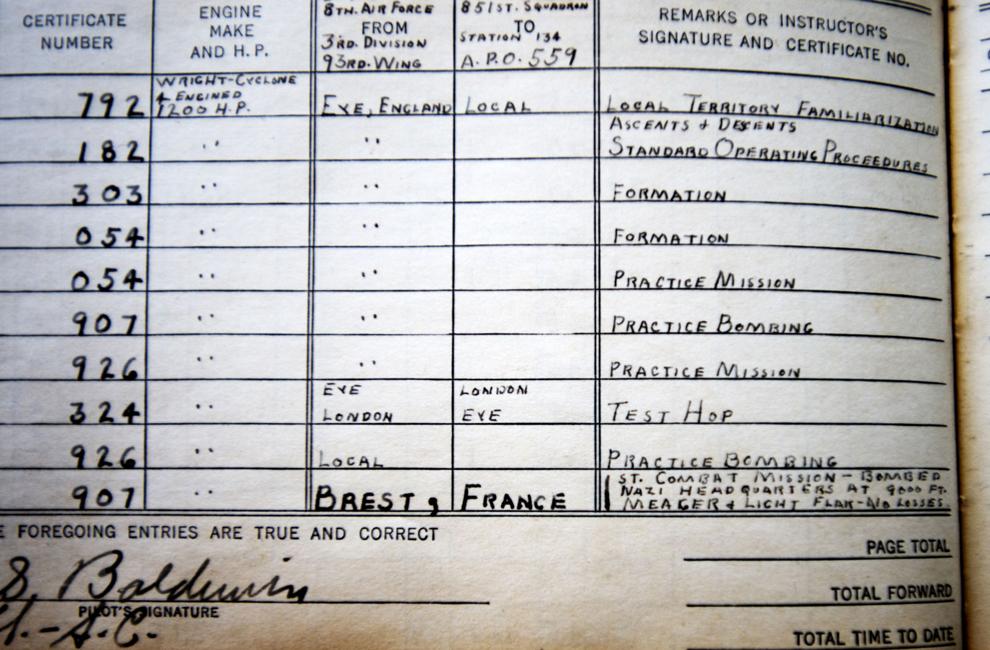 Pilots who flew B-17s — a four-engine beast designed for precision daylight bombing — were often crammed into the unheated cockpit for over eight hours straight. The planes weren't pressurized, so crew members wore electrically heated suits and heavy gloves against temperatures that dipped to 60 degrees below zero.
"He was doing what his country needed and righting a terrible wrong in Europe … " Cook said. "I do think that time in the military, and I think the respect that he was shown, which he really hadn't been (before), really built in him a respect for what's going on in the world."
Remembering her father, Cook said she hopes the World War II generation's resilience and work ethic will persevere in future generations. She longed for the chance to sit with her father once more so that she could truly appreciate his stories.
"I think if we could take that, 'We're going to do what's right. We're going to do what's good. We're gonna make sure Hitler's gone. We're going to stop this annihilation of the Jews.' We need to bring that to today," Cook said.
Baldwin wasn't all grit. Cook kept every letter he addressed to her while he was deployed. They were carefully folded into a scrapbook Baldwin made himself. Corners of black construction paper, curled at the edges, kept photos of a young Baldwin from falling out of the tattered pages marked with neat handwritten labels.
"My precious little princess," read one letter. "In a few days now, darling, you will have your first birthday. And on that day, you will have been with mommy and daddy a whole year. You are precious."
Cook remembered her father's humor, something he wasn't known for, but those closest to him treasured.
"You're quite a bathing beauty in your Hawaiian outfit," Baldwin wrote to Cook. Her mother had sent photos of the 10-month-old in a new swimsuit. "Yes, precious. I think your mommy does get mixed up with her alphabet a little bit. But just between you and me sugar: A woman can either have looks or brains and your mommy's awful pretty. Don't tell mommy I said that."
A perfectionist to the end, her father died exactly the way he would have wanted to — finally on good terms with everyone in his family, Cook said. Baldwin died at age 76 in 1999 in his Long Island apartment.
"You see precious, there is much trouble in this world of ours. And there are many unhappy people. And it is because of this that daddy, who is a small part of a large thing called the American army, must be away from you. This is the anniversary of the first day of your birth, but soon, my little princess, there will be peace throughout the world. There will come a time when you and mommy and daddy can regain this great happiness of ours. I love you. Your daddy."