PHOTOS: Documenting COVID-19 in the Pikes Peak region
COVID-19 has slammed into Colorado's prison system, which already was struggling to keep corrections officers from quitting amid rising chaos, according to state data, interviews and legislative reports.
As of Thursday, mass testing revealed that 241 prisoners and 11 staff members at Sterling Correctional Facility had COVID-19, making the prison located east of Denver in Logan County the largest outbreak site in the state. On Friday, an 86-year-old male inmate with coronavirus symptoms died after being taken from the prison to Sterling Regional Medical Center.
"The real unvarnished truth is that this pandemic that we have been fighting to keep out of the prison system, it has in fact hit the prisons, and I don't want to sugarcoat any of that or how serious that is," Dean Williams, executive director of the Colorado Department of Corrections, said during a Facebook town hall in last month.
---
RELATED: 
Medical experts: 'Stay-at-home' order helped Colorado avoid catastrophe
Polis issues orders intended to let Coloradans cope with living with coronavirus
---
During that town hall, he said about 160 correctional officers had been quarantined either for exhibiting COVID-19 symptoms or for coming into contact with someone who had the disease.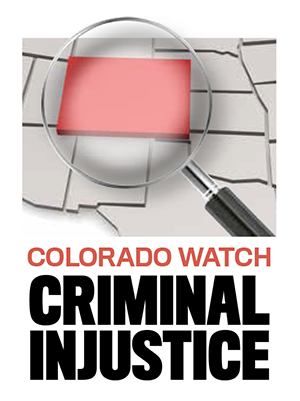 So far, Sterling is the only prison identified in the state as having an outbreak, but it's the only one Colorado prison where officials conducted mass testing. Half of the prisoners that underwent testing in Sterling tested positive for COVID-19.
Even before COVID-19, the state's prisons struggled with high staff turnover and other escalating problems, said Eric Olsen, a sergeant in the infirmary of the Denver Reception and Diagnostic Center, the Corrections Department's intake and classification facility.
Olsen, who is affiliated with Colorado Workers for Innovative and New Solutions, which is pushing legislation that would allow state employees to collectively bargain for higher salaries, said that in the wake of COVID-19, correctional employees in Sterling are working 12-hour shifts due to a lack of adequate staff. The prison management in Sterling also has had to redeploy staff there to duties they weren't hired to do to cover staffing shortfalls elsewhere.
"It has magnified a lot of the problems we already have been addressing," Olsen said. "We have staff shortages, high turnover rate and low pay."
He said he knew of one employee at Sterling, in her 70s, who normally is in charge of teaching inmates cognitive therapies to help them shed past behaviors that resulted in criminal activity. Staff shortages exacerbated by COVID-19 prompted her managers to require her to work instead in the kitchen at Sterling, the largest prison in the state, Olsen said.
Already, before the onset of COVID-19, Colorado's prisons were failing to meet minimum staffing requirements at an increasing rate, according to data maintained by the state. From the start of 2015 through 2019, failures to meet minimum staffing requirements in Colorado prisons more than doubled, the state data shows.
Meanwhile, over the five-year span, the number of critical incidents documenting violence between prison staff and inmates is up, even though the number of offenders in the state's prisons has stayed relatively stable. During that time, assaults against prison staff rose by about 75%, and use of force against inmates spiked by about 28%.
Inmates also are becoming a greater threat to themselves, with self-inflicted injuries more than doubling since 2015.
The number of dangerous contraband incidents involving alcohol, drugs and drug paraphernalia has more than doubled in the same period of time.
Olsen tied those rising problems, as documented in the data, to the state's difficulty in keeping qualified staff, which he said stemmed primarily from low salaries.
"We've lost a lot of staff over the years, and this is experienced staff that we've been losing," Olsen said.
The loss of staff has a ripple effect, he said, that results in less specialized programming for prisoners as staff get tapped for more mundane duties, Olsen said.
"You've got a lot of people who aren't able to do their job that they're hired to do," Olsen said. "The teachers and other people assigned to programs aren't able to offer their programs to offenders to get them the tools they need to become law-abiding citizens when they get out of prison."
The constant churn caused by high turnover also means less qualified staff, which makes it harder for offenders to trust the system, Olsen added. He said it's harder for less experienced workers to gain the respect of prisoners. "Without that institutional knowledge people are going to get hurt and people have gotten hurt," Olsen said.
Annie Skinner, spokeswoman for the Colorado Department of Corrections, declined to make prison officials or Williams available for interviews.
Gov. Jared Polis appointed Williams, the former top corrections chief in Alaska, as executive director of Colorado's Corrections Department to tackle the rising tensions in the state's prisons that the data shows had been occurring in recent years. Williams repeatedly has talked about how he wants to change the culture inside prison walls and ease the us-vs.-them dynamic that has long dominated the relationship between prison guards and inmates.
About three weeks ago, Williams said during the town hall that fears of widespread outbreaks among the incarcerated had prompted corrections officials to authorize the early release of about 150 prisoners with more early releases projected to occur. He added new restrictions were halting the flow of inmates from county jails into the state's prisons.
Olsen gives Williams high marks for listening to his employees and reaching out for suggestions. He said that open dialogue recently yielded results when his supervisors agreed with Olsen's suggestion that prisoners should start making face masks that correctional staff and prisoners could use as protection against COVID-19.
Olsen said listening helps, but it can only go so far in addressing long-standing issues related to low pay that trouble Colorado's corrections system. A December 2018 legislative report from the Department of Corrections found that the average annual wage for state correctional officers was $7,000 to $11,000 lower than the pay for similar competing jobs, primarily related to staffing county jails. That report further found that more than one out of every four entry-level correctional officers left employment in the fiscal year that began in June 2017.
The Legislature responded to that report by approving an additional $27 million last year to bolster correctional staff pay, but now that state revenues have plunged due to the economic distress caused by COVID-19, the corrections management team this month advised legislative leaders to hold off on plans for another salary increase that would have cost an additional $10.7 million for the upcoming fiscal year.
Legislation that would authorize collective bargaining for state employees also was sailing through the Legislature this year until COVID-19 concerns prompted lawmakers to suspend the legislative session. Now, Olsen is not sure whether that collective bargaining push also will end up getting sidelined once the Legislature returns to work.
Olsen predicted that fears that COVID-19 will infect more prison personnel will hasten the rate of staff turnover. He said he recently participated in a Facebook teleconference with correctional staff from around the nation. The grim statistic cited during that teleconference was that 13 correctional personnel across the nation had died in a 14-day stretch due to their work, Olsen said. Normally, on average, it takes a full year for 13 correctional staffers across the nation to die due to work work-related events, Olsen said.
"When you have to come home from work and worry about bringing a contagion home to your family, that could end up causing a lot of people to seek employment in other places," Olsen said. "It's not a job for the faint of heart."
Families of prisoners also say they're worried about COVID-19 and complain that staff who have contracted the virus have impacted their lives.
Sandra Winston, 58, of Colorado Springs, said her husband, Gary, also 58, should be released from Sterling under guidance issued by Gov. Jared Polis that the state's criminal justice system should work to reduce the number of people incarcerated across the state while maintaining public safety.
Records show that her husband, who has a respiratory ailment, will be eligible for parole in July. He pleaded guilty to felony charges of possession of a controlled substance in December 2019 and November 2018 and a felony charge of vehicular eluding in February 2018, according to records.
Winston said her husband's case manager in the Sterling prison was the first employee there to come down with COVID-19. She claimed the case manager recently apologized in a letter to her husband for not being around to help prepare the documentation that would support an early release from prison.
She said she's delayed surgery for her own ailment — colon cancer — and risks having the cancer spread to her liver while she works on getting her husband out of prison., She said she calls the prison at least eight times a day and sends off numerous emails to correctional officials in search of more information about her husband. On Thursday, she finally got to talk to him and learned he had tested negative for COVID-19.
Still, she's worried. He told her that he was walking down a hallway at Sterling recently when another inmate that had tested positive for COVID-19 coughed in his direction.
"Put him on an ankle monitor," Sandra said. "We have such little time left at our age. Let us be together. If God takes one of us, at least he'd be home. He's all I have. He's my heart, and I feel like it's been cut out."
For now, she relies on the company of their two dogs, a miniature pinscher named Lala, and a one-eyed Yorkie named Ricco.
She said that Ricco yapped wildly when he heard Gary talking over the phone the other day.
She said her husband told her that he and his cellmate pray daily to make it out of Sterling alive.
"I think maybe this woke him up," she said. "He feels so much remorse. He said, 'I took advantage of life, and I didn't realize how precious it was.'"