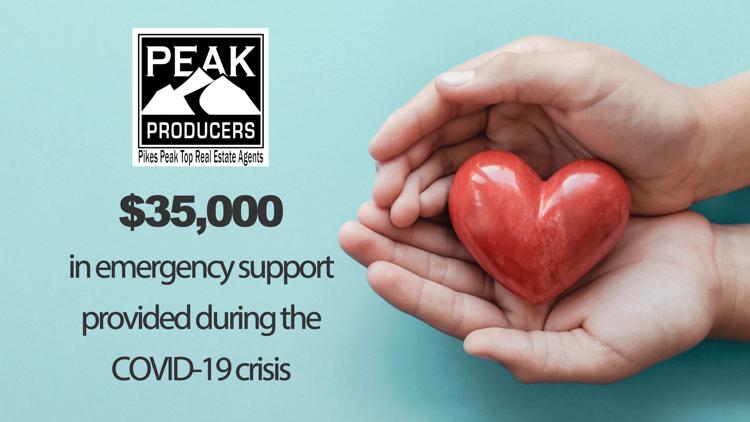 Professional Real Estate Organization of 113 local real estate brokers gives $35,000 to two critical community organizations
Colorado Springs— April 13, 2020 — The Peak Producers, a Real Estate Marketing and Charitable organization founded and facilitated by Empire Title Company of Colorado Springs and composed this year of 113 members of the local real estate community from 44 different real estate companies, today moved at Executive session to fund Springs Rescue Mission with $25,000 from the Peak Producers fundraising reserves.
"Upon communication with leadership of Springs Rescue Mission, it was discovered they have critical needs for capital." said Bill McAfee, President of Empire Title Company. "Due to Covid-19, many people who were gainfully employed have been laid off which created need for more workers as well as space issues for the Mission."
Positive Local Impact
This donation follows a $10,000 donation made earlier in the week by Peak Producers to their other charitable partner, Mary's Home of Dream Centers. "Mary's Home has several single mothers living in one-bedroom apartments with children and this time of Stay-At-Home is especially difficult," said Mr. McAfee. "The deployment of our Marketing Resources at this time is better spent on emerging critical needs in our community."
In 2009 Empire Title of Colorado Springs brought together a group of top producing real estate agents in an effort to benefit the real estate industry and community. The Peak Producers is made up of the top ten percent of all real estate agents in the Pikes Peak Region. The group promotes professionalism within the industry, but more importantly, supports and gives back to the community as well as endorses local charities. Efforts which influenced these decisions included helping the homeless, cleaning up the tent cities and filling short-falls where local government couldn't.  This year and last, our collective support has aided these two valuable non-profit organizations: Springs Rescue Mission; and, Mary's Home of Dream Centers.
Springs Rescue Mission – In 1996, our founders began providing sandwiches to homeless people in Colorado Springs in parks and under bridges. At the same time, they began inviting young homeless couples to stay in their home to give them a head start on life-change. Soon after, they opened a food pantry in one room of a small building. These humble beginnings rapidly grew into a wide range of programs intended to serve the 27,000 households living below the poverty line in the Pikes Peak region.
Today, we maintain a Four Star "Exceptional Charity" rating with Charity Navigator and have received awards for excellence from the El Pomar Foundation in its human services category, an award for collaboration from Pikes Peak United Way in 2015, recognition for invaluable community contributions in the House of Representatives from Congressman Doug Lamborn, and endorsements from three Colorado Springs Mayors. Springs Rescue Mission's unique offering of relief and rehabilitation programs is a recognized and invaluable part of the Colorado Springs community.  https://www.springsrescuemission.org/
Mary's Home – Many women and children are in dire situations, without hope and nowhere to turn. Dream Centers exists to provide health and hope for people who are working hard to rebuild their dreams.  https://www.dreamcenters.com/