A paved raceway with bright yellow stripes and road signs is nearing completion for young tricyclists at the Community Partnership of Child Development Head Start program at Evans Elementary School, thanks to local and state contractors.
The new race track will combine play with learning as children develop social, motor and language skills, officials said Wednesday.
"The kids love riding trikes, which are great for gross motor skills," said Jeanette Givens, CPCD facility manager.
The $50,000 project, which nearly doubles the size of the existing playground with an additional 20 feet, is the result of an all-volunteer effort coordinated by the Women's Foundation of Colorado and undertaken by the Colorado Emerging Leaders Council of the Colorado Contractors Association and the Association of General Contractors of America's charity arm.
"Tricycles were donated to CPCD, but there was no place for the kids to ride them," explained Betsy Wagner, project coordinator for Colorado Contractors Association's Emerging Leaders Council.
She is affiliated with Wagner Equipment Co., where she is the sales division manager.
"Since we build roads, we thought we might as well make a fun race track for the kids," Wagner said.
Several dozen Colorado-based firms have helped the idea unfold.
"This has been a really fun project," said Josh Krueger, vice president of A-One Chipseal and project manager.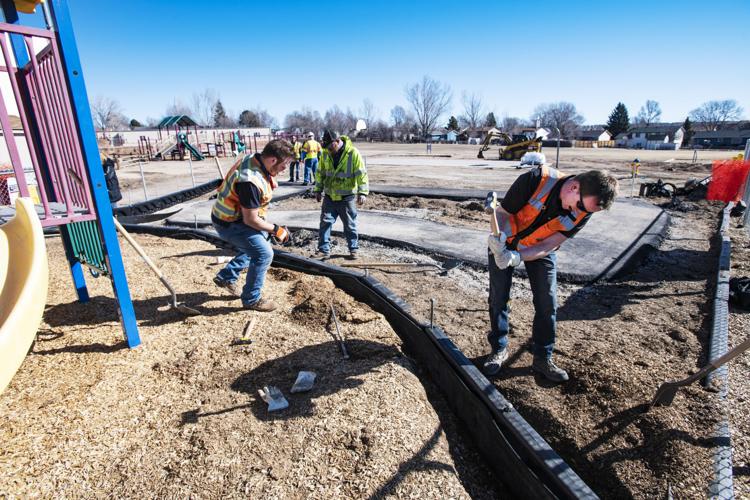 Seven members of his team were on-site Wednesday at Evans Elementary, in School District 49.
"It's been a fun process working with different contractors statewide since some of us are competitors," Krueger said. "It's been good to work together on this."
Creating the track, although small, was not without challenges, he said. "We wanted to make this visually appealing, while ensuring that it meets safety specs. We had a lot to learn when it comes to playground safety."
The CPCD facility at Evans serves 66 3 to 5 year olds, all from the neighborhood.
"Playgrounds for young kids are the first place for them to develop social and problem solving skills," said Claire Sanderson, CPCD development officer.
Krueger noted that Martin Marietta in Colorado Springs donated materials for the asphalt and base.
"This is part of the ELC community service program and it's been good to expose the community to the good things our industry does," Krueger added.
At one point, 25 ELC volunteers were on hand. "We've been wanting to this for quite some time ," Givens said. "This is a wonderful thing for us as a nonprofit."
The project is set to open Friday.