Mark Kennedy, sole finalist for president of the University of Colorado system, came to the Colorado Springs campus Tuesday prepared to field questions about his conservative views as a member of Congress and as president of the University of North Dakota.
They came at him fast and furiously, beginning with CU-Boulder graduate Alvin Rivera's concern that Kennedy appears to "lack a sensitivity to the populations of diversity."
With some claiming Kennedy had not been properly vetted, Rivera asked if Kennedy would agree to reopening the nomination process.
Kennedy said he would leave that to the regents, but answered that he "rejects the idea" that he has "not been a champion for diversity."
"My focus has always been on how do I extend that opportunity to first-generation college graduates that I received?" he said.
"Diverse populations have less resources coming in to pay, and historically they have not received the same graduation rates. That's amongst my top priorities when I come here — diversity. How do we bring them here but also graduate them?"
The nine-member Board of Regents announced on April 10 Kennedy's unanimous selection as their intended replacement for the retiring Bruce Benson.
A U.S. representative from Minnesota from 2001 to 2007, Kennedy voted against gay marriage and for restrictions on abortion.
The choice of Kennedy, from an initial field of 150 applicants that was narrowed to 30 qualified candidates, of whom six were interviewed, drew criticism and protests from LGBTQ groups, immigrants, environmentalists and others.
Among them was Heather Nicholson, a 21-year Army veteran who is assistant director of veteran and military affairs at the University of Colorado at Colorado Springs and co-chair of the Gay Pride Committee.
Nicholson showed her objection to Kennedy's pending appointment by standing outside Tuesday's public forum with a sign referencing Kennedy quotes that make her uncomfortable.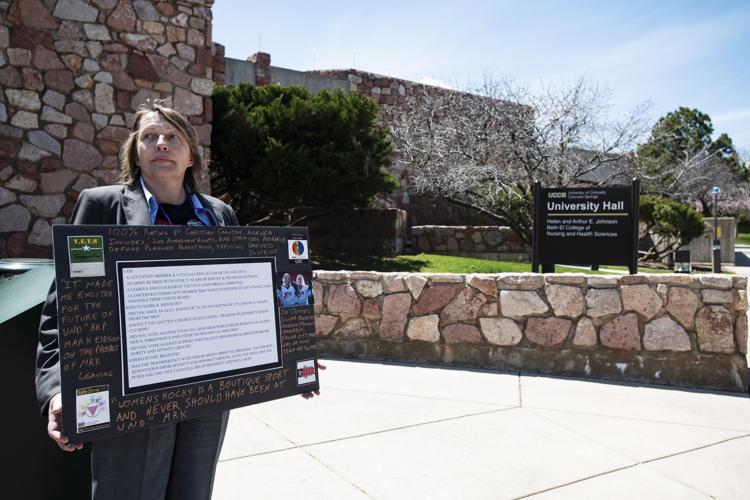 "I really don't think he's a good fit," Nicholson said. "He doesn't have the best interest of civil rights, LGBTQ rights, race and gender rights. When he's called on issues, he says people misunderstand what he says. He's not taking responsibility."
Kennedy told Nicholson that he has changed his mind on same-sex marriage, the same as former presidents Bill Clinton and Barack Obama, adding he has gay friends who are in same-sex marriages.
In working to improve college retention and graduation rates, Kennedy said he's realized in addition to financial and academic components, "being inclusive" is key.
"One of the ways that drops off is if students don't feel included as part of the community," Kennedy said. "We need to make sure all members of our community feel included."
Other questions from the audience were just as direct:
Given his record in Congress voting against gay marriage and for abortion restrictions, could he work with Colorado's gay Democratic governor and Democratically controlled Legislature?
What's his definition of diversity?
Why, as a college president in North Dakota, didn't he join 700 other college presidents in signing a letter to President Donald Trump in favor of protecting "Dreamers," immigrants brought to America illegally as children?
What would he do to advance LGBTQIA+ equality and rights?
Would he stifle climate change research and environmental protection efforts on CU campuses?
Kennedy fielded the questions calmly, defending and clarifying his stance on issues. He touted his accomplishments in the past nine years working in academia and, for the most part, stood his ground.
"My whole life has been reaching across the other side of the aisle," he said. … "Higher education should be always a collaborative effort."
If the regents appoint him, Kennedy said he will focus on the four areas the board has specified as priorities: raising money to increase financial sustainability, making CU campuses affordable and accessible to all, increasing retention and graduation rates and elevating research and the economic impact of the CU system to the state.
He didn't sign the 2016 Pomona College-launched letter in support of the Deferred Action for Childhood Arrivals program because he said he thought more should be done than signing a letter, such as going to Washington, D.C., to fight for undocumented students.
But he said he would sign such a letter today and supports the rights of DACA students.
Board of Regents President Sue Sharkey, a Republican from Castle Rock, said in an interview that the regents believe it's important to listen to the community's concerns, many of which were addressed in the nomination process.
"He answered very tough questions from the regents," she said. "The board listened and came out saying he is our finalist, on a 9-0 vote. We could have said we would bring forth more finalists, but we felt we didn't need to bring forward any other finalists. Of the six (that were interviewed), we found our one."
Colorado law requires a waiting period of at least two weeks before a finalist is formally offered the position.
Sharkey said CU President Bruce Benson also faced public protests, primarily because his background was in the oil and gas industry.
"It's similar to what we're going through today," she said. "People had lots of questions. They put him through a rigorous process, like we're doing now. Once he got into the university, a lot of the critics came to like and respect him."
The regents will announce on Monday when they will vote on Kennedy's appointment, Sharkey said.
UCCS is Kennedy's first stop on a four-campus tour this week. He also did a forum Monday night in Denver. Read more here.