Out-of-the-box opportunities such as a ukulele class for middle school kids, songwriting and recording classes for high schoolers, adaptive lessons for special education students and a tradition of emphasizing music has helped Monument's public school district earn the "Best Communities for Music Education" designation for the second year.
The recognition indicates that Lewis-Palmer School District 38 and the community "realize the importance of music to the human soul and its importance and validity in education," said Raleigh "Butch" Eversole, bands director and performing arts department chairman at Palmer Ridge High School.
This is the 20th year that the National Association of Music Merchants Foundation has honored school districts that "demonstrate outstanding achievement in efforts to provide music access and education to all students."
The award reflects high-quality teaching in the instrumental and vocal programs, said Eversole, who filled out the lengthy application.
Information about funding, graduation requirements, music class participation, access for all students, instruction time, facilities and support for the music program was verified with school officials and reviewed by The Music Research Institute at the University of Kansas.
Monument's music education begins in elementary school with required classes for all students and beginning band instruction for sixth-graders.
In terms of performance, both D-38 high schools repeatedly have been chosen for the elite Music for All National Festival in Indianapolis, which Eversole said is typically open to 15 to 18 bands and requires auditions.
Statewide, D-38 regularly participates in Colorado Music Educators Association programs, and many students are advanced enough to qualify for all-state band, all-state choir and all-state orchestra, he said.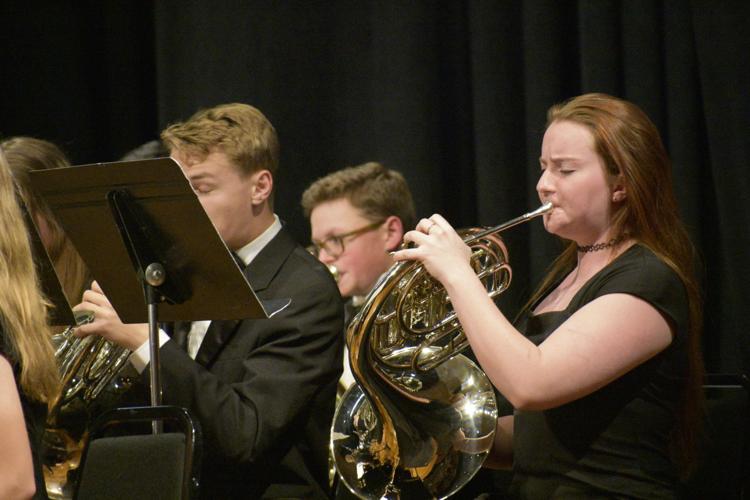 Also, the retiring Mike Mozingo, band director at Lewis-Palmer Middle School for 27 years, recently received a "Citation of Excellence" from the National Band Association, for building a pipeline program from middle school through high school.
Community fundraising and volunteer support boosts the success of D-38's music education, Eversole said.
Students are seen around the Tri-Lakes area performing at the annual Palmer Lake Yule Log hunt, the Tri-Lakes Center for the Arts shows, the Monument Hill Kiwanis North Pole Craft Fair, Air Force Academy football and basketball games and others.
Every year, middle and high school students from choir, band, orchestra and jazz groups join members of the Tri-Lakes Music Association to produce a Christmas show and summer concerts.
"This recognition is a source of pride for our entire community," Eversole said of the award.
District 38 is one of two in Colorado to win this year; the other is Cherry Creek School District 5 in Greenwood Village.