Harrison High School senior Airam Hernandez will miss her friends and teachers after she graduates Thursday.
But what she'll miss most is being a student ambassador for the Circle Drive bridges transportation project.
In its first year, the unique opportunity gave about 15 Harrison High students an up-close look at what goes into fixing aging bridges, from how city planning, design and engineering work together to how the public process can influence governmental decision-making.
"I learned so much," Airam said. "I feel like more people should get involved in the community and the things that are good for future generations."
The $25 million replacement of four bridges on South Circle Drive is on the voter-approved list of road improvements under the Pikes Peak Rural Transportation Authority taxing entity.
The idea of engaging local students was included in the proposal from the company that was awarded the consulting contract, HDR, which has an office in Colorado Springs.
The partnership is ideal because it "provides students with the opportunity to learn about what it takes to work together to better our city," said Tammy Heffron, HDR project manager.
The school in Harrison District 2 is going to be "one of the biggest impacted entities," as the two-year process to replace the bridges gets underway in 2021, said Ryan Phipps, senior engineer for the city of Colorado Springs.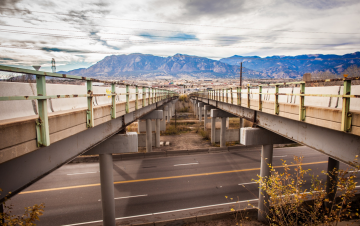 This school year, Harrison students saw how the old bridges near their school are crumbling. Two of them span the Pikes Peak Greenway Trail and Fountain Creek, and two extend over Las Vegas Street, the Burlington Northern Santa Fe Railroad tracks and Hancock Expressway.
"As students, we pass over these bridges every day of our lives to get to school, restaurants, the movies," Airam said.
But she never really noticed how decrepit the structures are until she and other students took a field trip with city engineers.
They found a dangerous situation with no sidewalks but lots of cracks and erosion.
"The bridges will fail in a few years," Airam said. "They're splitting now and falling apart."
Students received an extensive education in project management, as well as surveying and constructing bridges. They also composed their own design concepts.
"They showed us their offices and talked about different tasks and jobs and how they all come together to approve the same idea," Airam said.
Students then took to the streets, to explain to their families and neighbors what's happening in their backyard and what city transportation officials are considering.
"We informed people about the conditions," Airam said. "A lot of them didn't know about the bridges."
They also surveyed people on what improvements they would like to see.
What they heard back: About half of residents surveyed want the bridges repaired and the other half want them replaced to last longer. The majority favor pedestrian walkways and bike lanes. And they're concerned about how the lengthy construction will impact traffic.
"They brought back a lot of feedback — what are we going to do during construction, how long is it going to take, how will I get to school or work, will traffic be terrible," Phipps said.
The comments students collected are being incorporated into the planning, he said.
"What the students did this year is extremely valuable because the public process with a big project like this is a huge challenge."
Neighborhood meetings generally draw 30-50 people, he said, while motorists traveling on South Circle Drive exceed 10,000 trips per day.
But with each student talking to 40 or 50 people in their neighborhood, "We get a lot better feedback, and it helps us gauge the public interest better," Phipps said.
Some student ambassadors also recently spoke about the project to the Colorado Springs City Council.
Three members are on the PPRTA Board of Directors, which approves contracts for project design and construction. They received a certificate of appreciation and a thank-you letter.
The original plan to repair the bridges has changed to replacing them because they will last longer, up to 75 years, Phipps said. The first design draft, which will include pedestrian walkways and bicycle lanes, will be completed this summer.
As of now, South Circle Drive will not close during construction. At least one lane of traffic will be open in each direction, Phipps said. Another possibility is to build a third bridge for vehicles to travel on while the others are being replaced.
"Our current goal is to try to limit that traffic impact," Phipps said.
Next year's student ambassadors will work on developing public art for the site.
"You can put up a bland structure, but this is a really important connection for neighborhoods to the north and east, and there's something about community ownership," Phipps said.
"Right now South Circle Drive is not functioning as well as it could, and to create that metaphorical and literal bridge that connects people is important."
Airam said she's happy to end her senior year with "something good."
"For once, it's not something negative in southeast Colorado Springs."