The high school diploma 19-year-old Stephany Martinez will receive in two weeks represents an accomplishment as meaningful in her life as walking on the moon or inventing Post-it notes.
"Finally, I'm happy," she said. "Even though there was a lot of stress about getting my work in, I still finished high school."
Martinez is a "super senior" at Nikola Tesla Education Opportunity School, meaning it's taken her an extra year to graduate.
She has a good reason: Martinez gave birth to her son, Jose, when she was 17.
She went into labor at 39 weeks into her pregnancy. It was a Friday, and she was in class.
"I didn't know what was going on," Martinez said.
Soon, everyone knew. Her mom took a video of her walking around screaming from labor pains and posted it on Facebook.
Her parents were disappointed when she told them she was pregnant, but the arrival of baby Jose 15 months ago dissipated anger, and they love him dearly, Martinez said.
"I was still young, and it definitely pushed me to the limit," Martinez said.
She quit school for a while after delivering the baby last year but decided to return, where she found it difficult to focus.
"I knew I needed to finish school, to move further in my life and get a good job," she said. "No matter how hard it gets, you've got to push through because that baby needs you."
While no parent wants their children to have a baby while they're still kids, unexpected pregnancies happen.
Teen birth rates have declined nationwide and locally in recent years, which some attribute to improved education and contraceptive use.
Between 2010 and 2016, teen births among females ages 15 to 19 in El Paso County decreased by nearly 35 percent, from 739 in 2010 to 482 in 2016, according to the county health department's 2017 Indicators Report.
It's a situation that can derail academic possibilities: Half of pregnant or parenting teens drop out of school and do not earn a diploma by age 22, according to the Centers for Disease Control and Prevention.
The two main barriers to graduation are child care and reliable transportation, said Shirley Kelly, who runs the only school-based child care center in El Paso County.
The Early Learning Center, for teens' babies and toddlers up to 3 years old, is inside Colorado Springs School District 11's Roy J. Wasson Academic Campus, which houses Tesla Education Opportunity School and seven other alternative education programs.
The center was started in September 1970 by a few D-11 educators who wanted to improve the dropout rate. Teachers would recruit dropouts who were hanging out in Acacia Park in downtown Colorado Springs, as the story goes.
A parenting program and on-site day care were added in subsequent years.
The Community Partnership for Child Development, or CPCD, has supplied the federal government's Early Head Start program at the center since 2001. In addition to free child care for students in D-11, the center provides parenting classes, support and advocacy for teenage moms and dads.
"Essentially, that's one of the most vulnerable populations in our community," said Noreen Landis-Tyson, president and CEO of CPCD. "You've got teen parents and their babies on top of it."
Martinez said she wouldn't have been able to make it through high school without the center, where Jose goes when she's in class.
"It's wonderful," she said. "I'm here, he's here, and I stop in and visit and can be right there if anything happens."
El Paso County has few programs that specifically support teen parents, who have "unique challenges," Kelly said
While their teens' bodies may have matured through the birthing process, their brains haven't grown and are not fully developed until their mid-20s.
"They're still facing the same challenges as any other teen," Kelly said. "They're just responsible for another life now."
The child care center on the Wasson campus has 24 licensed slots for ages 6 weeks to 3 years old, which are continually full, workers say. Children receive free breakfast, lunch, snacks, formula, baby food, diapers and wipes through state and federal funding for the program.
"If a mom can get her diploma, it's one of the best ways to break the cycle of poverty," Kelly said. "It's the first step."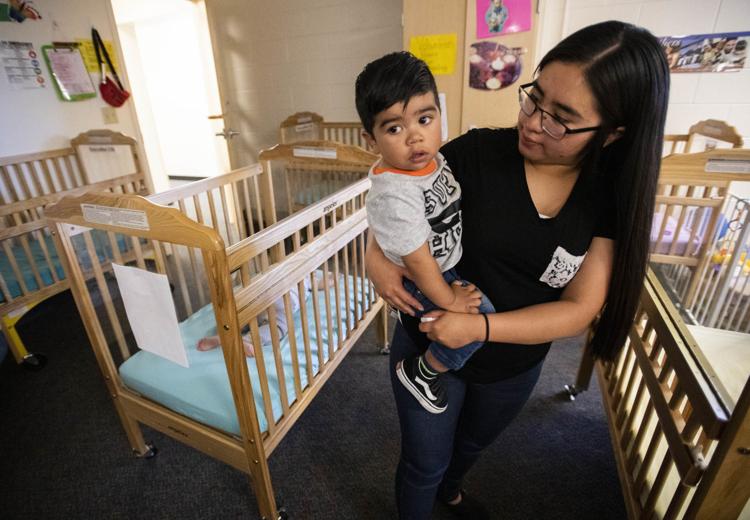 Leaving to avoid shaming
Pregnant girls still face social stigma. Martinez said while the Tesla environment is fully supportive, at other schools students and teachers say bad things about middle and high school girls who get pregnant.
"Teen parents are pretty used to being judged, from the minute they learn they're pregnant," Kelly said. "That kind of barrier makes it difficult for them to accept support that's available to them. They don't always trust us."
By law, public schools cannot kick out students for any medical condition, including pregnancy. But adolescents often leave school to avoid being the target of gossip and shaming.
Children of students also are not allowed in class at most schools, so students either have to rely on family or friends to help out while they attend school or take online classes or other alternatives to earn their diploma.
And as Landis-Tyson says, "Child care is expensive." Full-time child care for 2- to 5-year-olds in the Colorado Springs area costs around $13,500 a year, she said.
"It's almost impossible to find high-quality early care and education for infants and toddlers," she said. "It's one of the greatest needs in our community, whether it's to support teen parents who are trying to finish school or to support the workforce."
Kelly said she remembers having help from family, friends and neighbors when her children were small. But with teen moms, the attitude is, "You had this baby, now you take care of it."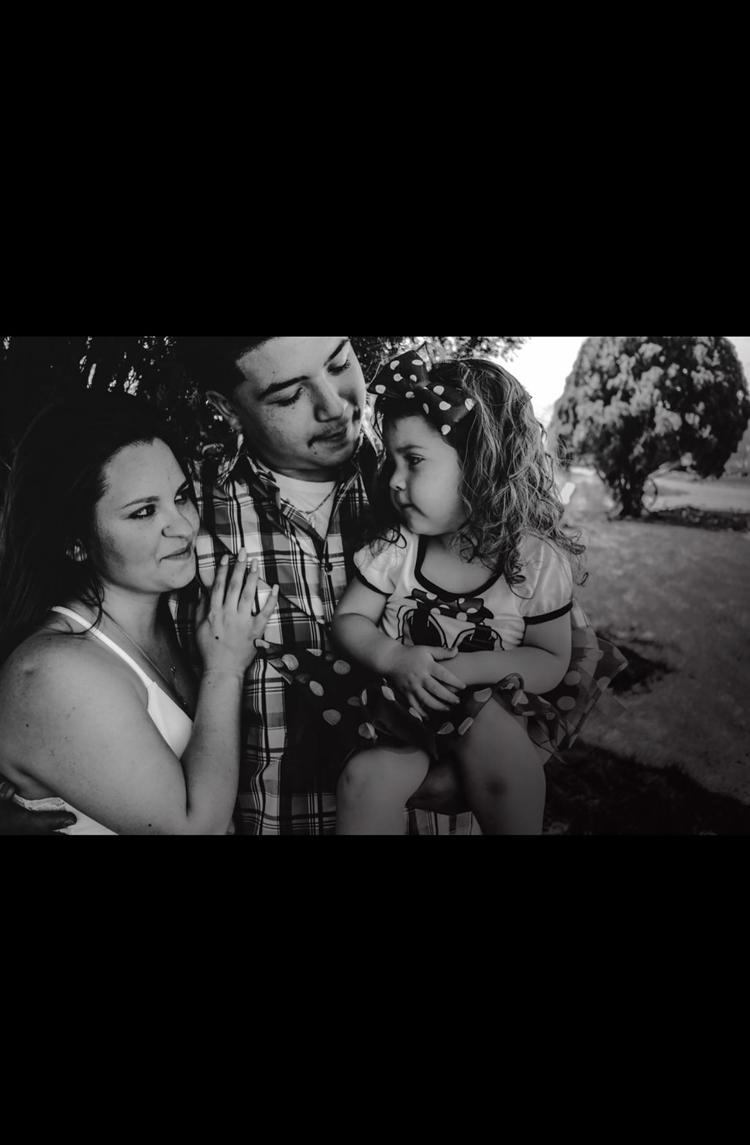 'A second chance'
Even boys can come up against tough scrutiny. Tesla senior Mario Trujillo was 16 years old when his daughter, Aubriana, was born.
An athlete, Trujillo played football, basketball and baseball, until his girlfriend got pregnant.
"Some of my friends were really surprised," he said. "They didn't think I'd be the first person to have a kid."
One friend asked if his girlfriend was going to get an abortion. Trujillo told him no.
"I told him I had to take care of what I had to do."
Trujillo's parents said he had to man up and take care of his child. Ironically, Trujillo was the same age when his daughter was born as his dad was when he was born.
"I wanted to give up and go straight to work and make as much money as I could," he said. "But I decided to graduate."
The journey has been both stressful and amazing.
Trujillo had attended traditional public school before coming to Tesla this school year, where he's on the Honor Roll.
"Going here, they're giving you a second chance," Trujillo said.
Aubriana attends the day care on campus while Trujillo is in class. His girlfriend, who graduated from Tesla last school year, works at Walmart and is studying to be a medical assistant.
Trujillo works at a recreational play center in town and has several full-time job possibilities after graduation.
"It's the question I get asked most from adults, and I don't really know what I want to do yet," he said. "My main goal was sports, but things change, and you make it work."
Trujillo now enjoys blowing bubbles with his 2-year-old daughter, taking her to the park and watching her toddle around with a push car.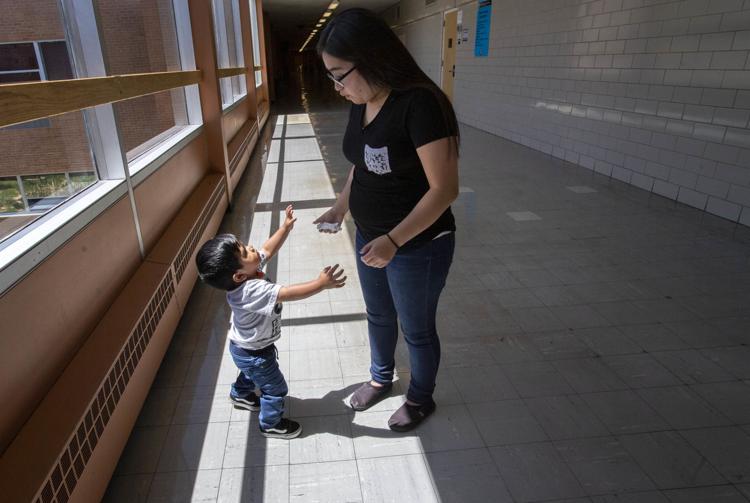 From darkness to light
Martinez spent last Mother's Day in rehab, after she tried to kill herself by overdosing on pills. Post-partum depression had descended shortly after she gave birth, and she couldn't shake the darkness.
This year, there are beams of light in her life. She and her fiance, the father of Jose, moved into their own apartment with the baby. Last week, she got a part-time job at Walmart. And she wants to enroll in a nursing or caregiver program.
"I'm taking things slow and steady because if I rush it, I'll stress out," Martinez said.
She's hoping to go out to eat on Sunday, her second Mother's Day but first real celebration of the holiday.
"I'm still new to it, but I like being a mom," she said. "I'm teaching him to respect other people and learn his manners. I also want him to know school's important, no matter how hard it gets."
Contact the writer: 719-476-1656.