Children and adults holding vulgar signs, yelling obscenities and making nasty gestures Wednesday outside a private pro-school choice luncheon featuring U.S. Secretary of Education Betsy DeVos raised the ire of some who witnessed the demonstration.
"I thought it was unbelievable," said professor Josh Dunn, chairman of the political science department and director of the Center for the Study of Government and the Individual at the University of Colorado at Colorado Springs.
Dunn was among 400 attendees at the DeVos event, which included Colorado Springs-area dignitaries, educators, legislators and business leaders. "It was a terrible image," he said.
Dunn said as he and his wife were driving from James Irwin Charter School, where the event was held, a man with two young children by his side flipped off a convoy of exiting cars and yelled "Fy."
"It was really inappropriate," Dunn said.
"Presumably, at a protest, you're trying to persuade someone else — who's going to be persuaded by these kinds of images or language?"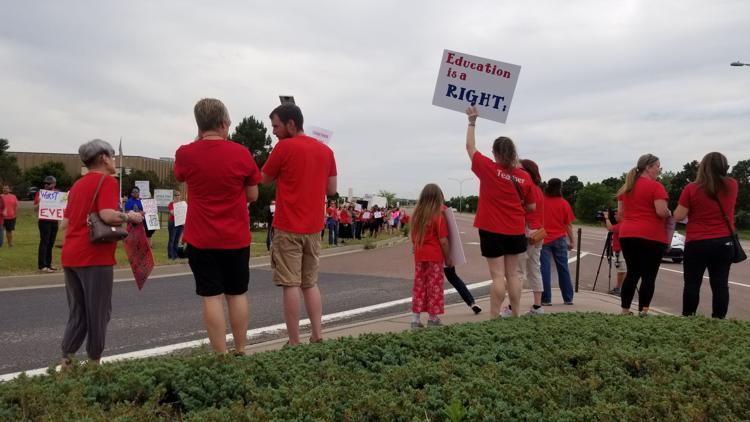 Protester Morgan Chavez, a Colorado Springs parent and former school board candidate, waved a sign with a drawing of a large extended middle finger.
She said her message was toned down from what she originally intended to write, which was just "FyBetsy DeVos."
An unidentified elementary-school age girl held a sign that read, "Report Card for Betsy DeVos: FU" in large red letters. Small words underneath the letters said "Fail" and "Unsatisfactory."
Such vitriol at an event organized by local and state teachers unions was uncalled for, said Tyler Sandberg, vice president of Ready Colorado, a "center-right" education reform advocacy organization.
"The despicable behavior by the teachers union protesters does a disservice to our state's incredible teachers who have dedicated their lives to educating our children, not using them to promote vulgar political attacks," said Sandberg, who also was a guest at the invitation-only luncheon.
Chavez and others displaying the signs in question weren't teachers, said Kevin Vick, vice president of the Colorado Education Association. The state teachers' union orchestrated the protest with the local Pikes Peak Education Association.
"They were more of an outside group," he said. "It's an open thing, and we don't really have a way of policing that activity."
Still, Vick said he was surprised to see the lewd signage.
"Generally speaking, I don't condone that sort of activity," he said. "I've been to a lot of these 'Red for Ed' protests, and educators are some of the cleanest and nicest protesters. They tend to try to be positive and enlightening."
Dunn said organizers should have asked the renegades to leave.
"If I were a member of the teachers union, I would have been embarrassed by the behavior of those people, he said. "They should have been able to tell them, 'This is a serious protest. This doesn't represent us and what we stand for.' Especially with little kids there."
The incident is part of a growing trend across the nation.
From President Donald Trump tweeting the word "bullst" about the Mueller Report to U.S. Women's Team soccer star Megan Rapinoe saying Wednesday she would not go to the "fg" White House if the national team wins the World Cup, obscenities have become more commonplace in public expression.
Dunn views the development as "an unfortunate worsening of our culture and political discourse."
"When this happens, people justify it by saying these are horrible people, so we're forced to no other option than to use this kind of language, which leads to other people doing it," he said.
"I think you can have strong, even uncivil, disagreements that are still productive and that are not reduced to this kind of crude vulgarity."