DENVER — There won't be bad blood when Nolan Arenado returns to Coors Field, for the first time as an opposing player, on Thursday.
No throwing behind him in his first at-bat. No trash talk, unless it's the joking kind between old friends. No checking his magic glove for sticky substances, this being 2021 and all.
The only bad blood will be random boos from Rockies fans who had one too many cold ones.
That's because the Rockies players know Arenado was only looking out for No. 1 when he forced a trade to the St. Louis Cardinals. The Rockies know their boy made a business decision, and the Rockies operate a losing business. The absence of bad blood says a ton about the sad state of the Rockies franchise, none of it good, and that's because the players know Nolan was right to skip out of town.
Thursday's the big day. The day you've been ... waiting for? Dreading? Thinking that's when the cable bill is due? After conducting an extremely (un)scientific poll around Coors Field during Wednesday's 6-2 win over the Pirates, it turns out six out of nine Rockies fans didn't know Arenado's first game back in LoDo is Thursday. The 10th guy told me to (bug) off. Fair enough.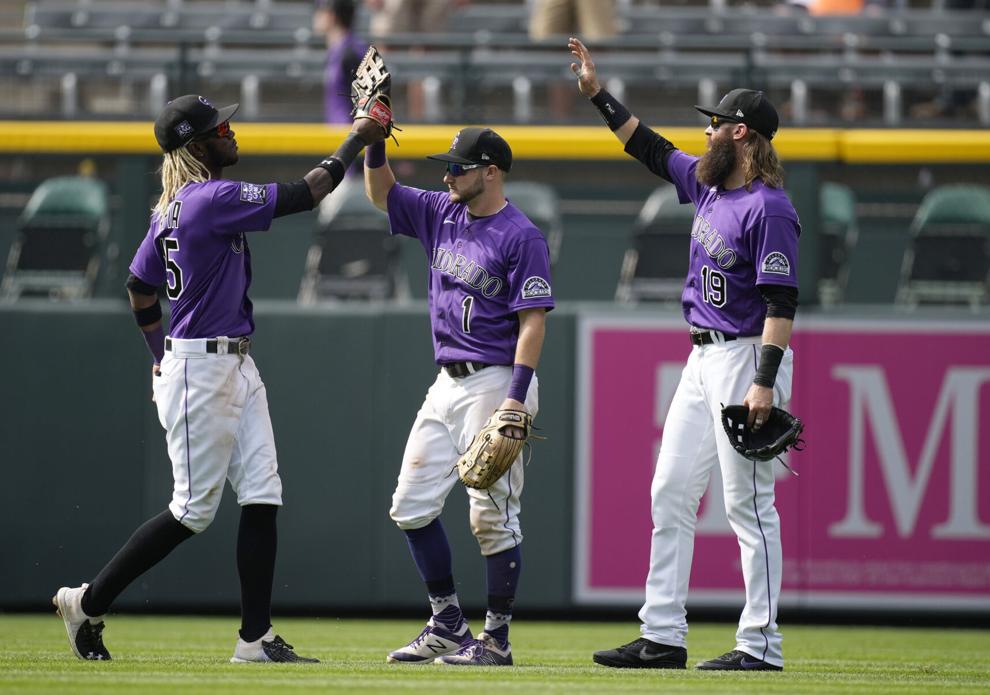 But it's true. It's on the ESPN app, and in the Rockies' game notes: St. Louis (40-41) at Colorado (34-47), 6:40 p.m. Antonio Senzatela (2-7, 4.76 ERA) vs. Adam Wainwright (6-5, 3.59 ERA). Some dude with a funky last name and identifiable-from-Mars batting stance at third.
He's back.
How you feeling?
The Rockies are feeling pretty good, relatively speaking. They just swept the Pirates, running their record at home to a startling 28-16. Follow it up with a series win against Arenado and the Cards, and you're looking at one happy, giddy, over-the-moon dugout, relatively speaking.
The Rockies want to beat Nolan, no doubt. That way they can text him after the game, "Told you so," complete with a couple of laughing emojis. The Rox would have the last laugh, for a day.
But the truth is the players know why he did what he did, and that's why there will be no bad blood during the reunion. Shoot, the organization is going to blast a tribute video to Arenado across the giant scoreboard. Come on.
Above all, Arenado's return to Coors is a tangible reminder of the organizational dysfunction at 20th and Blake. It's a reminder that a homegrown superstar is no less likely to jump a sinking ship than the next. It's a reminder that All-Star-caliber shortstop Trevor Story is destined to follow Arenado out the door before the upcoming trade deadline, right after Story hits bombs in the Home Run Derby on July 12. It's another reminder that Arenado's presence at third was reason alone to buy a Rockies ticket even when the National League West title was already far out of reach.
The Nuggets had years like that, years when Mahmoud or Dikembe or Antonio McDyess were worth the price of admission even when the team as a whole wasn't. Same for the Avalanche and Nathan MacKinnon's early years. Same for Von Miller's Broncos the past five or six years.
Now you go to Coors Field for the sunsets, the Colorado sunshine, one too many cold ones.
"We love you, Dinger!" a tiny girl shouted from behind home plate Wednesday.
They loved Nolan the most.
Colorado cares that Nolan's not here anymore, because he gave baseball fans a reason to care.
Arenado won't be greeted with (many) boos Thursday. He will be greeted with applause and cheers and a king's welcome — in part because the joint will be more than 50-percent Cardinals fans who ditched St. Louis to live in Colorado, in part because the only jersey that's out-sold Arenado's jersey is Todd Helton's jersey. It wasn't Arenado's fault the Rockies made failed move after failed move in the bullpen and otherwise. It wasn't Arenado's fault D.J. LeMahieu has a great shot to retire as a Yankee. It wasn't his fault they play in a park that nobody wants to admit can't house a sustained winner. The fans, like the players, know the truth: Want to win? Go elsewhere.
How's Nolan doing, anyway? Glad you asked. Wednesday was the midpoint of the season, and Arenado hit his 16th home run of the season on Tuesday. His 16th bomb was a screamer that reportedly measured 106.1 mph off the bat. He'll do that now and then. You remember.
The numbers junkies at Fangraphs wrote the other day Arenado's defensive metrics are some of the worst of his MLB career, particularly when it comes to defensive runs saved (DRS). He's still a finalist for the All-Star Game — the next time he'll return to Coors, after this four-game series — as the leading vote-getter at third. His Cardinals are just OK, nothing special. Arenado took the annual June swoon with him. St. Louis went 10-17 in the month. Like I was saying, just OK. Definitely nothing special. The Cards are 40-41. In Arenado's seven full seasons here the Rox had a better record at the midpoint only twice.
Arenado wanted out, in large part, because he believed the Rockies roster, his guys, weren't good enough. That scenario screams bad blood, staredowns at the visiting dugout, high and tight, something. There won't be. The Rockies know better. They know Nolan was right.