DENVER — The stars came out for MLB's All-Star Game weekend. From where Philipp Grubauer stood on a hotel rooftop in lower downtown, you could punch a 5 iron and hit Coors Field.
"I would love to stay in Denver," the Avalanche goalie told The Gazette in July. "Denver has become home."
Turns out, during contract negotiations, the Avs and Grubauer were several fairways apart.
The Avalanche couldn't afford to retain their Vezina Trophy finalist, and Grubauer is the new goalie of the Seattle Kraken. His replacement is Darcy Kuemper, a 31-year-old Canadian.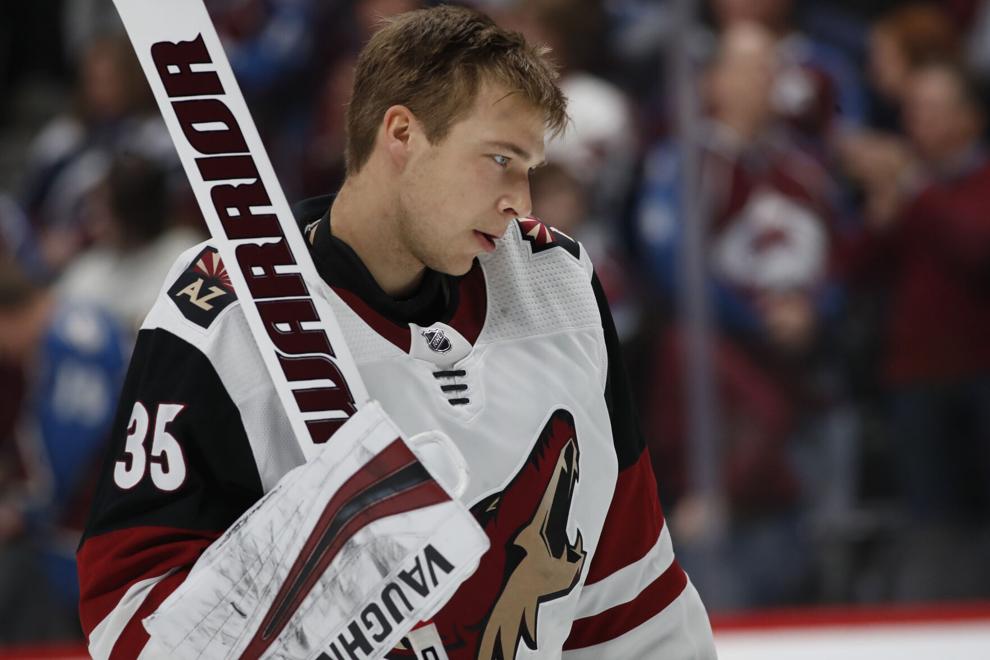 The Avalanche are the betting favorite to claim the Stanley Cup — again. On a roster without many question marks, the transition from Grubauer to Kuemper stands as a prominent one.
One man's prediction: The only issue for Avs fans will be replacing the catchy "Gruuuub!" chant that echoed through Ball Arena. "Daaaarcy!" sounds more like a taunt. But the faithful will love the new guy's game, and the main issue for Avalanche goaltending will be a lack of depth behind Kuemper.
"I think he is as competitive as any player that we have," coach Jared Bednar said.
So how does Kuemper's resume stack up to Grubauer's? Here, line up their career numbers.
Grubauer: .923 save percentage, 2.29 goals against average over nine seasons.
Kuemper: .917 save percentage, 2.72 goals against average over nine seasons.
Grubauer holds an edge while playing on superior teams, the Capitals and Avs. Kuemper mostly has served in platoons with the Wild, Kings and Coyotes. He'll be called on for 50-plus starts, Bednar said. Kuemper finished fifth in Vezina voting in 2019, seventh in 2020.
"It's going to make me a better goalie facing guys like these on a daily basis," Kuemper said.
OK, now the bad news: This version of the Avs is not the absurdly deep outfit you witnessed a year ago. And the good news: Neither is anyone else. A flat salary cap affected all of the NHL.
Now the pressure's on the Avalanche. They haven't been out of the second round of the playoffs in almost two decades. A season after the Avs claimed the Presidents' Trophy and flamed out with four straight losses to the Golden Knights in the second round, the team must take a step forward — the conference finals — for jobs to feel safe and protected.
I have written previously that Bednar would make a terrible emoji. His emotions are as level as the ice on which the Avalanche skate. But here's a hunch Bednar runs an even tighter ship than usual for a team that is all about the postseason. Maintaining focus during an 82-game regular season will be no small feat when the Stanley Cup playoffs are all that matter for the Avalanche.
"No one's going to put more pressure on me than I do, because I see how committed our guys are (and) how bad they want it," Bednar said during training camp.
The pressure's on the new goalie, but you wouldn't know it. Kuemper has been an optimistic, smiley presence around the Avalanche training room and so far on the ice. There are worse places to work than surrounded by the likes of Nathan MacKinnon, Gabriel Landeskog and Cale Makar. The Avs bet big on Kuemper, who was acquired from the Coyotes in exchange for defenseman Conor Timmins, a first-round draft pick in 2022 and a third-round pick in 2024.
"He was great every time we played him," MacKinnon said. "Great personality, great attitude. We're really pumped to have him."
Are Kuemper and the Avs ready to take another step forward? They must be. After a long climb to contender status, the franchise's rise has plateaued. Only a Cup will be good enough.