DENVER — Find a spot for Peyton Manning.
That should be doable for the Broncos. PFM still lives here, still loves it here. According to a little birdie on the grounds crew, Peyton's even been known to tee it up at Wellshire Golf Course, a public muni that won't be confused with Cherry Hills except that they're neighbors.
What self-respecting Coloradan hasn't sliced a Titleist or two on to Hampden at Wellshire?
The Broncos haven't been respectable for six years. They're unrecognizable. They'll have five coaches in nine years after firing Vic Fangio on Sunday. It's too bad public health officials and media aren't employed by the Broncos. Accountability would do the world some good.
Now the Broncos need a coach ... and a quarterback ... and an owner. Go.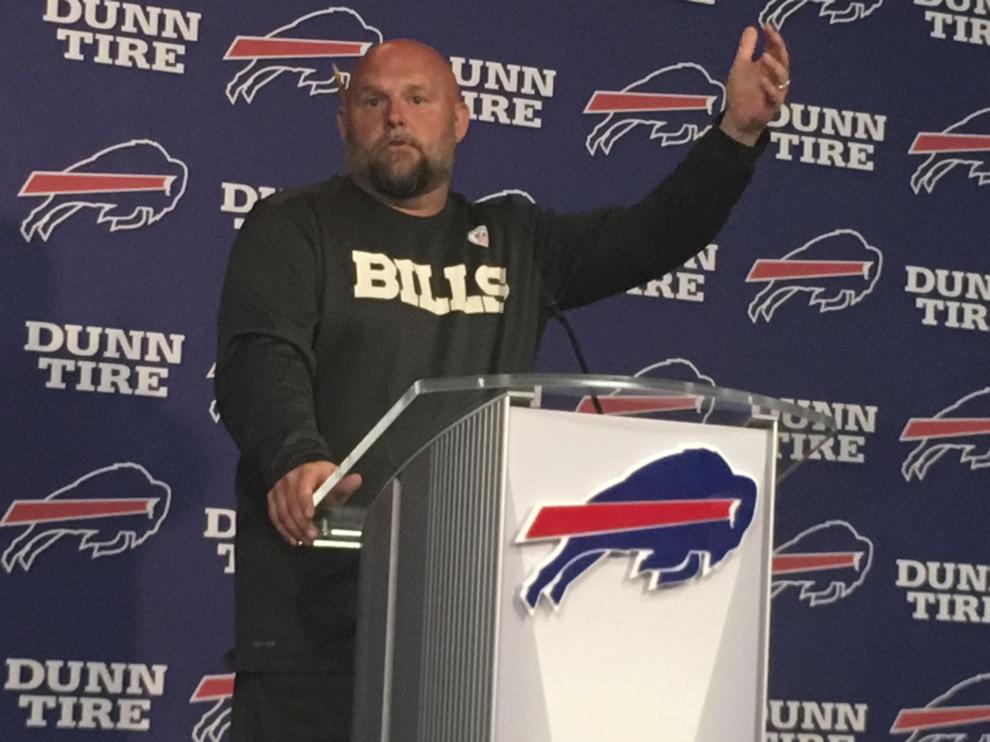 "We need someone to take over the whole operation," general manager George Paton said.
Paton was talking about the next coach, of course, so let's start there. It won't matter which coach the Broncos hire if they saddle him with bum quarterbacks again. You know it, I know it, hopefully the Broncos know it.
"Quarterback is an important position, but it's not just that," team president Joe Ellis said, speaking to the problems that have led to five consecutive losing seasons. "It's organizational."
Anyway, the coach. The coach won't be Peyton Manning. It could be Nathaniel Hackett, the Packers coordinator; Doug Pederson, the former Eagles coach; Byron Leftwich, the Buccaneers coordinator; Dan Quinn, the former Falcons coach; Brian Callahan, the Bengals coordinator; Eric Bienemy, a Chiefs assistant; someone else.
I prefer Brian Daboll, the Bills offensive coordinator, for three reasons. One, Air Force legend Chad Hall once told me Daboll is "a total stud," and I trust Chad Hall. Two, the Broncos went to Buffalo in 2019, and it was the rare NFL game that one team had absolutely no chance of winning. The Bills won 20-3. They were tough-tough. Three, Bills quarterback Josh Allen had some stuff to figure out when he came out of Wyoming, and Daboll helped him figure it out quick. Daboll also coordinated a national championship offense at Alabama, but I guess that's kind of like saying you caught fish in a bath tub. Anybody can catch fish in a tub, and anybody can win national championships at Alabama. Watch Monday night vs. Georgia.
"He's constantly watching film from college, other NFL games, even sometimes high school games," Allen said of Daboll, and doesn't that sound like a George Paton type of grinder?
Truth is, nobody outside of Paton's office knows who Paton's going to hire as Broncos coach.
But I'll wager a sleeve of Titleists the next coach of the Broncos once had a really good quarterback, and that's why he's going to be the next coach of the Broncos. Hackett has Aaron Rodgers, Pederson had good Carson Wentz, Leftwich has Tom Brady (swoon), Quinn had Matt Ryan, Callahan has Joe Burrow. We give coaches too much credit, and saddle them with too much blame, when the operation ascends or sinks. It's about the quarterback. That's true for a first-time coach like Brandon Staley. His Chargers defense stinks, but he has Justin Herbert at quarterback, so Staley's a hot commodity. That's true for all-timers like Bill Belichick. He ditched Tom Brady, went 7-9, and immediately drafted a first-round quarterback.
Ask Fangio, who stated the difference between his Broncos and the rest of the AFC West this way: "Those other three teams have top-shelf quarterbacks, which is obvious to everybody."
Paton didn't offer much in terms of what he's looking for in terms of the next coach. He stressed two areas of import — winning at Mile High (the Broncos went 11-14 under Fangio) and in the AFC West (2-10 the past two years).
"We know we're going to get the best candidate on the market. We're really confident in that," Paton said.
The Broncos lost 30 games in three seasons under Fangio, including another embarrassing loss to the Chiefs on Saturday. Didn't work, and Fangio soon will return to his calling as a defensive coordinator. It would have been nice to see what a Fangio defense could do with a top-flight quarterback, but I also don't feel bad for a guy who's going to get paid after he failed.
"Broncos fans, you have a great one in George (Paton)," Fangio said in a classy farewell.
We'll see about that.
"I think there's a foundation in place where hopefully it doesn't take too long," Paton said.
We'll see about that too.
In the meantime, how about the Broncos do their fans a solid? A lot of attention was paid to the 14,000 no-shows on Saturday, but how about the 668,000 who attended nine games for a Broncos team that missed the playoffs again?
Year after year of losing is seriously getting old.
"It's sort of become systemic here," Ellis said of the disappointment.
There are no guarantees with the next coach, or the next quarterback. Shoot, the only guarantees for a while now have been losing to the Chiefs and Manning. So sell the franchise to an ownership group that includes No. 18.
Find a spot for PFM.