DENVER — Kids these days.
Thirty-eight years ago, John Elway entered the 1983 NFL draft as "the most publicized college prospect since Joe Namath in 1965," according to the Pro Football Hall of Fame. The New York Times rightly anointed his "rocket launcher for a right arm." Gil Brandt, the Hall of Fame Cowboys scout, evaluated then: "Elway is 6-2 (3/4) and 218 pounds, ideal size for a quarterback."
The top four quarterbacks in the 2021 NFL draft will be bigger, stronger, faster than rookie No. 7.
Trey Lance, 6-foot-4, 226 pounds. Justin Fields, 6-3, 228. Trevor Lawrence, 6-5, 213 (listed at 230 at Clemson). Zach Wilson is the little fella. He's still 6-3 (and 7/8), 214. All four have a long, long way to go to reach Elway status.
Here's to everyone everywhere overachieving.
Never thought I'd get this into watching NFL pro days on a laptop, but I just can't get enough. The speed of Fields (4.44 in the 40) and the everything of Lance (my own pipe dream for the Broncos) has me wondering: Is God designing his QBs like a teenager would in Madden 2021?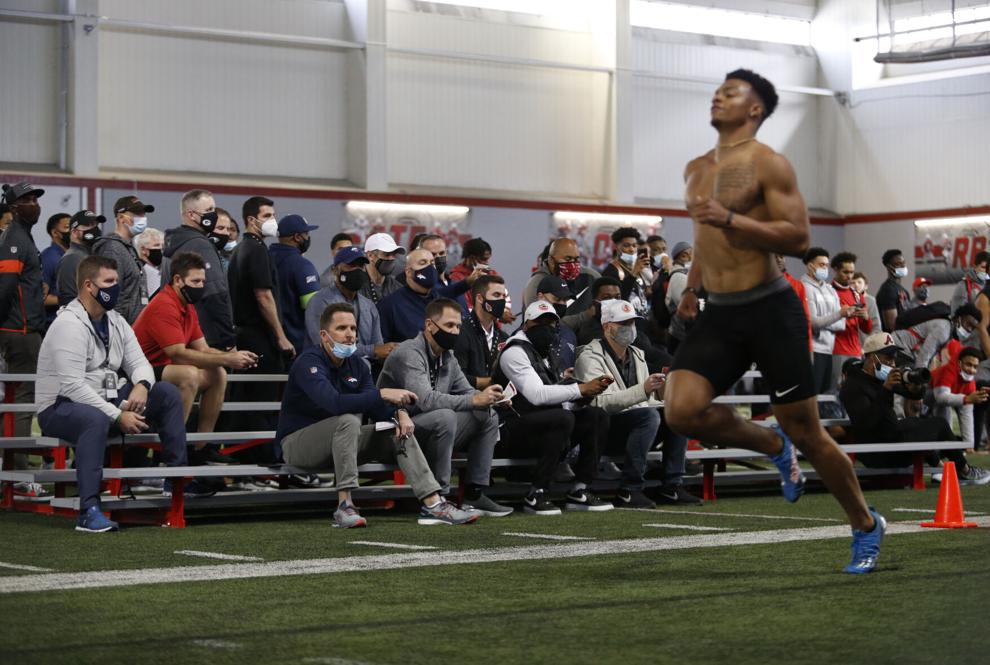 These are some seriously freaky athletes who must be tempting to, say, Broncos general manager George Paton. How could they not be?
For all the moving, shaking and mostly re-signings in Paton's first offseason running the Broncos, the new guy has yet to make a move at the critical, elusive position of quarterback.
Standby — until April 29. Deadlines spur action, and the draft is one deadline with a stopwatch.
My board goes Lawrence and Wilson (whom the draftniks say will go 1-2), followed by North Dakota State's Lance, Ohio State's Fields and Alabama's Mac Jones, in order. All could be gone before the Broncos pick (for now) at No. 9.
Talk about a pleasant introduction if Paton likes and finds a way to move up and draft Lance, the electric enigma from North Dakota State. Everyone's welcome to join Team Trey. We are boom or bust, but I promise it's going to be fun.
Paton attended the 20-year-old Lance's pro day in Fargo, N.D., as well as the workouts hosted for Fields (Columbus, Ohio) and Wilson (Provo, Utah). Broncos director of college scouting Brian Stark attended Jones' first pro day at Alabama. 
Moving up in the first round was not, however, the Vikings' M.O. when Paton was an assistant GM in the Minnesota front office, ESPN.com Broncos and NFL draft guru Jeff Legwold tells me. Paton's Vikings never did.
You may have noticed there is much consternation around these hills about the lack of action when it comes to the quarterback position of the Broncos. Von is back, Shelby is back, Kareem is back. But so are Drew and Brett, and neither Lock nor Rypien is good enough yet to operate on a first-name basis.
Old friend John Lynch threw a wrench into any plans the Broncos might've had to jump into the top three of the draft. His 49ers traded two first-rounders (and this year's No. 12 overall pick) to grab the No. 3 pick. It must be for Lance. Right?
Quarterback was, is and will be the most valid concern when it comes to the 2021 Broncos. The NFL has moved to a 17-game season, and one challenge for the Broncos is to someday force Patrick Mahomes and the Kansas City Chiefs' starters to play in the 17th game.
April 29 is Round One of the draft and also the best guess for a change to Denver's quarterback room — but the change won't necessarily come from the draft itself. Say, if the Falcons select a QB at No. 4 and Matt Ryan then is available. Ryan is 35 years old, a former league MVP, and quarterbacks play forever these days. Or who knows? Maybe the Panthers, at No. 8, draft a quarterback and veteran Teddy Bridgewater comes cheap. Maybe that's your competition for Drew Lock — a phrase that's similar to yeah, but we need the moisture after 2 feet of snow in February. Neither makes you feel all that good.
But it would be a major surprise and bummer if Paton doesn't improve or insure the quarterback situation like he did with the defense, from the secondary to the pass rush to the defensive line.
The smart money's on reserving judgment until the draft comes and goes from April 29-May 1.
According to reports back then, John Elway purchased a Datsun 280-Z after he signed a contract to play summer ball for a Yankees affiliate in 1982. Come to think of it, No. 1 pick Trevor Lawrence would be celebrated on social media for buying the same sports car in 2021.
"Elway's arm is atomic," wrote the Washington Post.
These days, aren't they all? These incredible athletes and incredibly polarizing quarterback prospects must be tempting for Paton's Broncos.