A Colorado Springs school district with a history of resisting calls for COVID-19 prevention measures held a vaccination clinic on Friday.
District 49, in conjunction with El Paso County Public Health, held its vaccine drive at Vista Ridge High School, one of two district schools that suspended in-person learning earlier this month due to an increase in coronavirus cases. Patriot High School also closed its campus to in-person instruction in early September.
In August, the district's school board announced that it would not require masks inside its schools or administrative buildings, report positive COVID-19 cases to public health agencies, or cooperate with requests for contact tracing.
Superintendent Dan Snowberger said Friday's clinic did not represent a reversal of the district's COVID-19 protocols, but was one of several strategies aimed at keeping its 25,000 students in classrooms.
"We have been working really hard to keep our schools open," Snowberger said. "We know how important in-person learning is to the success and well-being of our students, and we saw this as an important part of our strategy to keep our kids in schools."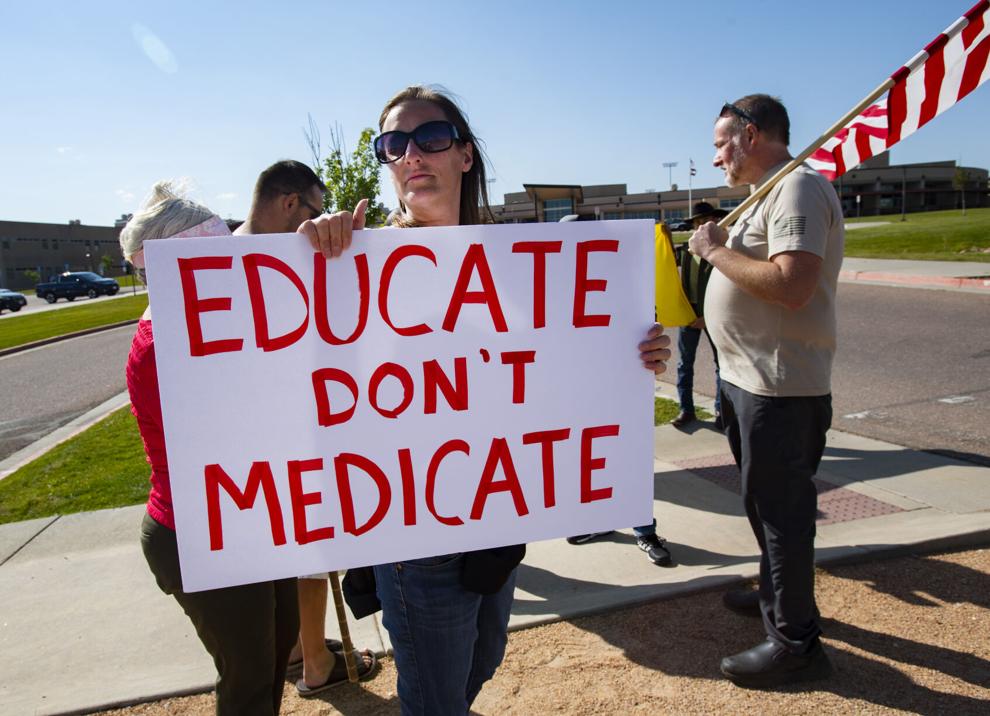 Several county health care professionals administered shots to the more than 100 people who signed up for the clinic, which was free of charge and open to any student aged 12 and older, regardless of district. Parents, family members, teachers and staff were also eligible for inoculation at the event.
The district and the county health team worked to make the process as seamless as possible, Snowberger said. Vaccine recipients sat for a brief question-and-answer session with a doctor or nurse, rolled up a sleeve, and got the shot. Most people were asked to wait in an observation area for 15 minutes to make sure they didn't suffer any immediate side effects. Those who had a history of allergic reactions to certain vaccines or medications were asked to wait 30 minutes before leaving the clinic.
"It was quick and easy, and it didn't hurt at all," said Vista Ridge student Caden Jones. "I don't like needles, so I was a little worried about it, but I barely even felt it."
As physicians and nurses administered the vaccine inside Vista Ridge, about a dozen anti-vaccine protesters carried signs and flags at the edge of the school grounds.
"This is America, not communist China," said Stephen Huskey, a District 49 parent. "The vaccine is dangerous, it will lead to segregation, and we are against it."
"This is the most dangerous vaccine that has ever been released," said protester David Cromar. "It's toxic, and we don't want it in our children."
Snowberger acknowledged that community members are divided on the issue of vaccines, with emotions running high on both sides of the debate. But Friday's clinic was not about choosing sides, he said.
"We are not taking a position, we're not judging anyone, and we're not telling anyone they have to get the vaccine," Snowberger said. "We're just making it convenient for those who want it."
Snowberger said the district is looking at holding additional vaccination events in the future.
"There are other vaccine clinics scheduled in the coming weeks," he said. "We were just fortunate to find a date that worked well for the team and were able to get ahead of the game."