When the first COVID-19 vaccines arrived a year ago Tuesday in Colorado, Gov. Jared Polis and many others greeted them with relief and high expectations.
"It's the Pfizer vaccine arriving here in Colorado to end the pandemic!" Polis called out as the FedEx truck delivered the first doses.
The governor's hope for an end to the pandemic faded into frustration this year as a portion of the population decided not to get vaccinated and the more infectious delta variant drove a surge in cases and deaths. The state had lost 9,954 residents to the pandemic as of Monday, including 1,320 in El Paso County, the most populous county in the state. Close to 1,000 of those deaths statewide have happened since mid-November, state data show.
The spread of the delta variant seems to be slowing with the seven-day average of cases falling from about 3,200 new cases in mid-November to 1,800. The more highly transmissible omicron variant poses a huge unknown for what the future may hold, because the data is still being gathered on whether it will be more severe, said Elizabeth Carlton, an associate professor and a researcher who models the pandemic, with the Colorado School of Public Health.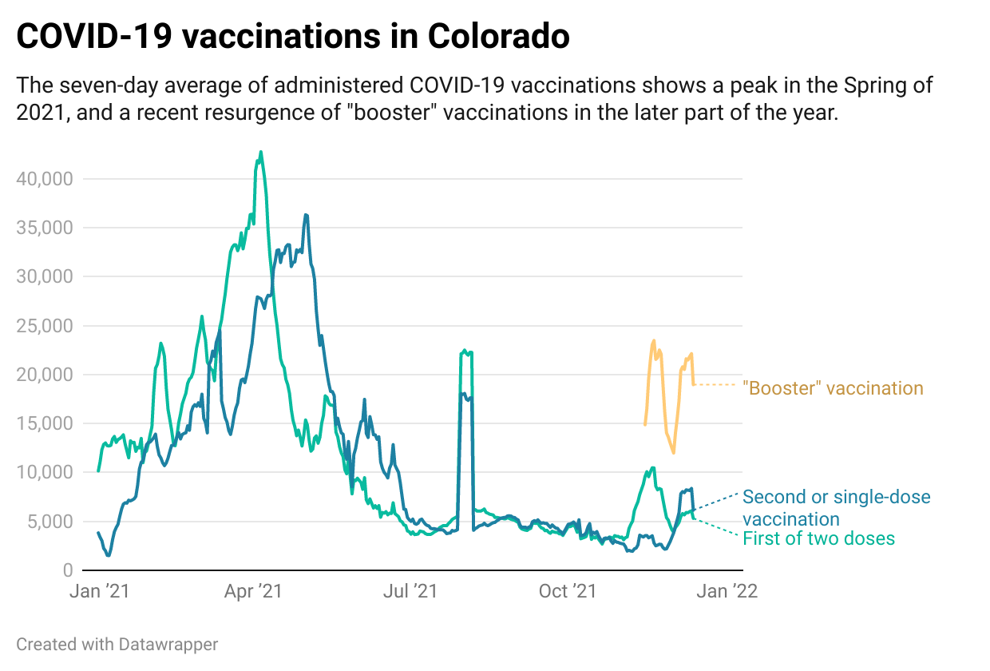 Still the vaccines have made a meaningful difference in the last year, allowing schools to reopen, workers to return to the office and venues to return to full capacity, said El Paso County Public Health Director Susan Wheelan and other public health officials.
"We are in a much better place than we were in March of 2020 and I think our condition will continue to improve," Carlton said. 
In the coming year, its possible the virus could become more endemic —similar to the flu— as vaccines and treatments continue to improve, but much is still unknown, she said. 
The relative normalcy of the current holiday season was achieved through about 9 million vaccine doses administered through the last year statewide and a statewide vaccination rate of 68%, state data show. In El Paso County, 415,300 residents or 62% are fully vaccinated.
In El Paso County, the community set up "solid infrastructure" to provide the vaccine including over 100 different locations that offer COVID-19 shots in addition to mobile outreach reaching residents where they work and recreate, such as the Cheyenne Mountain Zoo, Wheelan said. 
The county's vaccination rate still lags behind other populous counties in the state, but the community is making "steady progress" even though it's been "grueling" work, Wheelan said. 
The vaccination rate has not been enough to relieve hospitals caring for a COVID-19 patients, and those who delayed getting medical attention and are now in need of more critical care. 
Tamera Dunseth-Rosenbaum, chief nursing officer of UCHealth Memorial Hospital, gave the first COVID-19 vaccination in Colorado Springs and remembers hoping that vaccinations would bring relief to hospital staff strained by a high number of patients and deaths.
"I just remember it being really exciting," she said. The staff thought the vaccine could make a profound difference despite all the unknowns at the time, such as how long the vaccines might provide immunity.
Some of those feelings have been replaced by burnout as hospital staff resigned or left for higher paying travel positions and the hospitals have faced a high number of COVID-19 patients among other needs for months. 
"Our hospitals are full. Our staff is exhausted," Dunseth-Rosenbaum said.
While the vaccines maybe didn't live up to some expectation to end the pandemic, it may have been a bit naïve to have that expectation, said Dr. Michael Roshon, an emergency physician with Penrose-St. Francis Health Services. 
"We know the vaccines have saved many many lives and that's still positive," he said. 
Still he shared Dunseth-Rosenbaum's concern that the resistance to the vaccine is hard on hospital staff. 
"It is exhausting and it's sad when you have to go tell somebody that their mom isn't going to make it or their dad isn't going to make it. ... We have been doing that a lot more lately than we ever did before," he said. 
The staff are having end-of-life conversations with patients every day, multiple times a day, and in many cases those deaths could have been prevented if patients had gotten a COVID-19 vaccination, Dunseth-Rosenbaum said. Those laborious conversations drain the staff's compassion over time.
Those losing loved ones to the virus sometimes get angry and accuse the staff of lying and some experience deep remorse. In some cases, a death doesn't change a loved-one's position on the vaccine, she said.
"Shockingly, some choose not to get vaccinated even after they have watched a loved one suffer," Dunseth-Rosenbaum said.
Decisions not to get vaccinated are taking a deep toll on UCHealth Memorial, she said.
When Dunseth-Rosenbaum walked into work last week, 20 patients were waiting in the emergency room for a bed. The hospital was already doubling up patients in rooms and caring for patients in surgical areas that would not normally serve those purposes. When it comes to opening more beds, she said the hospital only had a handful more, she said.
If the COVID-19 triggers many more hospitalizations in the wake of holiday gatherings, the hospital may have to increase the number of patients nurses are caring for during a shift. Increasing a nurse's workload can mean instead of patients' vital signs getting checked every four hours, it may happen once a shift, she said.
At the same time, nurses are seeing far less support from the community than they did a year ago, when people gathered outside the hospitals with candles and showed support in other ways.
"That gave an incredible amount of energy to our teams," she said.
Now the community's apathy has set in that is contributing to some feelings of burnout. 
"The public is largely nose blind to what is happening in the hospital," Dunseth-Rosenbaum said.
Still, she said she has hope for the future. 
"I think my hope is that we can continue to do the research that is needed to find a vaccine that maybe has some longer effects and that people will get vaccinated so we don't see the critical patients that we are seeing," she said. 
For Roshon, the campaign to encourage vaccinations has taken a patient-by-patient approach, and he encourages those who are successfully treated for COVID-19 to educate their loved ones about the COVID-19 vaccine and its power to prevent severe illness. 
"People need to hear it from people they know and that they trust," he said.