July 25, 2018. Remember this day.
My bet is that today's announcement that Colorado Springs and three private partners will build two sports complexes bookending downtown will be transformational.
A new downtown sports arena and a new Colorado College hockey arena, coupled with the Olympic Museum rising rapidly in southwest downtown, could be a triple-spark for Colorado Springs, lighting a LoDo-like explosion of redevelopment in downtown and the city's core. That renaissance is already happening, of course, with multiple hotels and apartment buildings and new restaurants being built downtown. But these stadiums will give it jet fuel.
The era of the rare Colorado College ticket is just around the bend. The Tigers are moving from spacious Broadmoor World Arena, capacity 7,750, to Robson Arena, capacity 3,000.
I was there in Denver when Coors Field morphed the city's notorious skid row into the trendiest neighborhood in Denver and a national model for how a decaying city core can be converted to a thriving neighborhood of shops, lofts and restaurants.
I saw it again in Washington, D.C., a few years later when baseball returned to that city and taxpayers paid for a stadium in a blighted, sketchy corner of the capital, transforming the area into the coolest, most vibrant neighborhood in the District.
If we do this right, Colorado Springs will takes its place in a 21st century trend toward downtown living and revitalized urban cores. Many mid-sized, Midwest cities have used sports arenas to bring people back to their historic cores and reinvigorate local pride.
Of course, the new downtown soccer stadium isn't Coors Field. We're operating on a different scale here, but that isn't necessarily a bad thing. Let's hope that Colorado Springs can avoid some of Denver's mistakes in density and traffic congestion, and keep the scale of its downtown human, walkable, easy, with plenty of parking.
"I like the scale of it," Mayor Suthers said during a briefing at the Gazette on Tuesday. "This is not Mile High Stadium, We're enhancing the downtown experience," not overwhelming it. "Quality of life will improve."
A recent study published by the National Trust for Historic Preservation demonstrated that, compared to urban districts dominated by larger, newer buildings, those with smaller and older buildings were found to score better on measures of urban vitality. People feel more attracted to and comfortable in neighborhoods where the density is still at a human scale.
One extensive study of how people behave in different kinds of environments has concluded that the most comfortable building height for urban pedestrians is about three to six stories, which describes downtown Colorado Springs pretty well.
The stadiums and museum, along with a new Air Force Academy visitors center and a sports medicine and performance center at the University of Colorado at Colorado Springs, are the culmination of the City for Champions initiative launched nearly five years ago to boost tourism and resuscitate our economy. These downtown venues will give residents and tourists more reasons to make a stop downtown, frequent shops and eateries, and walk to concerts and athletic events.
The real paradigm shift for downtowns is when more people start living there, making downtown into a vibrant neighborhood not just a commercial district. The apartment complex proposed with the stadium will certainly help, and several other nearby apartment complexes are nearing completion already.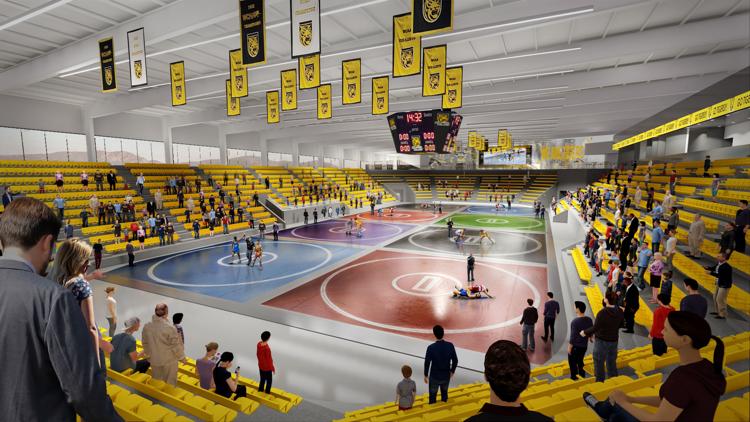 "I'm very excited about how this fits into a vision for downtown," the mayor said.
One of the things that made LoDo in Denver so successful was bridges. The Millennium Bridge connects LoDo to its riverfront park and the brand new neighborhood rising there. The Highland Bridge spans I-25 to connect lower downtown and the Central Platte Valley to the historic Highlands neighborhood in north Denver. The bridges, connecting to a huge public transit hub, made lower Denver walkable, got people out of their cars and onto the streets and into its shops and restaurants.
As a result, LoDo's reincarnation sparked revitalization in nearby neighborhoods, including Auraria, the Central Business District, Five Points, and Highlands.
Similarly, the new stadium here will feature a plaza and wide walkways that will connect it to the Olympic Museum, which in turn will feature a pedestrian bridge over to America the Beautiful Park. Colorado College hopes hockey fans will park downtown and walk to the new hockey arena up on Dale Street. In a couple years, downtown Colorado Springs could be an exceedingly interesting place just to stroll around.
Credit goes to Mayor John Suthers and his team for resurrecting the stadium from life support a year and a half ago. Unlike Denver, or Washington, D.C., or Cleveland or Austin or Dallas or Indianapolis or Minneapolis, where taxpayers were willing to pay for projects that sparked their renaissances, the mayor has had to pursue this redevelopment with one hand tied behind his back. He promised no public money would pay for this, and he has kept that promise.
Surely there will be fits and starts, and the city needs to pay close attention to the gentrification that will force out many longtime residents and businesses of southwest Colorado Springs.
But I imagine Colorado Springs residents will look back at this next couple years as the time when Colorado Springs came of age as a world-class city. A city for champions.