With the Broncos slated to play until January, COVID-19 notwithstanding, restaurants and bars with food service are looking at how to keep business going — and fans coming — once the weather turns cold.
The Colorado Department of Public Health and Environment (CDPHE) announced new guidelines Thursday on outdoor dining, including how restaurants and bars can continue to serve outdoors and still remain within the rules for dealing with COVID-19.
The guidelines focus on temporary outdoor structures that will keep patrons safe from COVID-19, if not warm.
Any temporary, "pop-up" or canopy outside a restaurant must still adhere to six-foot social distancing guidelines. Capacity limitations will be based on local zoning requirements, the CDPHE guidelines state.
Outdoor structures with three or four walls don't qualify, according to CDPHE. That's considered an indoor setting.
The exception: plastic domes for individual parties, so long as the structure can be aired out between groups.
Below is the full list of what's considered temporary and usable for fall outdoor dining.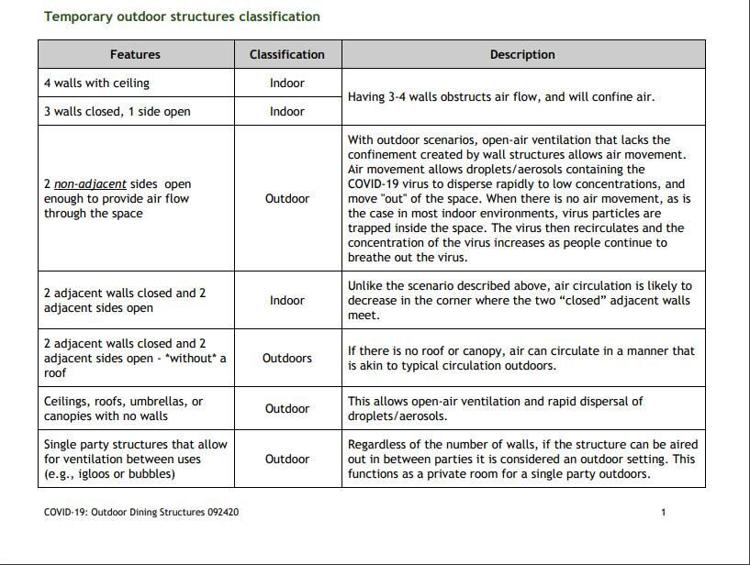 The other consideration: ventilation. "Settings that provide air flow comparable to levels of being outdoors, allowing the virus to disperse rapidly and move out of the space are considered outdoor settings," the guidelines explain.
In addition, "increasing ventilation reduces the concentration of any viruses that may be in the air. It's important to note that, by itself, increasing ventilation is not enough to protect people from COVID-19. You should increase ventilation and follow other best practices recommended by CDC and others, including disinfecting, wearing masks, and social distancing."
CDPHE guidelines for outdoor dining follow those issued in other locales, such as Chicago, which announced its rules last weekend. Similar to Colorado's, the city's definition of a temporary structures for outdoor dining is one with at least two open sides.
The city's guidelines also outline something that Colorado's omits: how to keep them warm. In the Windy City, that's a big consideration given the cold winters, compounded by lake-effect snow.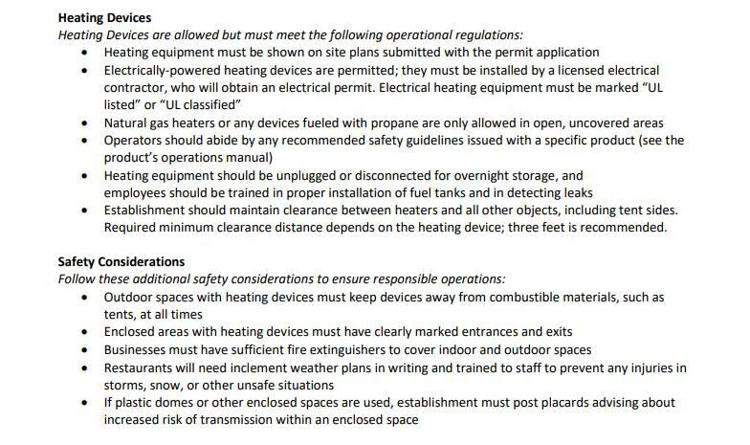 9News reported on Monday that My Brother's Bar in downtown Denver has already put into place what its owner calls "snow globes:" domes with solar panels and individually-controlled space heaters for when the weather turns colder, with a maximum capacity of six. That's about a $1,000 investment per dome, and they've purchased six, co-owner Danny Newman told 9News.
But the domes have also caused a stir in other communities with large unhoused populations, and from that, Denver is not immune, especially in the area around Coors Field.
At a San Francisco sushi restaurant, their outdoor domes were ordered dismantled by the local public health department over ventilation concerns and an outcry, allegedly by advocates for the unhoused, that the domes were "anti-homeless" and a way to shield diners from the local unhoused population. After modifications to address ventilation, the domes went back up.
To see how mountain communities, which face colder temps and more snow, will deal with outdoor dining, restaurant owners are coming up with creative solutions. 
In Steamboat Springs and Breckenridge, Summit restaurant owner Phil Armstrong is going all-out with yurts, for a maximum party of eight. The yurts for the four restaurants (two in Steamboat, two in Breckenridge), will be equipped with Pendleton blankets and chairs with fur, according to the Steamboat Pilot. Those who reserve the yurts will be required to meet a food-and-beverage minimum. Armstrong told the Steamboat Pilot he had seen an outdoor dining yurt in Aspen before the pandemic hit and was planning to set up that system anyway.
Outdoor dining has been key to drawing customers back to Armstrong's restaurants, and "improving profit margins with the current capacity limits" that restaurants face.