Denver District Attorney Beth McCann has been handed the Denver Police Department's investigation into a driver who struck a protester with her car on May 28, and is considering what charges, if any, will be filed, a DPD spokesman told Colorado Politics on Tuesday.
The incident occurred on the first day civil unrest erupted in Denver over the death of George Floyd, a Black man who died while being subdued by white police officers in Minneapolis. 
While the driver has not been named by police or other officials, many social media posts identify a Jennifer Watson as the woman behind the wheel. A quick Google search of "Jennifer Watson Denver" yields a link to a petition with more than 38,000 signatures that calls for Watson's arrest.
The website is one of at least a dozen connecting Watson to the case. 
Still, a DPD spokesman says, "While we understand that there is a lot of information on social media regarding this case, it is our practice to not identify individuals who are subject to an open investigation. Should the investigation result in charges, information on the arrestee will be provided."
A private Facebook group, called "We support Jenn Watson," includes a few members who claim to be close to Watson, including the group's administrator, who asked to stay anonymous. She told the group on June 11 that Watson was "unharmed," "doing as well as she can," and "knows about this group and thanks everyone for the support."
She also wrote that "the DPD back up what she did … and they said they would've done the same thing."
Colorado Politics has not been able to reach Watson. 
A spokesman from the police department says the DPD has "no way of corroborating any such conversation and it would be inappropriate for DPD to comment on individuals' actions in this incident since the investigation remains open."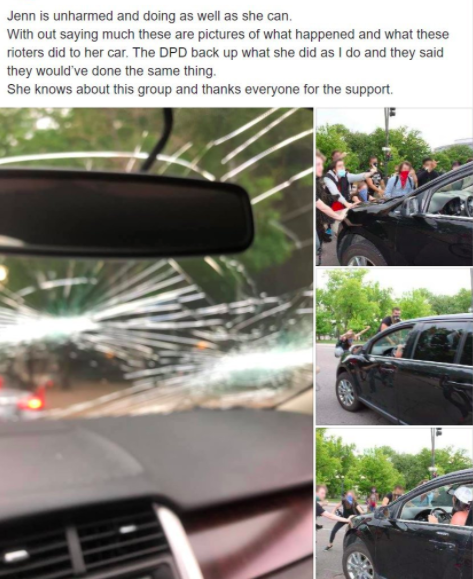 A viral video of the incident showed that protesters were blocking traffic on Colfax Avenue and Broadway, when Max Bailey jumped onto the hood of Watson's vehicle to avoid being run over, he said. When Bailey jumped off her car, the video shows Watson swerving her black SUV back toward him, hitting him, and fleeing the scene.
Samantha Koch, the GOP candidate for state House District 1, helps run the Facebook group that defends Watson. She and Watson are scheduled to speak on the phone Tuesday. Koch said although she doesn't know Watson personally, she felt compelled to get involved because she empathizes with her. 
Koch sided with Watson in a May 31 post on Facebook, which was met with backlash. The public's negative reaction prompted Koch's friend to ask her to help her run a private Facebook group to "gather information and support Jenn in some way."
Koch said after she was shown Watson's photos from inside her car, where her windshield was damaged, she couldn't help but stand behind her.
"I did read Max Bailey's statement, and it's easy when you hear from his perspective that he had no intention to do harm to her," she told Colorado Politics in a phone interview on Monday. "But when you look at this situation from Jenn's perspective, from inside the vehicle where people are surrounding her vehicle and she's trying to make her way through, terrified of what's happened, she had no way of knowing what Mr. Bailey's situation was or what his mindset was."  
Koch said there comes "a point where you have to be able to defend yourself if you don't feel safe," and she believes that's the situation Watson faced. 
Still, she doesn't "condone" Watson's decision to turn toward Bailey, but says that "there are so many aspects that could have contributed to that decision."
"I just hope that there can be understanding all the way around that these situations have become volatile very, very quickly," she said, "and it's just impossible inside the vehicle or on the other side of it to understand what's really happening."