Attorney General Phil Weiser has issued a cease-and-desist order against Live Entertainment to prevent it from hosting more large gatherings in Colorado that exceed state orders limiting the size of outdoor events.
The promoter, Carlos Barkleys of Vail, said he has been trying to keep his employees working, but will comply with the state's limits.
The order — dated Tuesday — comes after the company hosted a bull-riding competition and concert in Weld County on Sunday that drew at least 4,000 people. Masks, social distancing or any other COVID-19 related precautions were not required.
The same company hosted a similar event in Agate in June that drew at least 2,000 people and resulted in a COVID-19 outbreak, according to the Elbert County Department of Public Health.
That department issued a cease-and-desist order against the company to prevent the event last Sunday from being hosted at the same site in Agate. It then wound up in Hudson.
The state's Department of Public Health and Environment took no action prior to Sunday's event. 
The cease-and-desist order says the company is in violation of executive orders and public health orders limiting outdoor gatherings to no more than 175 people.
If the company is violating those orders, "you are directed to immediately cease hosting events that violate the terms of the executive order ... or to otherwise bring those events into compliance with the orders."
The attorney general set a deadline of 9 a.m. Monday to confirm that the company will comply with the executive and public health orders or to discuss their plans to do so. 
The company's Facebook page lists several upcoming events around the state, including a concert at the Travelodge in Grand Junction on Aug. 14 and another bull-riding competition in Agate on Aug. 15.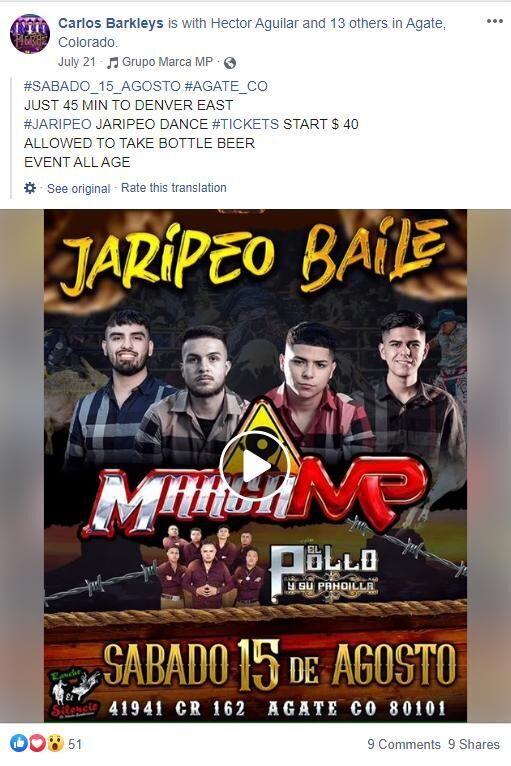 Sunday's event on private property near Hudson drew thousands, clogged area roads for hours, and led to at least one assault and an EMS call from Hudson Fire. A video shared with Colorado Politics on Tuesday showed the large crowd dancing shoulder to shoulder and drinking. No one visible in the video was wearing a mask.
After initially declining to respond via text, Barkleys called Colorado Politics and talked for several minutes about the order. He said he will comply with the state order, and pointed out that he had hosted another outdoor event in Pierce, just north of Greeley, the day before the Sunday event that also drew an audience far in excess of the state's 175-person limit.
He said he has event security personnel who rely on that income throughout the year and that he's trying to ensure their livelihood so that they don't have to rely on assistance such as unemployment insurance.
He texted that his company creates more than 1,000 jobs in Colorado.
"(P)eople are not working, our industry has been left out completely by the government. People have to work do something to survive. Right now (opportunities) are very limited out there."