With the first week of a mandatory statewide mask order in Colorado nearly done, the lines are drawn on where the mandate will be enforced.
Sheriffs in a quarter of the state's 64 counties, mostly rural, have announced they will not issue tickets or other enforcement actions for those who disobey the order, issued by Gov. Jared Polis July 16.
That includes some of the counties with the biggest outbreaks of COVID-19, and based on a Tuesday news conference by the governor, includes counties that are at risk of losing variances granted by the state that allowed for greater reopening of businesses and larger event gatherings.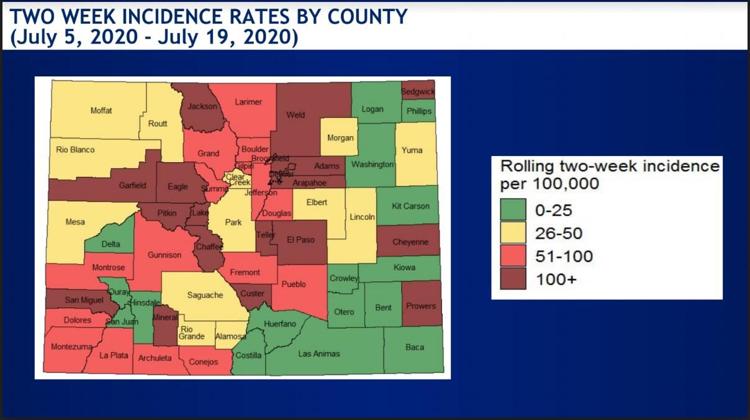 Most of the county sheriffs who have decided not to enforce the mask mandate posted that decision in the past week on Facebook. At least three of those counties either no longer have variances or their variances are at risk because of growing cases of COVID-19: El Paso, Custer and Sedgwick counties. Several said the order is a civil one, not a criminal one and hence not a matter for law enforcement.
In addition to those counties, sheriffs in Baca, Bent, Delta, Elbert, Kiowa (the only county that has yet to report a single case), Kit Carson, Larimer, Las Animas, Logan, Mesa, Moffat, Otero, Teller and Washington counties have said they will not enforce mask orders.
Colorado Politics attempted to contact all of the sheriffs who have announced the decision not to enforce; only Teller County Sheriff Jason Mikesell responded.
El Paso County
Hours after Polis issued the executive order mandating that Coloradans wear masks, the El Paso County Sheriff's Office announced on Twitter  that it would not be issuing citations for those who violate the order. Instead of issuing citations, the Sheriff's Office will continue to encourage people to wear face coverings. 
Elbert and Teller 
Messages from several sheriffs also made a link between wearing masks and carrying a concealed weapon.
Elbert County Sheriff Tim Norton wrote on his Facebook page that "just as with the Safer at Home orders, my office will encourage citizens and businesses to take steps to protect their own health and safety, But my deputies WILL NOT be taking any action to cite citizens or businesses for not wearing masks.
"Be invested in your own safety, whether that means carrying a concealed weapon or wearing a mask be smart and do what is right for you."
Teller County's Mikesell wrote on Facebook that "In regard to COVID-19 executive orders by the Governor and/or Public Health authorities, while we encourage and educate others to comply for health reasons, we as a Sheriff's Office will not be issuing citations or detaining persons for these civil orders. This includes the wearing of masks or social distancing. The proper venue for such enforcement is not the Sheriff's Office."
At the beginning of July, Andrew Wommack Ministries held a four-day conference at its Charis Bible College site in Teller County's Woodland Park. Despite a cease-and-desist order from the Attorney General, the conference hosted about 1,000 people. A week later, the ministry showed up on the state's outbreak list. As of July 22, they have reported 22 confirmed cases and another dozen suspected. Teller County still has a variance from the state that limits events to no more than 175 people with proper social distancing. However, Tuesday's CDPHE map shows Teller County at the highest level of outbreaks.
Mikesell told Colorado Politics,  "The enforcement body is supposed to be public health. We don't do civil orders and this is not a criminal issue."
Morgan County
Morgan County appears to be in a gray area: the sheriff's office will enforce it, but it's the lowest possible priority.
The county had one of the worst outbreaks early on, but Morgan County Commissioner Jon Becker said they are in a much better situation and have had fewer cases in the past two months. The state data report on Tuesday listed Morgan as having had between 26 and 50 new cases in the past two weeks.
Morgan County Sheriff Dave Martin posted the following on his Facebook page on July 18: "I have instructed my staff to wear a mask when practical. It is the choice of the deputy to wear or not wear a mask. if they believe the mask hinders them in their duties or is a safety issue for them, they do not have to wear one. With regards to enforcement, I have indicated to my staff that my position is that we will not take law enforcement action and issue summons for not wearing a mask. I have however indicated that if there (are) viable criminal charges for failing to leave premises when asked to do so or creating a disturbance of disorderly conduct, that we will take signed complaints for citizens wishing to do so."
Delta County
Delta County Sheriff Mark Taylor, in a July 17 statement, said "while we encourage everyone to follow all Public Health and safety precautions; the Delta County Sheriff's Office will not be issuing citations or detaining persons for these civil orders. This includes the wearing of masks or social distancing. The proper venue for such enforcement is the Public Health Department, not the Sheriff's Office." That said, the Sheriff's Office staff "asks citizens please be respectful of those persons and business that are requiring masks. They are mandated to do so by the Governor." 
San Miguel and Eagle counties
Two sheriffs provided full-throated support for the mask mandate among counties listed as having the highest per capita case counts. In San Miguel County, Sheriff Bill Masters said in a Facebook post that he "fully supports this order and encourages all of us to do our part," along with a graphic that said "This is not about you, it's about us."
San Miguel County, on Colorado's Western Slope, is home to Telluride and is one of three counties, including Montrose and Ouray, served by Montrose Memorial Hospital, the only hospital in the area.
Eagle County Sheriff James Van Beek said his department "will continue to work with businesses and the community to keep the peace, educate, and give warnings. Citations may be issued if absolutely necessary, after given warning(s), if someone continues to be non-compliant. A citation could be for non-compliance behavior such as a disturbance or trespassing etc. If a person has been warned previously or trespassed from a business (for non-compliance) then deputies will respond accordingly. The Eagle County Public Health team is working closely with law enforcement, Eagle County government attorney's office, and the District Attorney's Office to ensure the safety of our community. Our team and our families are compliant and we hope that the community will do the same."
Chaffee County
The Chaffee County sheriff, John Spezze, has not yet publicly commented on the mandate. The Chaffee County Times reported Tuesday that the county has had 219 total cases, with 131 from the Buena Vista Correctional Facility and 56 at the Columbine Manor Care Center in Salida. The county has recorded 14 deaths that are a direct result of COVID-19. County commissioners voted July 15, the day before the state order, to temporarily require masks while on county property, and a coalition of 13 county nonprofits sent the commissioners a letter of support for the mandate.
In the mitigation plan submitted by the county health department to CDPHE, director Andrea Carlstrom noted that while the county appears to have a high case count, much of it is due to the prison and the long-term care center. "There have been very few positive cases in the past 14 days," Carlstrom wrote, and only 32 are not tied to an institutional outbreak.
Prowers County
Prowers County is one of two with a state welcome center and a growing COVID-19 problem (Sedgwick County is the other). The sheriff did not return a request for comment, but the CEO of the Prowers County Medical Center, which is caring for COVID-19 patients, said she fully supports the mask mandate, in a letter to the Prowers County Journal on July 16.
"Prowers Medical Center supports Colorado's move to establish a statewide mask mandate," said Karen Bryant. "We have learned many things about this virus over the last several months, and we know that it will take a combination of actions to protect ourselves and our community from this dangerous virus. Wearing a facial covering when in public — along with social distancing, proper hand hygiene and staying home when you have symptoms — is necessary."
Out-of-state visitors to Colorado have been an increasing concern for Polis, who has said he fears some will bring the virus to Colorado from some of the nation's hot spots. That's an issue in Prowers County, for example, which sees heavy truck traffic and other vehicles coming in from Texas, which is experiencing one of the nation's worst outbreaks. The Julesburg welcome center in Sedgwick County, and the Burlington center in Kit Carson County also see traffic coming in from Nebraska, which is seeing a surge of cases, largely in the southwestern region that borders Colorado. Sheriffs in both those counties have said they will not enforce the order.
Abigail Leeper of the Colorado Tourism Office told Colorado Politics that the 10 welcome centers in the state are expected to educate and enforce the mandate. "A notice of the facial covering requirement is prominently posted at all entrances at each welcome center. The welcome centers, because of their locations close to Colorado's borders, have shifted to an educational focus in support of the Governor's executive order, educating visitors who may not be aware of the state's mask requirement."
Aside from Julesburg and Burlington, visitor centers are located in Alamosa, Cortez, Dinosaur, Fruita, Fort Collins, Lamar, Silverthorne and Trinidad.
"The welcome centers' policy is to ensure that anyone who comes into one of our centers is following the state mandate. Staff and volunteers have been directed they should refuse service to individuals not wearing masks," Leeper said.