BombBomb almost blew up in Conor McCluskey's face.
He started the company in 2006 to develop software that makes it easier to record, send and track video email, and it nearly failed several times, most notably in mid-2013 when the company had just $15 left in the bank after making payroll. But the company has been on a major growth spurt since then, will double its staff this year and is remodeling its downtown Colorado Springs offices to accommodate growth.
BombBomb wasn't McCluskey's first try at starting a business. He and Darin Dawson, who also helped him start BombBomb, owned a company that provided painting, remodeling and other services for apartment complex owners in the late 1990s and early 2000s. The firm grew to 60 employees before a recession forced the partners to shut down the company.
"I didn't know anything about the economy, contracts and lawyers, and I learned the hard way about a lot of things," McCluskey said.
Broke and out of work, McCluskey landed an internship with billboard giant Lamar Advertising Co. and lived in a friend's basement until he got promoted into a sales job six months later.
During the next 2½ years, he built up a base of about 150 clients and thought he could sell more advertising if he could get a video message to them on a regular basis.
After unsuccessfully searching for a video email vendor, he built a software platform to embed the video in an email message. Clients wanted to know what company created the video email for him so they could send out similar messages.
"All of my billboard clients wanted it, so I had customers. All I had to do was build the product," McCluskey said. "It is literally a miracle - nothing short - that we are still here. There were a number of times that we almost went out of business."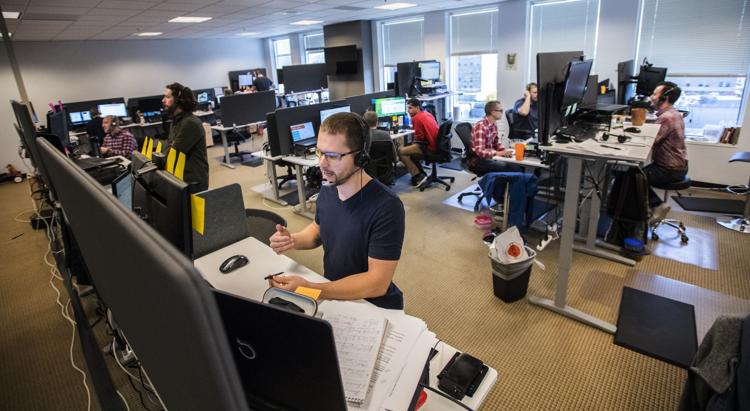 McCluskey was the company for the first 3½ years - he was the product designer, videographer, salesman and technical support agent.
He didn't hire BombBomb's first employee, software designer Joanna McIntyre, until April 2010, and Dawson didn't join the company full time until a year later, when the customer list contained fewer than two dozen names. McIntyre still works for BombBomb.
"Every day, I thought it might not work out. I looked up to God and said, 'Take this away, obviously it doesn't work, so I can get a real job,'" McCluskey said. "I was painting houses during the day and kept a suit in my car so I could change before I went into a meeting, then change back afterwards. It almost bankrupted me."
McCluskey married in 2010 and told his fiancee about his finances beforehand.
"She told me she had never seen so much debt. It was hundreds of thousands of dollars. I told her we may be rich or may be poor, but you will have the adventure of your life," McCluskey said.
"I had missed mortgage payments and we were close to foreclosure, so I negotiated deals with the bank. We only had one car, and I told my wife that she couldn't drive anywhere because we couldn't afford the gas. We looked forward to the weekends when we splurged and spent $1.02 on a RedBox video rental for entertainment."
The big break McCluskey needed came less than a year later. Steve Pacinelli, an executive with Realtor.com who wrote a blog called Tech Savvy Agent, highlighted BombBomb's video email product as a better alternative to traditional customer relationship management software. Two years later, he joined BombBomb as chief marketing officer.
"We sent an email to 100,000 Realtors and sold to 40 people in the first day. Not long after that, we were invited to a Keller Williams (Realty) conference in Orlando (Fla.), and we signed up 500 agents in three days," McCluskey said. "That was our overnight success, when we knew that we were onto something. People were waiting at our booth (at the conference) an hour before we opened. I didn't drink anything or even go to the bathroom until the exhibit floor closed."
Sales were booming and the company moved from McCluskey's house to an Old Colorado City loft, but BombBomb wasn't out of the woods yet because it wasn't generating enough cash to support its growth. By mid-2013, the company's financial problems were at a critical point - payroll was due on July 15, and McCluskey wasn't sure the company had enough money in the bank to prevent paychecks for its 30 employees from bouncing.
"That was our day of reckoning. I sat down with Darin and the controller to see if we had enough cash. We had a list of people to lay off, but we made payroll with $15 left in our account," McCluskey said.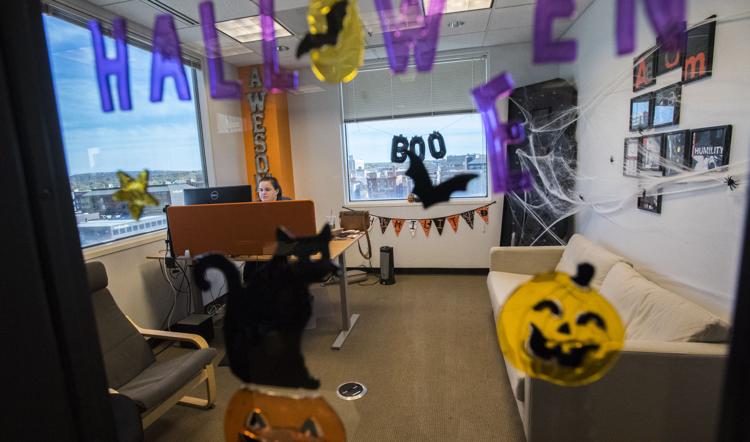 BombBomb would grow nearly sixfold to $5.3 million during the next three years, landing the company on Inc magazine's list of fastest-growing companies at 665th and moving to new offices in the Wells Fargo Tower in downtown Colorado Springs, where BombBomb now occupies most of two floors. McCluskey declined to provide more revenue numbers but said the company is growing rapidly and has nearly 25,000 customers.
Real estate agents still make up the bulk of the company's customer base, but BombBomb's product is now used by mortgage lenders, title insurers as well as companies in the automotive and financial services industries, McCluskey said. Real estate agents use BombBomb to send a video to potential clients who click on their lists on Zillow or Trulia as well as keep in contact with past clients who may be getting ready to buy or sell another home, he said.
Laura Anderson, a Keller Williams agent in suburban Minneapolis, uses BombBomb to send videos of herself singing happy birthday to clients, videos on real estate market conditions and videos to introduce herself to other agents when she makes an offer on their listing.
"It really is unicorns and rainbows for us. We started with them when they were a startup, and we really like being able to talk to the CEO and other longtime employees," Anderson said.
Jeff Wagner, vice president and partner in Houston-based One Trust Home Loans, said he sends out more than 3,000 videos a year through BombBomb for everything from directions on getting to his office to updates on reaching milestones in the lending process.
"I love that it is very easy to use with clear directions," Wagner said. "It looks safe to the recipient to open, so most of them do."
Caleb Spear, founder and CEO of Portal Bikes, which sells delivery bicycles at a discount to entrepreneurs in Nepal, said he uses BombBomb to send updates every two weeks to donors.
"I have one donor who told me the video makes him feel like he is in Nepal," said Spear, who lives in Pueblo.
"We started the year with 65 employees and will finish at close to 130," McCluskey said.
"We are a video communications platform for email, text and social media. Our product enables clients to make their own videos, embed it in email, text or social media posts and track how people are seeing and engaging with those videos. Our clients see that it is better to send yourself than a text. It's like being there in person when you can't be."
The company remains self-financed and has turned down financing from venture capital funds. McCluskey said he could see BombBomb growing to between 300 and 500 employees within three or four years.
"The total available market for us is very large. If you put the video marketing, email marketing, sales and marketing automation and sales enablement markets together, that is a market that is in the tens of billions of dollars."
McCluskey has a bigger vision, however.
"We are humanizing the planet. Social media such as Facebook and Snapchat are very impersonal. Bringing back relationships to the world is our big, hairy, audacious goal," McCluskey said.
"We are bringing people back to business. When you look someone in the eye, it is difficult to bully them or be racist. If you think about the comments people make online or in social media, you would never say that face to face. We are trying to bring that back."
Contact Wayne Heilman: 636-0234