In the southern Front Range there are many pumpkin experts, but only one comes with half a century of nostalgia.
I speak, of course, of Venetucci, the historic family farm just south of Colorado Springs. The farm's annual pumpkin giveaway for schoolkids has become more than tradition. It's the stuff of collective memory and nostalgia.
And, since 2007, of beer.
The first time I met a Venetucci pumpkin, it came in a big bottle, at the end of a very long line at Bristol Brewing Co.'s Ivywild School.
Venetucci Pumpkin Ale was created by Bristol to celebrate the Venetucci legacy and help raise money for the farm and its educational programs. The limited run of 22-ounce bomber bottles, one of the brewery's most popular seasonal brews, was put on hold in 2020, along with most of the brewery's "Community Ale" releases.
"Part of that was just we were buckling down, going into survival mode," said Mike Bristol, whose brewery last year chose to donate the profits of Ivywild Pale Ale to the Colorado Restaurant Association's Angel Relief Fund, to support struggling restaurant and bar employees. "That was our pivot, to step away from what we called the Community Ales."
Venetucci Pumpkin Ale is back for 2021, with a new look and new comrades, in Bristol's Give Back Mix Pack. The 12-pack of 12-ounce bottles includes the pumpkin ale, plus Smokebrush Smoked Porter and Piñon Nut Brown ale, which benefits Friends of Cheyenne Cañon.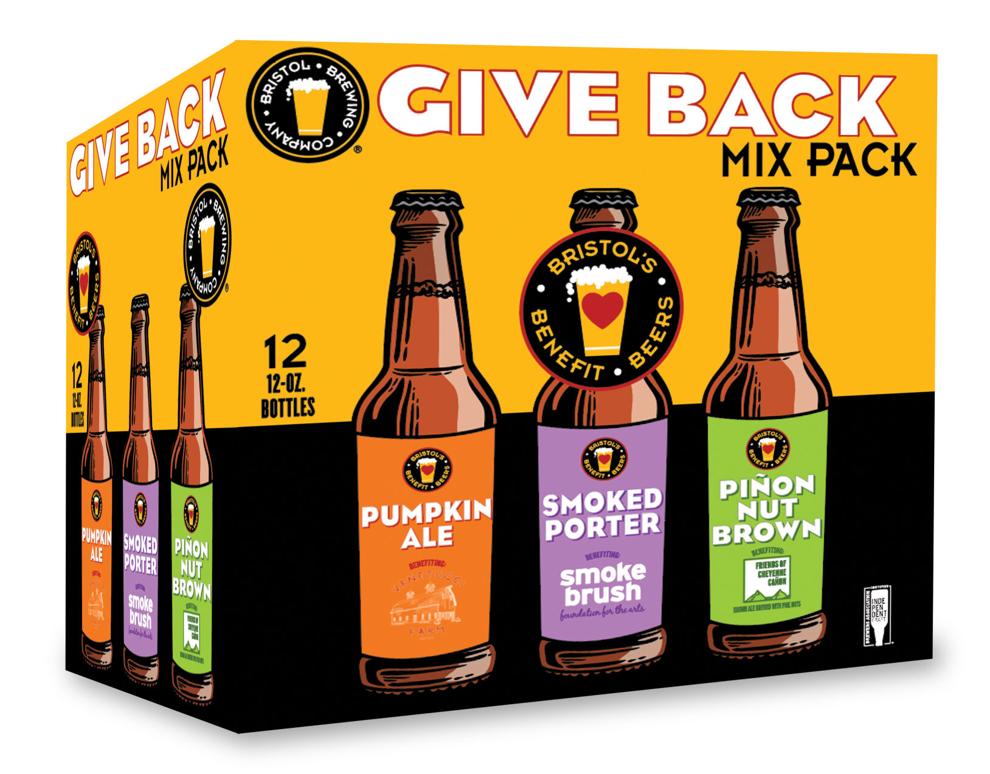 "This annual donation from the Bristols has been our largest regular source of funding. In past years, it has been a significant source of funds for construction of several new trails as well as the re-building of the 'Cub' visitor cabin at Helen Hunt Falls," said Rob Lucey of Friends of Cheyenne Cañon.
As the city of Colorado Springs nears completion of the realignment of the Daniel's Pass Trail, the new, more sustainably built trail will "re-open access to a scenic part of the park," Lucey said.
He added, "A significant portion of that project used FOCC funds raised through sales of the Piñon Nut Brown Ale in past years."
"The one nice thing about last year is it gave us a chance to sit back and kind of look at where we'd come since 2007," Bristol said. "And we thought we had really good success with our 25th anniversary birthday boxes, where we did a special mix 12-pack in bottles, so we thought let's kind of do the same thing with this."
Bombers can be tough to market. Bristol said he hopes revamping the look and format of the fundraising brews will help expand the reach and exposure of a program that, to date, has raised more than $750,000 for local nonprofits.
"A lot of people focus on just the money part of it, and that is a significant part of the program. But the other part is just to get exposure to these nonprofits and to remind people of the folks who are doing good things in our community," Bristol said.
Due to groundwater contamination in the Fountain Valley area, since 2017 the pumpkins for the annual giveaway at Venetucci and for the Bristol brew have been sourced from other farms, including Milberger Farms in Pueblo and Smith Farms in Peyton. Venetucci no longer grows produce for consumption, and is now a flower farm.
Its legacy as a legendary pumpkin patch, as the pumpkin patch, lives on.
"It's just a big part of our community fabric," said Sam Clark, executive director of the Pikes Peak Real Estate Foundation, which oversees the farm. "It's just a great relationship to have the local pumpkin ale benefit the pumpkin farm that for over six decades has given free pumpkins to kids every year."
And the Give Back Mix Pack beers?
"These three beers together, it's just a good fall collection," Clark said.
Stephanie Earls is a features reporter and columnist for The Gazette. Contact her at stephanie.earls@gazette.com.