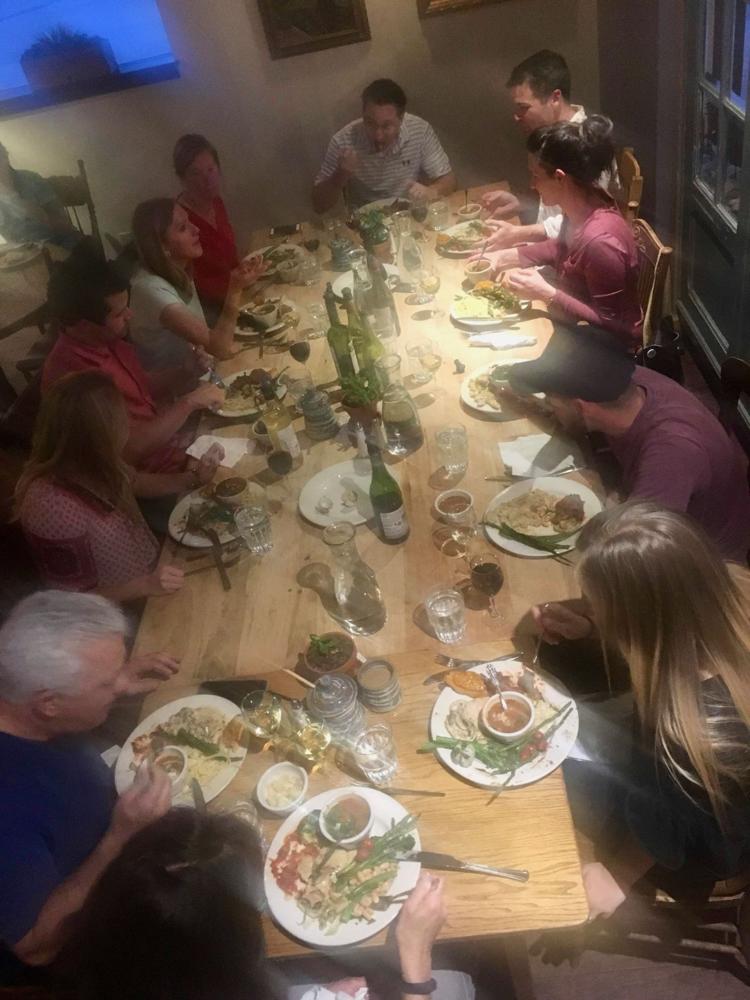 In the shadow of Pikes Peak for more than three decades, under multiple locations and ownerships, Adam's Mountain Cafe has remained a stalwart on the local restaurant scene since its inception in 1985. Tourists and residents have looked to the Cafe as a frontrunner in fresh and organic fair with an emphasis on vegetarian and vegan cuisine, all while not overlooking the omnivores among us. It's a delicate balance that, through all these years, Adam's Mountain Cafe has been able to walk with much aplomb.
Many are familiar with Adam's. Untold numbers make it their weekly, even daily, destination. But what about the person behind it? What about the individual who was, in her words, "smitten" by the Cafe when she first encounter it in the late '80s while broke and stranded in Manitou Springs?
If it had not been for that moment of financial hardship and subsequent search for employment, Farley McDonough would never have started waiting tables at Adam's, would never have worked her way into management, would never have, in her words, "fallen into restaurant ownership"; and the Pikes Peak dining scene would be drastically different for it.
McDonough didn't study culinary arts; she doesn't have a degree in entrepreneurship. But she does have a lifetime of real, "hands on" experience. "My Mother owned her own small business for 40 years," the Cafe owner explained, "so I grew up seeing the hardship, the financial strain and the stress it can cause." Such an entrepreneurial pedigree is what often births subsequent generations of business owners. Yet, McDonough is far more than a mere business owner.
Recounting her first exposure to the restaurant while stranded in the shadow of the Peak, that moment she knew something uniquely special was happening, McDonough recalls that she was "completely smitten by the Cafe: the food, the atmosphere, the mission, or at least, what I viewed as the mission to prepare excellent food from scratch while providing genuine customer service and fostering relationships within the community." That community mindedness would later play out in more ways that she might have then expected.
Eventually negotiating an owner carry loan to buy the Cafe, McDonough said survival was her first and primary goal. "I had never owned or operated a restaurant or business of any kind. I had purchased (the Café) two weeks before 9/11 and then we experienced a mini recession. People were staying close to home and not eating out." This cultural tumult took a toll on the entire industry; McDonough was not alone. "I had no idea how to manage changes in an economy like that."
She almost lost Adam's within her first year of ownership. Of course, in the end the Cafe survived, and McDonough had gaining fresh perspective — a bourgeoning commitment to the community and sustainable food movements. "Once we stabilized, my vision for the future of the Cafe became clearer. We started to connect with local farmers and the Slow Food movement." McDonough eventually found herself serving the local community in multiple capacities even beyond Adam's — including co-president of the Manitou Art Center; vice president of the Manitou Springs Chamber of Commerce; president of the Manitou Springs Education Foundation; and board member of the Urban Renewal Authority.
If so many "hats" seem like an extensive commitment, McDonough wouldn't disagree. But while she admits that some days are difficult and stressful, she stays she's never felt burned out. To the contrary.
"I can honestly say that I still love my work," she says. "I find the business fascinating, and serving on boards and nonprofits allows me to expand my capacities. By being on those boards I am creating a larger network that supports the restaurant. That being said, I don't do it simply for that reason. In fact, I really enjoy working and collaborating with others on board organizations to help improve Manitou Springs and the community at large."
From stranded and broke to ensconced and influential, yes it's the "American Dream," but it's more concrete than that. Farley McDonough and her Cafe have provided our community an indelible touch point, weathering time and tumult, existing as a bellwether of our resilient and ever flourishing community.