All Bristol Elementary students from kindergarten on are required to learn to play the violin during school.
The practice becomes not only music to children's ears but also food for their brains and solace for their hearts.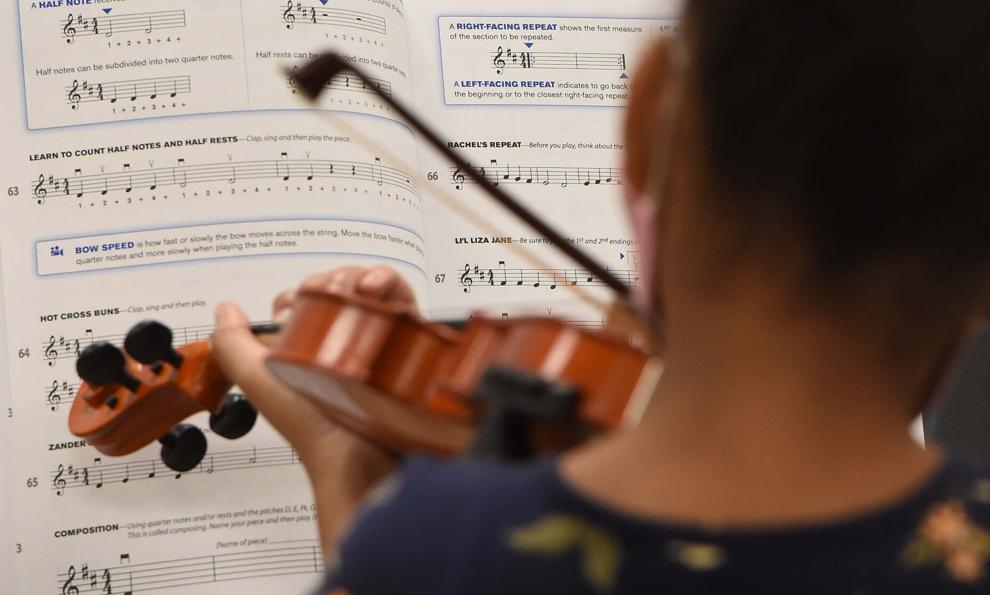 Eight-year-old Albert Harris, whose dad works for Space Force in Colorado Springs, said he likes the sound he can create by putting the bow to the strings and coaxing the instrument to emit sweet notes.
"It kind of gives a feeling to the music," Albert said Monday, after violin class.
Bristol Elementary is the only traditional elementary school that music teacher Luke Tripp knows of in Colorado to take this nontraditional and somewhat controversial approach.
The school's kindergarten through third-grade students get pulled out of regular classes in groups of 15, two to three days a week, to study the violin for 30 minutes.
While doing so takes time away from traditional lessons, it provides a unique jumpstart, said Principal Gabe Hammel. "The hope is that learning and reading music expands your mind," he said.
State test scores show the premise works, Hammel said. Bristol has seen improvement in recent years in standardized reading and math assessments. The school now ranks the fourth highest academically in Colorado Springs School District 11, he said.
"You can draw a straight line from violin class to math," said parent A.J. Mangum, whose third-grade daughter since kindergarten has been attending Bristol — and playing the violin. "I think it shows in her academics."
Marlowe Mangum, 9, is among the 55% of students who live outside the neighborhood but attends Bristol by choicing in.
It was hard to learn to play the violin, Marlowe said, but now, it's one of her favorite classes, next to P.E.
"It makes me feel really good when I'm creating beautiful music," she said.
A friend told Mangum he and his wife would know the right school for their daughter once they found it. The advice proved valuable.
"We just knew," Mangum said. "The variety of programs at the school — violin, art, robotics, coding, digital filmmaking, academics — is easy to look at as a diverse list, but it integrates all the efforts together into one direction."
Bristol, on the westside, focuses on science, technology, engineering, arts and math, or STEAM, instruction, and in 2017 won the state's top award for such schools.
The school provides violins for students, or they can rent or buy their own.
For the most part, Tripp said, students are instructed and practice at school during teacher-led instruction, not at home or after school, as most early music education programs.
"They often don't have the parental and family support to do a lot at home," Tripp said.
With a high population of students from low-income families — about 70% of enrollment as measured by the federal free and reduced lunch program — violin classes give students who may not ordinarily have the chance to uncover their abilities, Hammel said.
"We're not trying to make professional musicians for Julliard," Tripp said. "There are so many other benefits with learning how to play music, and we're trying to capture those advantages."
Kindergartners start on a small foam violin and use a dowel stick for a bow. After figuring out how to properly hold and work the instrument, they move on to the Suzuki Method of playing, by listening and mimicking what they hear with their hands.
"Kindergartners are used to teachers spoon-feeding them everything," Tripp said. "If we can teach them they have the power to teach themselves, they will thrive at much more than music."
By third grade, students are reading notes on sheet music under South American and Brazilian styles of teaching.
What may sound like chaos is actually a carefully orchestrated strategy to help students improve individually and collectively.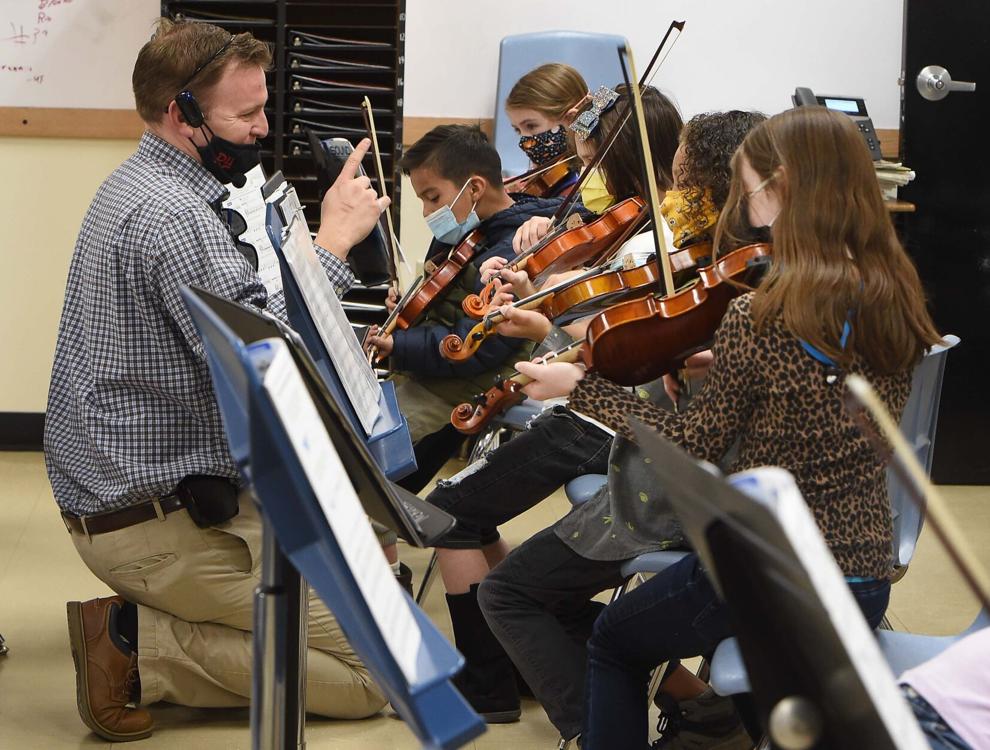 "They learn to concentrate and laser focus on their own instrument," Tripp said, "and tune out others when they need to."
Even though all students may be playing different notes at once, Tripp, who's been teaching violin for 25 years, is able to discern by visual cues whether each student is getting it right.
Students who have bad posture, incorrect bow positioning, misplaced fingers or aren't looking at the music sheet in front of them, are not going to sound good, he said.
In fourth grade, students can take general music classes and join the orchestra, if they want. The school band is open to fifth graders.
Albert, who started playing in first grade and is now in second grade, likes that he gets to learn new things in violin class.
"What I like about playing the violin is basically all the stuff," he said, smiling.
But mostly making music that makes him want to dance.
Contact the writer: debbie.kelley@gazette.com